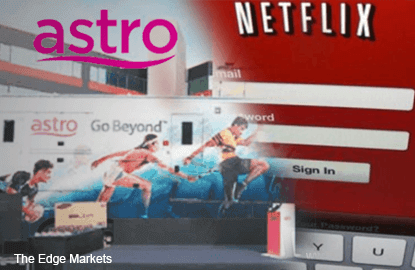 This article first appeared in The Edge Malaysia Weekly, on January 11 - 17, 2016.
ASTRO Malaysia Holdings Bhd's shares fell 7.2% last week and remained in the red at the closing bell even as global equities rallied last Friday on a respite from China. Is it a mere coincidence that this happened in the same week that video-streaming service provider Netflix Inc surprisingly expanded its service by 130 new countries at one go to more than 190 countries, including Malaysia?
Netflix's goal was to reach every market by end-2016 but the instant explosion last Wednesday was unexpected, pundits say. It also added Arabic, Korean and traditional and simplified Chinese language translations to the ones it already supports in conjunction with the global launch, a reflection of its intent to eventually enter China.
With 60 countries, Netflix had 69 million members, of which 26 million were "international" or outside the US. It boasts over 600 hours of original content this year with 31 new and returning series as well as feature films, documentaries and series for children, according to its website.
It is not hard to imagine why there are people who think Netflix has the scale to steal customers from even the likes of Astro, which is in only 4.7 million households in Malaysia. While Astro, like Netflix, can negotiate content rights that can be offered to a wider global audience, it needs to be confident of being able to do just that. For now, content rights are largely sold according to region, and Netflix — which also needs to contend with Amazon Prime and Google Inc — admits it "will be a long road" for that to change. This is why Netflix's offerings differ according to country.
In the meantime, any business that hopes to be sustainable needs to be profitable.
"Competition can really determine profitability in a market," Netflix chief financial officer David Wells said at a Jan 6 briefing in Las Vegas after the surprise announcement. He also said Netflix would need to add local content to penetrate deeper into certain markets, without specifically referring to any country.
Nonetheless, Wells reckons that its existing content would appeal to the urban English-speaking audience. For now, Netflix says it intends to "operate around global break-even in 2015-2016, with material profits in 2017 and thereafter".
For Patrick Grove, chairman and major shareholder of the Catcha Group, which owns iflix — a Netflix-like service available in Malaysia, Thailand and the Philippines that is looking to expand to 10 countries this year — Netflix's announcement "is great news from an industry perspective. It reaffirms that the shift in entertainment consumption to 'on demand' is a global phenomenon".
"We don't think anyone anticipated Netflix to turn its international service on so quickly. That said, for us, it is business as usual. We will continue to obsessively focus on providing a high-quality service with exceptional content uniquely created for the local consumer, at a price that everyone can afford," Grove says via email, adding that iflix's main advantage "continues to be our deep understanding of our markets" and it has "a number of exciting updates in relation to new and original content in the near future".
In Malaysia, iflix is being offered for free to Telekom Malaysia subscribers for a year and can be accessed at RM8 per month on desktop and mobile devices, cheaper than the RM33 a month that Netflix is priced at. Both are giving the first month free.
That could entice some business away from Astro but analysts expect the company's premium and vernacular content to continue commanding an audience.
According to a company spokesperson, Astro's content strategy is specifically tailor-made to serve all Malaysians, households and individuals, on all screens, anywhere, anytime.
"Original vernacular and local content IPs are now the new premium among Malaysians. On average, they spend 75% of their four to five hours of daily TV viewing watching Astro's original local signatures. Viewership of our Gegar Vaganza, Kilauan Emas, Pencetus Ummah, Strawberi dan Karipap, Ceria Popstar, Classic Golden Melody, Hua Hee Dai and Vaanavil International Superstar outstrips most Hollywood offerings. Polis Evo, our latest Malay movie, broke the local box office and smashed all previous pay-per-view movie records."
She goes on to elaborate on Astro's strength in original production, premium and local sports as well as live events that are available on TV, online as well as mobile platforms. "Our expansion in a soft consumer market will be underpinned by premium customers taking on more content and services such as On Demand, Multiroom, HD, PVR, Astro Best and Astro First, our pay-per-view services.
"We expect to grow our advertising expenditure share, given our strong radio listenership, growing digital reach and rising TV viewership, driven by increased penetration through NJOI, our subscription-free multichannel TV service. We expect NJOI's customer base to grow from 1.2 million to 1.5 million in FY2017."
The spokesperson also says Astro's e-commerce business, Go Shop, continues to see strong performance with revenue of RM126 million in the third quarter of FY2016 and is on track to achieve its revenue target of RM170 million by January 2016, underpinned by the addition of the Go Shop Chinese language channel.
Without directly commenting on Netflix, she says Astro too has alternative on-demand services: "A segment of Malaysians may find that OTT (over-the-top) offerings complement their existing viewing experience. They can pick and watch instantly complete seasons of TV series and movie library via our On Demand offerings. We have seen a healthy take-up of our On Demand services with 252,000 connected PVRs and 1.8 million Astro on the Go downloads, with an average 150 minutes' weekly viewing."