This article first appeared in The Edge Malaysia Weekly, on February 24, 2020 - March 01, 2020.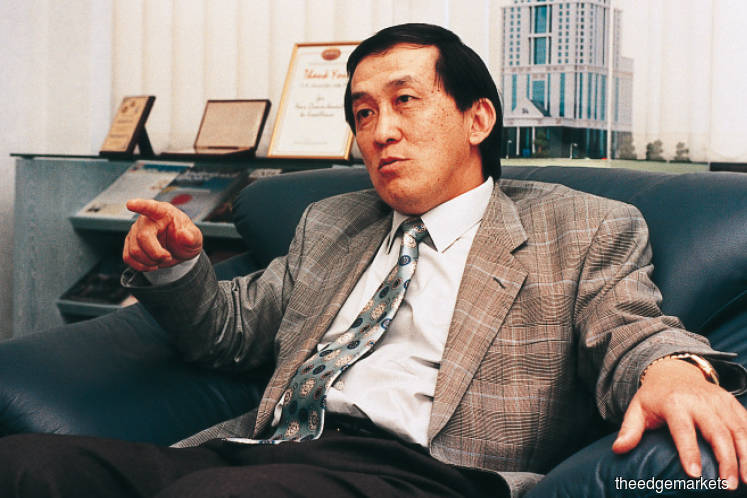 LESS than two years after his mandatory takeover offer of TA Enterprise Bhd (TAE) fell through, Datuk Tony Tiah is now looking to privatise his flagship listed property arm, TA Global Bhd (TAG).
Many say that Tiah is getting TAG back at a cheap price given the attractive land bank and properties on its books. But, the question is whether the minority shareholders will take the bait with the options before them?
On Feb 12, TAE announced to Bursa Malaysia that it is making a conditional voluntary offer to buy out 2.12 billion shares in TAG, equivalent to a 39.83% stake, that it does not already own.
TAE holds 60.17% equity interest in the property arm.
Of the 39.83% in TAG, Tiah and his family members collectively hold 15.34%, and they have all opted for the share swap.
TAG's shareholders have been given two options —a cash offer of 28 sen per share or a share swap based on the exchange ratio of 0.4211 new ordinary share in TAE to be issued at 66.5 sen each for every TAG share surrendered.
It is also worth noting that the privatisation will see Tiah injecting up to RM366.11 million cash for new TAE shares. The rationale for the cash injection, says TAE, is to finance the cash offer option that is being made available to TAG's shareholders.
Combining the additional TAE shares Tiah will get from the share swap and the new shares for the cash injection into the company, the veteran stockbroker and his family members, who currently own 42.37% of TAE, could trigger the creeping threshold with his shareholding increasing by more than 2% and be obligated to extend a mandatory takeover offer for the rest of TAE.
However, before that can take place, the question is whether the options before TAG's minority shareholders can be considered a fair deal.
TAG's faltering share price
If investors have been holding on to TAG shares since the company's initial public offering (IPO) in November 2009, they would be sorely disappointed. The IPO price was 50 sen. The share price has never reached the high of 53 sen seen on Jan 18, 2010.
The depressed share price is peculiar given that TAG is considered one of the biggest landlords in the Golden Triangle in Kuala Lumpur. Even throughout the property boom, TAG's share price remained muted while that of its counterparts flew high.
Over the last decade, its share price has been moving between 38.5 sen and 19.3 sen. Last Thursday, the counter closed unchanged at 26.5 sen, valuing the company at RM1.41 billion.
The cash offer price of 28 sen per share represents a premium of 20.85% over a 12-month volume weighted average price up to the last practicable date.
The group is among many landowners that own sizeable prime tracts in the KLCC vicinity. According to its 2018 Annual Report, the property developer has a freehold commercial tract in Kuala Lumpur city that measures 98,393 sq ft with a carrying value of RM256.62 million and is classified as inventory. The group also owns 4 and 5-star hotels in Canada, Australia, Thailand, Singapore and China.
Based on its proposed acquisition announcement, TAG's revised net asset value (RNAV), after taking into account the revaluation of its material properties, amounts to RM1.10 per share.
If shareholders take into consideration the RNAV of RM1.10 per share, the offer price of 28 sen per share will represent a 74.5% discount to the RNAV.
However, some industry observers opine that the value of the prime land and properties will remain as unrealised gain if they are not sold or developed.
In terms of earnings, TAG's net profit for the cumulative nine months ended Sept 30, 2019, fell 55% year on year to RM137.13 million as revenue halved to RM578.05 million.
What's in it for TAE shareholders?
If the privatisation goes through, TAG will become a wholly-owned subsidiary of TAE, which will benefit from the former's 100% contribution to earnings. Over the last three financial years, TAG has been contributing over 70% to TAE's total revenue.
Furthermore, the proposal document mentions that TAG group has 708.88 acres of land in Malaysia, which will potentially enhance TAE's books.
However, there is concern of a potential dilution for TAE minorities should all of TAG's shareholders, except for the Tiah family, choose the cash option. That would mean that Tiah would inject RM366.11 million to finance the cash option for TAG shareholders and receive 550.54 million new shares in TAE.
This would bring the new enlarged share base of TAE to 2.6 billion shares, 1.5 times more than the current share base of 1.71 billion.
In this case, Tiah's stake in TAE would increase to 45.99% after the proposed privatisation and thereafter to 57.41% after the issuance of new shares for the cash injection. It would also trigger the creeping rule and result in an obligation to call for a mandatory general offer.
However, should all of TAG shareholders opt for the share swap, Tiah's stake in TAE after the proposed privatisation will be diluted to 36.27% from 41.92% currently.
Interestingly, the minority shareholders could reject both options and leave the company in limbo, like what happened in the privatisation of Yee Lee Corp Bhd, where the public spread stood at 10.06% as at Dec 24, 2019, below the required 25%.
Nevertheless, under this scenario, Tiah and his family would at the very least end up strengthening their position in TAE.