This article first appeared in The Edge Malaysia Weekly, on July 27, 2020 - August 02, 2020.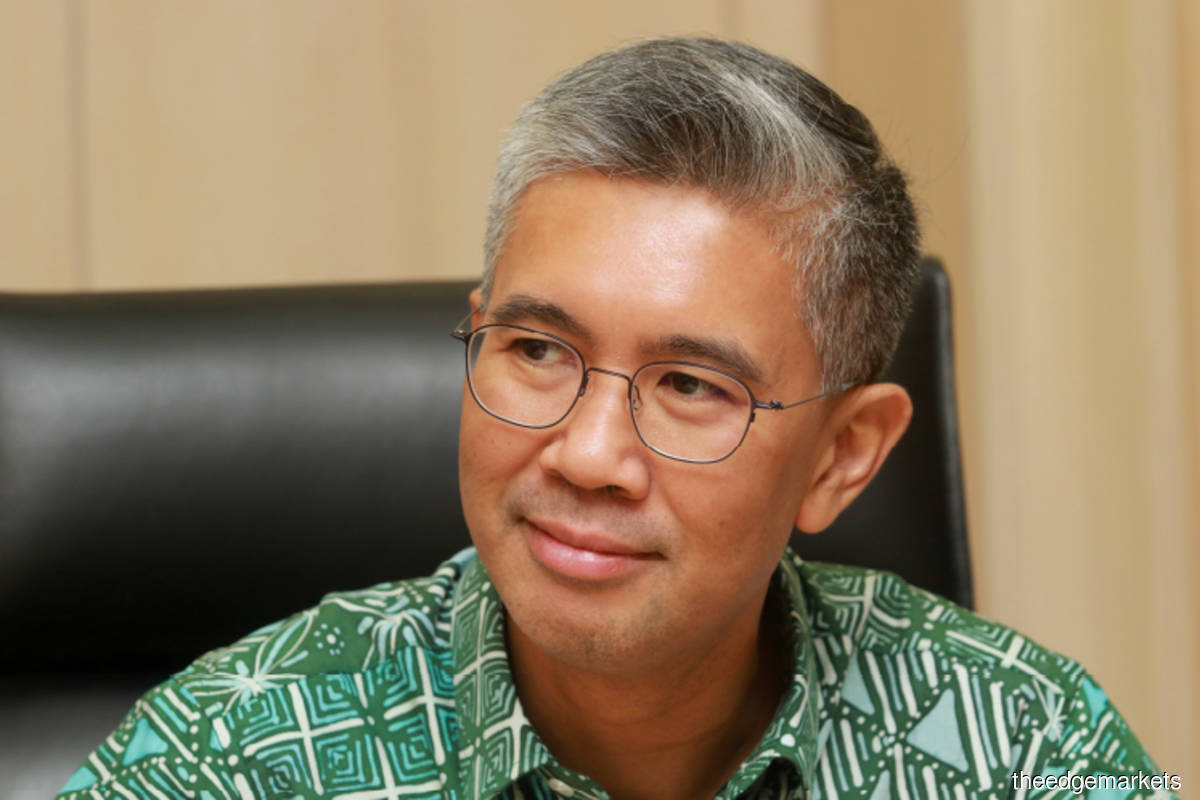 FINANCE Minister Tengku Datuk Seri Zafrul Abdul Aziz — who last week asked parliament to approve just over RM7 billion of extra money spent in 2019 and for permission to reallocate RM7.18 billion for the restructured Cabinet — is likely not done asking for more money and fiscal leeway from the Lower House in the current parliament sitting.
The two bills he tabled on July 21 — the Supplementary Supply 2019 Bill 2020 (RM7,005,753,850 for 2019 expenditure) and the RM7,184,083,200 Supply (Reallocation of Appropriated Expenditure) Bill 2020 — have only begun to provide details of how Budget 2020, which was tabled by the previous administration last October, has changed.
Zafrul will likely be tabling a revised or supplementary Supply Bill for 2020 as well as a motion on Estimated Development Expenditure for 2020 (Rang Undang-undang Perbekalan 2020 dan Usul Anggaran Perbelanjaan Pembangunan 2020) during the current parliament seating that runs until Aug 27, going by the records of his reply to questions on government finances raised last Tuesday in parliament, available only in Bahasa Malaysia.
This is because the government's 2020 budget still needs to be recalibrated to take into account the effect of the about US$20 per barrel fall in oil price on government revenue as well as the National Economic Recovery Plan (Penjana) and Prihatin Rakyat Economic Stimulus Package (Prihatin) totalling RM295 billion. Of that amount, RM45 billion — or about 3% of gross domestic product (GDP) — requires direct fiscal spending, most of which economists expect to be counted as development expenditure that can be debt-funded, as opposed to operating expenses that must be funded by government revenue.
Zafrul has said more than once that Malaysia could hit its self-imposed statutory debt limit of 55% of GDP by year-end, owing to the implementation of measures to stimulate the economy and protect the lives and livelihoods affected by Covid-19.
That 55% statutory debt limit, which refers only to direct federal government debt, stood at 53.2% as at June 2020, Zafrul has said without mentioning the actual amount of debt the government will be taking on this year.
Direct federal government debt stood at RM823.79 billion as at end-March 2020, up from RM793 billion as at end-2019, according to central bank data. Analysts expect the government to borrow at least RM20 billion more than what it would have already borrowed without Covid-19.
Higher debt limit widely expected
Winson Phoon, head of fixed income research at Maybank Kim Eng in Singapore, for one, reckons that it is "sensible" for Malaysia to raise the self-imposed statutory debt limit.
"This is a widely expected development and I think it has already been priced in by the market. The MGS (Malaysia Government Securities) market had been rallying in the past few weeks. It is also important to note that revising the debt limit is not unusual. Malaysia did this before during the global financial crisis — the limit was raised to 45% from 40% in June 2008 and then to 55% in July 2009," Phoon says, noting that a higher public debt ratio is a global trend and Malaysia will not be alone in revising fiscal limits, owing to challenges arising from the pandemic.
"Other regional countries have to deal with similar challenges. Indonesia has temporarily relaxed its 3% fiscal debt ceiling from 2020 to 2022 while Thailand may review its debt ceiling," he adds. Maybank Kim Eng is forecasting a broad-based increase of six to nine percentage points in government debt ratios across key Asean countries this year from last year.
Phoon says a new debt ceiling of 60% "looks reasonable", giving Malaysia "a modest debt headroom while preserving a tone on fiscal prudence".
"Based on our working assumption, where economic growth contracts 3.3% and deficit ratio widens to -6.3% in 2020, Malaysia's statutory debt ratio might slightly surpass the 55% limit. It is therefore prudent to make the revision before hitting the limit, so that we have sufficient fiscal headroom to deal with both the health and economic challenges posed by the Covid-19 pandemic," Phoon tells The Edge.
He believes that it is better for Malaysia to revise the limit "sooner rather than later to have more leeway and buffer against any unexpected risks or events".
Revising the self-imposed debt limit to 65% "appears to be on the high side, because it implies a headline debt ratio limit of close to 70%", he says, adding that lifting the limit only moderately also signals a stronger sense of fiscal prudence.
While most of Malaysia's debt are in ringgit and not foreign currency, would the country be risking a rating downgrade should it revise its statutory debt limit higher?
Citing heightened uncertainty following the Covid-19 pandemic, Fitch Ratings affirmed Malaysia's "A-" rating but revised its outlook for the country's long-term foreign-currency Issuer Default Rating (IDR) to "negative" from "stable" on April 9 this year while S&P Global did the same on June 26.
"I expect Malaysia's current rating and outlook (Moody's A3/stable, S&P A-/negative, Fitch A-/negative) to stay for the rest of the year. The two negative outlooks can be reverted to stable if Malaysia shows fiscal discipline and improvement in debt metrics in the next few years. It is something the country had achieved before — Fitch put Malaysia on negative outlook in [July] 2013 but revised it back to stable two years later on improvement in fiscal finances," Phoon says, referring to how Fitch raised its outlook for Malaysia back to "stable" in early July 2015 without an actual rating cut.
Ensuring long-term sustainability
To be sure, Malaysia needs to make sure that it can service its debt — not just direct federal government debt but also debt guaranteed by the federal government and other contingent liabilities that could land on the government's books should operating conditions sour. Debt service charges of RM34.95 billion pencilled in for Budget 2020 were already 14.3% of federal government revenue projected based on higher crude oil prices and when the government had not committed to giving up some revenue in aid of businesses and people hit by Covid-19.
Federal government revenue was estimated at RM244.5 billion when Budget 2020 was tabled in October 2019, with oil-related sources making up 20% of the expected receipts that assumed crude oil prices at US$62 a barrel. Oil prices averaged US$41 a barrel between January and June this year, and every US$1 drop in oil price reduces government receipts by RM300 million.
The hit to government coffers is estimated at RM6.6 billion (RM300 million x 22) if one were to assume oil price at US$40 a barrel, our back-of-the-envelope calculations show — an improvement from the US$20-to-US$30 levels that Brent crude oil sank to in late March and April when most of the world went into various degrees of lockdown, but more realistic than the US$62 assumed previously. Brent was hovering at US$43 a barrel at the time of writing. In June, the government said it was revising oil price estimates to US$30 to US$35 a barrel.
Yet there is no denying the need for the government to step in, should the pandemic situation worsen.
The limit to direct fiscal injection "will be an amount where we think we can no longer pay back the debt", Zafrul told The Edge in an interview marking his 100th day in office on June 18, where he related the government's commitment to preventing permanent damage from Covid-19 even as it aims to reduce its fiscal deficit back to 4% within four years from as high as 6% this year.
In that same interview, Zafrul told The Edge that the government "will address how [it wants] to move forward with revenue measures" by the time Budget 2021 is tabled on Nov 6.
As it is, the government has forecast fiscal deficit of 5.8% to 6% of GDP but has yet to provide an amount. Nonetheless, Zafrul noted that Malaysia has demonstrated the ability to reduce the fiscal deficit from 6.7% in 2009 to 3.8% in 2013, and subsequently 3.4% in 2019, adding that the government will demonstrate its resolve to reduce the number to one that is sustainable in the longer term when things normalise. The government, which is in the process of drafting its Fiscal Responsibility Act, remains committed to its medium-term fiscal framework, Zafrul said.