This article first appeared in The Edge Malaysia Weekly, on June 10, 2019 - June 16, 2019.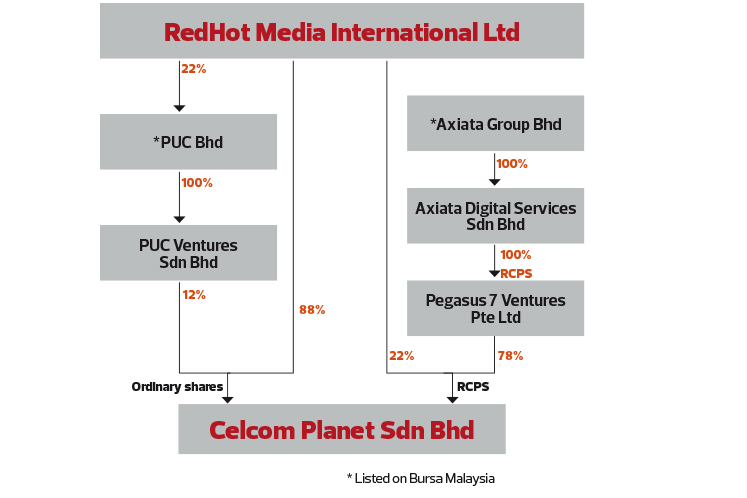 TOWARDS the end of April, Axiata Digital Services Sdn Bhd announced its plan to transfer five digital assets, including its entire stake in Celcom Planet Sdn Bhd — the operator of e-commerce platform 11street — to Singapore investment fund, Pegasus 7 Ventures Pte Ltd.
But the sale of these stakes at a total valuation of US$140 million (about RM580 million) has raised eyebrows in the investing fraternity.
More specifically, it has sparked a debate over whether the sale would indirectly impact PUC Bhd, which has a stake of about 12% in loss-making 11street. 11street's accumulated losses stood at RM390.92 million as at Dec 31, 2017.
Certain quarters point out that external auditors may require PUC to mark its investment value in 11street to market value, if the latest valuation of the online marketplace is lower than the cost of investment for PUC.
PUC invested up to RM40 million for a 12.348% stake in 11street last year. The deal implied a RM323.94 million valuation for 11street.
"If 11street's most recent valuation is lower than that (RM323.94 million), PUC might have to do a revision to correspond to the latest market price," a partner in an accounting firm tells The Edge.
It is worth noting that under the MFRS 9 (Malaysian Financial Reporting Standard 9), all investments are required to be carried at fair value.
"Since PUC only holds a 12% stake in 11street, it is neither its subsidiary nor associate. Instead, it is just a simple investment and, therefore, required to be marked-to-market," he says.
He adds that the latest transaction by Axiata Digital is a good indication of 11street's valuation because it is a non-listed entity.
The value can be used to assess whether any impairment or increase in fair value is required. However, the partner in the accounting firm acknowledges that this is only one indication.
"PUC can always get another external valuer to value its investment using a different basis of valuation, which may give very different results. It's all very subjective," he says.
An audit expert concurs.
"According to the standards, the auditors need to check for indications of impairment every year. If they are not convinced of the viability of 11street, they may require PUC to impair its investment," she says.
According to International Accounting Standard 36.12, indications of impairment include a decline in market value, negative changes in technology, markets, economy or laws, as well as if the carrying amount is higher than the carrying amount of the investee's assets.
"Usually, auditors will ask to look at the business plan, projections and, most importantly, the cash flow of 11street," she explains.
PUC: Valued at fair value
When contacted by The Edge, PUC says based on its understanding of the Malaysian accounting standards, its investment in 11street has to be valued at fair value.
"By fair value, it means that we also need to assess the recoverability of our investment. We have done such assessment and the results are satisfactory for inclusion in the FY2018 audited financial statements," says PUC.
11street's latest valuation is not publicly known, as Axiata Digital — the digital services arm of Axiata Group Bhd — has declined to divulge its individual asset valuations.
"We will not be commenting on the individual asset sale price as some of the digital assets are undergoing fundraising exercises. As a minority shareholder in these assets, we do not want to prejudice the ongoing discussions that these companies are having with prospective investors," Axiata Digital says when contacted by The Edge.
Axiata Digital is transferring its stakes in five digital assets — StoreKing, BIMA, FreedomPop, etobee and 11street — to Pegasus 7, which will be effectively managed by its fund manager, Gordian Capital.
Following the completion of the transfer, Axiata Digital would in return subscribe for 100% redeemable convertible preference shares (RCPS) in Pegasus 7.
"We have sold our entire interest in 11street to Pegasus 7. Although we would be the sole owner of RCPS in Pegasus 7, we do not have any control in [its] investment management decisions," says Axiata Digital.
It adds that 11street is a non-strategic digital asset, and hence, was carved out and sold to Pegasus 7, an independent, qualified fund team focused on driving value creation and managing the monetisation of the investment.
Axiata Digital: No price establishment yet
When asked about the price associated with 11street and PUC's mark-to-market, Axiata Digital CEO Mohd Khairil Abdullah says at the time of the RCPS transfer into Pegasus 7, there was no price established for 11street as a whole.
"Due to that, there wasn't a need for PUC to do a mark-to-market at that point in time during the transfer. That said, we are not in the position to comment on how PUC will account for those investments," he says in a brief conversation.
An accounting expert has a similar view.
"When there is a basket of goods, you as the seller would say item A is priced at RM1, item B is priced at RM2, item C is priced at RM3 and thus, the total is RM6. But the buyer might have a different view. They would do their own analysis to value these three companies differently. In the end, you don't quite know what the exact valuation is for each item," he says.
"Unless there is a transfer of asset that establishes the price at [an] individual level, there is no change. Either up or down, I don't think the Axiata Digital-Pegasus 7 deal would force PUC to do a mark-to-market, at least not for now," he adds.
11street still in the red
Celcom Planet, the operator of 11street, suffered from losses between 2015 and 2017.
A check on the Companies Commission of Malaysia's (SSM) website shows that Celcom Planet's loss after tax widened from RM103.22 million in 2015 to RM161.49 million in 2016, before narrowing to RM128.73 million in 2017.
Revenue, however, increased 31% year on year to RM30.36 million in 2017.
PUC attributed Celcom Planet's financial losses to the high expenses incurred in digital marketing and manpower.
"After gaining management control [of Celcom Planet], we have launched a few initiatives, such as the streamlining of its product categories, enhancement of our mobile application and introduction of new features to the platform such as integrating e-wallets as one of the payment methods in order to provide a better user experience," it says.
Because of cost optimisation, the losses have been significantly reduced.
"Ultimately, we are looking at the most cost-effective way to provide the best environment to cultivate user stickiness and concurrently expand user database as well as top-line growth. We are hoping that the platform will be profitable once all the new initiatives have materialised," says PUC.
Previously, SK Planet Global Holdings Pte Ltd was the single largest shareholder of Celcom Planet with a 44.7% stake, followed by Axiata Digital with 42.95% equity interest.
PUC Ventures Sdn Bhd, the wholly-owned subsidiary of PUC, had an 11.11% stake in Celcom Planet while RedHot Media International Ltd — the parent company of PUC — held the remaining 1.23%.
Following a series of shareholding restructuring (see chart), RedHot Media now directly controls 88% equity interest in Celcom Planet while PUC Ventures holds the remaining 12%.
Meanwhile, Axiata Digital will own all the RCPS in Pegasus 7, which will control 78% of the RCPS in Celcom Planet. The rest of the RCPS is held by RedHot Media.