This article first appeared in The Edge Financial Daily, on June 6, 2018.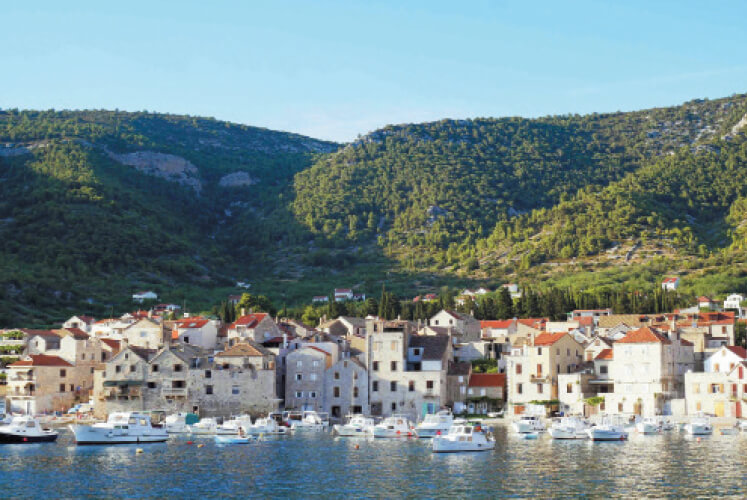 Along Croatia's coast is the city of Komiza, on the island of Vis.
Here are five under-the-radar destinations to consider this summer
It is the unofficial beginning of summer, and the rising temperatures mean your social media scroll will soon be overrun with infinity pools in Santorini, the cliff-hugging villages of Cinque Terre, and the blooming lavender fields of Provence. Or, if your friends are especially on-trend, the sunburned terracotta roofs of Croatia's Dalmatian coast.  
"Croatia is huge," says Andy Ross, head of product for the 40-year-old adventure travel company Exodus Travels. In recent years, he has seen the country shift from an up-and-coming destination to a "very, very well-known" quantity. It is now the company's fastest-growing European market.
There is good reason for that: Croatia has more coastline than Portugal and France combined and more islands than the Maldives. Annual visitors to the country now quadruple the country's population of 4.2 million.
But the surge in visitation has become controversial. Dubrovnik, Croatia's most visited city, has become so swarmed with summer sightseers, that it — like Venice and Barcelona — is considering tourism restrictions. (Thanks, Game of Thrones fans.) Says Ross: "It's [become] hard to find a time of year to have a peaceful, genuine experience in Dubrovnik."
In the neighbouring Balkans, the opposite is true: The same, untapped natural beauty, a fascinating mélange of cultures, but few crowds. And despite the region's complicated war-torn history, the US Department of State now considers the Balkan states safer than much of Western Europe.
Whether you start in Dubrovnik or head straight off the beaten path, here are the destinations to prioritise — no matter what your travel type. Your Mykonos-fatigued followers will thank you.
Best for families: Lake Bled, Slovenia
While much of the region bakes in the summer heat, Slovenia stays more temperate, thanks to its lake-filled, forest-covered mountains. It also has relatively reliable infrastructure and high-end accommodations. According to Jonny Bealby, founder of the trailblazing travel outfit Wild Frontiers, this accessibility and manoeuvrability makes Slovenia a "brilliant country for family travel".
How much time you will need: Five to seven days
What to see and do: Spend a day or two roaming the charming streets of Ljubljana, then head to the fairytale-like Lake Bled. Its 17th-century church — set against the mighty Julian Alps — is one of the country's most famous sites. But there is more to the area than churches and castles; nearby Triglav National Park, which is named for the nation's highest peak, has secret waterfalls, lakes, and canyons to explore.
Vintgar Gorge, a mile-long ravine with family-friendly walking trails that hang onto limestone cliffs, is also a popular choice. A scenic, 30-minute drive to Lake Bohinj provides softer adventures: Paddle boarding, kayaking tours, and well-marked hikes. (Prioritise the ones to the roaring Savica Waterfall.) And for small children, there is the Vogel Cable Car, offering jaw-dropping views of the mountain landscape.
Then head to Tromeja, a landmark near the small Alpine village of Kranjska Gora in the north. Adults will appreciate the small-town charm, while kids will get a kick out of stepping across the three-country border at which Slovenia meets Italy and Austria.
Where to stay: Book one of 31 classically styled rooms in Vila Bled, the restored 1940s lakeside summer residence of Josip Broz Tito, the late president of Yugoslavia.
Best for road-trippers: Durmitor National Park, Montenegro
This tiny country — roughly the size of Connecticut — is developing an outsized reputation for its stunning Adriatic coastline and varied national parks. Trains are limited and slow-going, so a car is required. But be warned: Many of Montenegro's guardrail-free, single-lane routes cling to the edges of cliffs. They are beautiful but not for the faint of heart.
How much time you will need: Three to five days
What to see and do: Fly into Dubrovnik and wind your way into Montenegro on roads that hug the cerulean Bay of Kotor. Located deep within the massifs of the Dinaric Alps, the fortified coastal town of Kotor has 14th century ramparts — best explored at sunset, when the golden light bounces off Romanesque churches and into the shimmering waters. Then take a day to hike either of the two looming peaks in Lovcen National Park, where the views of the craggy landscape once caused George Bernard Shaw to wonder, "Am I in paradise or on the moon?"
Along the mountainous country roads that lead to the lakeside town of Pluzine, you will find the Ostrog Monastery, a 17th-century Serbian Orthodox Church that was built directly into the rosy rock face of a sheer vertical cliff. Then it is off to Durmitor National Park — the country's star attraction. The hair-raising route along highway P14 weaves along the cliffs of Piva, through agricultural foothills, and on towards Crno Jezero, the park's glacier-formed "Black Lake". Your last stop: A few relaxing nights on the near-private islet of Sveti Stefan, which was once a 15th-century fortified coastal village and is now a spectacular Aman resort.
Where to stay: Wild Frontiers' Bealby recommends Poscenje Chalet, a small bed and breakfast near Durmitor whose owners double as expert adventure concierges.
Best for hikers: Accursed Mountains, Albania
The Albanian Alps, located in the north-west corner of the country, seem so impenetrable, locals call them the Accursed Mountains. But insiders have found them to contain age-old cultural appeal and unspoiled natural wonders, making Albania one of Exodus Travels' most in-demand emerging destinations.
How much time you will need: Four to five days
What to see and do: Start with a taste of local life in the ancient, mosque-filled city of Shkoder, near the Montenegro border. There, old men play cards in the shade of the city's parks, and young adults sip Turkish coffees at outdoor cafes. Then hop on a boat to the quaint village of Valbone, where an eight-hour mountain trek connects secluded villages to the dense Theth forest via still-functional mule paths. At a dizzying 5,889 feet (1,795m) above the valley floor, you will reach Valbone Pass. From there, it is a gentle descent through spongy pine-strewn forest paths before it ends at the historic Roman Catholic hamlet of Theth, for which the forest is named.
Where to stay: A handful of quaint inns in the village of Valbone let you walk out the door and straight onto the trails. The most comfortable is the Rezidenca, a recent addition to the small, 13-year-old Rilindja guesthouse, featuring oversized rooms with en-suite facilities, a rarity in this little-developed region.
Best for culture vultures: Mostar, Bosnia and Herzegovina
Nearly demolished during the decade-long Yugoslavian conflict and horrific Bosnian War, the historic city of Mostar, an hour or two's drive inland from the Dalmatian Coast, is emerging as the region's cultural capital. Today, it is a place where 16th-century and 17th-century mosques and contemporary street art go hand in hand.
How much time you will need: One to three days
What to see and do: The recently rebuilt Stari Most, an important example of 16th-century Islamic architecture whose name translates into "old bridge", is picturesque enough to single-handedly put this city on the map: Its arched point casts a mirror-like reflection into the green waters of the Neretva River. It serves as a beacon of the city's recovery — unlike some buildings that still have bullet holes to serve as lasting reminders of the ravages of war.
Today, more than 100 murals can be found across the city. Some of the best are at "Sniper Tower", an eight-storey bank building that was once used as a base by Croats and Serbs during the conflict; now it is an artistic response to the crisis, with emotionally charged graffiti lining its shelled-out interior and pockmarked exterior walls.
Just a 20-minute drive away, along the Buna river, the 15th-century Sufi monastery of Blagaj Tekke offers a respite from all the intensity. It is also convenient to Restoran Romanca, a traditional restaurant with picnic tables outside, white tablecloths inside, and an on-site vineyard.
Where to stay: Bealby books his guests into Hotel Kapetanovina, a small boutique property in the centre of Mostar, with commanding views of the famed bridge.
Best for Urbanites: Sofia, Bulgaria
Despite being continuously inhabited since at least 7,000 BC (and claiming its fair share of Cold War bunkers and Communist-era buildings) Sofia has become a modern destination. With excellent restaurants and shopping, plus an impressive number of public parks, Bealby likens it to Prague, Budapest, or Berlin — only quirkier and more affordable.
How much time you will need: Two to four days
What to see and do: Sofia's wide boulevards, such as Oborishte Street and Vitosha Boulevard, are lined with cafes, art galleries, and fashionable shops — and they double as prime spots for people-watching. Most restaurants offer regional variations on classic Balkan dishes (think grilled-meat platters and oversized salads). Standouts include A:Part:Mental, set in an apartment with uniquely designed rooms and a menu of vegetarian and vegan offerings, and Rose, a light-flooded, pan-European lunchtime spot that transitions to a violet-hued cocktail bar by night.
But Sofia's history is too fascinating to be ignored. Look no farther than the gold-covered domes of the Alexander Nevski Cathedral, the underground catacombs of Saint Sofia, and the ancient Roman complex of Serdica, which was restored in 2016. Now the fourth-century ruins are protected by a large, glass dome through which visitors can take in the bustling urban activity above — a perfect mix of age-old culture and modern-day buzz.
Where to stay: At the slick Sense Hotel Sofia, you can view the palatial National Assembly and the Alexander Nevski Cathedral through floor-to-ceiling brass shutters. — Bloomberg