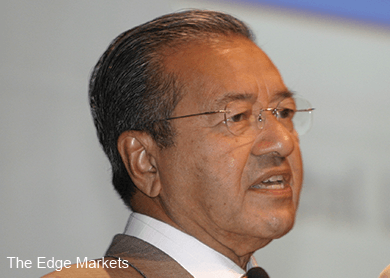 (June 25): Former prime minister Tun Dr Mahathir Mohamad today asked Putrajaya why it did not take legal action against The Edge and Sarawak Report, if it believed the media outfits were publishing false news.
He said The Edge had often challenged the government to take them to court, yet Putrajaya instead, chose to issue threats against the business weekly.
"Sarawak Report has been saying all kinds of things, which you can sue. But you didn't sue.
"Even The Edge says a lot of things, and practically challenging the government to sue them. Why didn't you sue?" Dr Mahathir said at a press conference after attending a buka puasa event with Perkasa in Kampung Baru, Kuala Lumpur.
Home Minister Datuk Seri Ahmad Zahid Hamidi yesterday reportedly said that ministry had the power to cancel or revoke publishing permits if the media were found to be publishing false information.
The minister singled out The Edge and its owner Datuk Tong Kooi Ong for special mention. The Edge, a business weekly, has published several reports on 1Malaysia Development Bhd's (1MDB) dealings.
Zahid said the information published on might be false following news that data and emails leaked about 1MDB's dealings with PetroSaudi International had been fabricated by a former director of PetroSaudi.
The news about fabricated data was first reported the New Straits Times which quoted an anonymous source for private cuber security firm Protection Group International.
The Malaysian Insider is part of The Edge Media group which publishes The Edge. – The Malaysian Insider