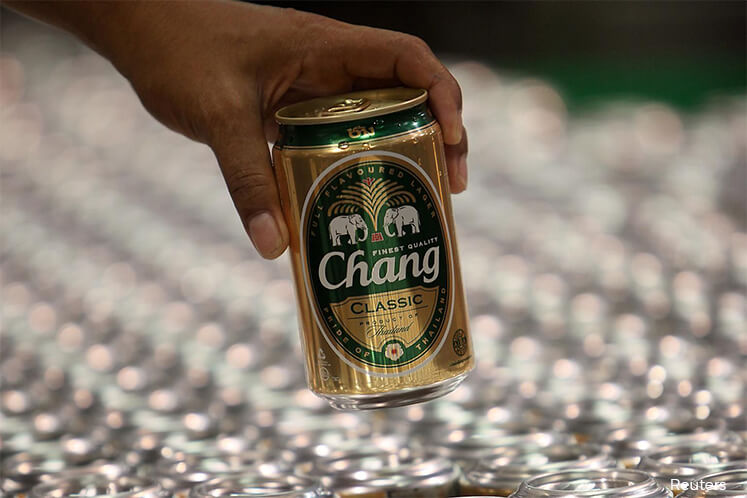 SINGAPORE (April 13): In the past few weeks, at least two brokerage firms have put out research reports speculating on a potential restructuring at Thai Beverage this year that involves its major stakes in F&N and Frasers Centrepoint Limited (FCL).
ThaiBev holds a 28.5% stake in F&N and a 28.4% stake in FCL. TCC Group holds 59.3% of F&N and 59.1% of FCL. TCC Group also holds 66% of ThaiBev. Most analysts see ThaiBev swapping its stake in FCL for TCC Group's stake in F&N. That would result in TCC Group owning 88% of FCL directly and raise ThaiBev's stake in F&N to 88%, perhaps leading to an offer to take F&N private.
ThaiBev's stake in FCL has a market value of S$1.49 billion while TCC Group's stake in F&N is worth some S$1.98 billion. Such a swap could result in ThaiBev having to stump up some S$490 million in cash to make up for the difference in the market value of its stake in FCL versus TCC Group's stake in F&N. It would theoretically have to come up with a further S$407 million were it to acquire the rest of F&N and take the listed company private.
According to CIMB, ThaiBev has the capacity to take on some debt to raise its stake in F&N, as its gearing ratio is currently only 0.27 times. But CIMB also suggests that ThaiBev might not acquire all the F&N shares that TCC Group holds. "We do not discount the possibility of ThaiBev deciding not to leverage up, and simply using its entire FCL share sale proceeds to purchase as big a stake in F&N as it possibly can," says the CIMB report, dated March 26.
Whatever the case, ThaiBev is likely to suffer some earnings dilution if it were to swap its stake in FCL for TCC Group's stake in F&N, because shares in F&N are currently trading at a much higher earnings multiple than shares in FCL. CIMB estimates that ThaiBev would suffer reduced earnings of US$70 million (S$98.4 million) to US$90 million per annum by parting with its stake in FCL, while a higher F&N stake would result in additional profit of just US$30 million.
To understand how ThaiBev's restructuring could propel it into a regional beverage player, particularly in the fast-growing Indochinese market, get your copy of The Edge Singapore (week of April 17) which is on sale now.