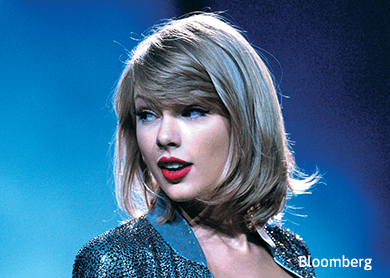 TAYLOR Swift's lightning-quick victory over Apple Inc demonstrates how high-profile artists can use public shaming to shape the music business when even major record labels haggling behind the scenes can't.
The biggest music companies, after months of negotiations, couldn't convince Apple to pay royalties during a three-month trial period, according to people with knowledge of the matter. Before Swift spoke up, other major artists privately threatened to pull their albums from Apple's new service, said the people, who weren't authorised to discuss the matter publicly.
Armed with a best-selling album and a Tumblr account, Swift got the job done in 17 hours. Artists of a certain magnitude, like Swift or Kanye West, can employ the universal tools of music and social media to greater effect.
"She didn't have a lot to lose," said Ethan Kaplan, an executive at music-technology company Gracenote. "She's the biggest artist in the world, she owns her own masters. She has a leveraged position."
Swift provided a louder microphone to independent labels such as the Beggars Group, which has worked with Adele, Beck and Radiohead. Beggars Group had said earlier it would withhold upcoming records because of the free trial, which the label said undermined Apple's promise of a pay-only service.
While that generated some headlines, it was only when Swift marshalled more than 70 million followers on Facebook, 59 million on Twitter and thousands more in the press that Apple's Eddy Cue changed his mind.
Pearl Jam
"Few people in the music world other than Taylor Swift could make this type of demand, at least successfully," said Kevin Goldberg, a lawyer at Fletcher, Heald & Hildreth specialising in intellectual property and copyright.
There is a tradition of top pop acts using their clout to address industry gripes. Pearl Jam cancelled a tour more than 20 years ago because Ticketmaster refused to lower its service charges. A year later, the band was back in the fold.
Swift, too, in the past has used her status as the world's biggest pop star. Last year she refused to make 1989 available on Spotify Ltd, the most popular subscription music service, and elsewhere online, because she wanted to restrict its availability to paying customers.
The result? Swift's 1989 debut had the highest week of sales of any album since 2002, according to Billboard. Yet Spotify, which refused to back down, has added millions of subscribers since the incident, suggesting it too benefited from the publicity.
1989 hasn't appeared on Spotify. Swift hasn't said whether she'll put it on Apple Music.
Streaming's Growth
Apple was the centre of the music universe for the decade after it introduced the iPod and iTunes Store, as sales of singles replaced albums and digital copies replaced CDs. Though Apple is still the world's largest music retailer, its grip on power has slipped as consumers flocked to free competitors like Spotify and YouTube.
There are other signs the rising competition has cut into Apple's negotiating leverage. The company has said it plans to pay rights holders 71.5% of the subscription revenue in the United States, and about 73% globally, a higher share than in previous industry streaming deals.
Jay Z got artists to offer exclusives through his streaming service Tidal, partly because it only offers a paid product. (Musicians and record companies have quarrelled with Spotify over its free option.)
Apple moved quickly to stem the uproar after Swift's Tumblr post on Sunday. Cue, Apple's senior vice-president for Internet software and services, told Re/code that the company will pay rights holders on a per-stream basis for the three-month trial period. He didn't disclose the amount.
Apple's Strengths
The company, like Spotify, could benefit from the Swift publicity. Apple acquired Beats Music and invested in a new music service in response to the changing market. It's still a major player with significant advantages — including hundreds of millions of credit cards on file.
While Swift has proven she can get 1989 to fans without free streaming, no single act is a must-have for a music service like Apple's, said Russ Crupnick, managing partner of research firm MusicWatch.
"There are plenty of people who wouldn't know the difference, or would listen to other things," Crupnick said. "To think one artist or one album will make or break a service is frankly insane." — Bloomberg
This article first appeared in The Edge Financial Daily, on June 24, 2015.