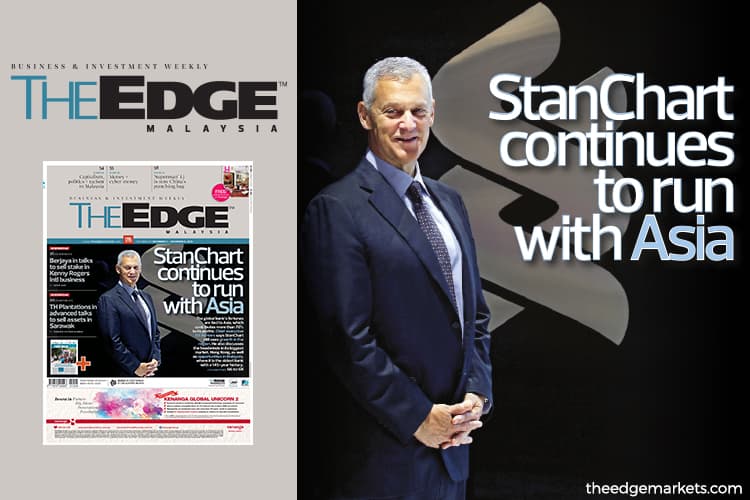 KUALA LUMPUR (Nov 30): These are certainly disquieting times for Asia, not least because of protracted US-China trade tensions, slowing growth in China and prolonged unrest in Hong Kong.
Nevertheless, Bill Winters, chief executive of Standard Chartered Plc (StanChart), which derives over 70% of its profit from the Asia region, remains upbeat. He is buoyed by the fact that the bank is not just more resilient to ride out the gloom, having strengthened its foundations since 2015, but also uniquely positioned to tap identified opportunities.
In an exclusive interview with The Edge in Kuala Lumpur recently, he acknowledges that there are many challenges that will likely continue "for some time". But, he still anticipates growth in the region. Winters describes StanChart as a global bank "with its heart in Asia".
"We feel very good about where we're positioned. We couldn't have hoped to be in a better place right now in terms of the underlying growth trends, the demographics and the franchise – just the businesses that we have today and the opportunities that give us to continue to grow," he says.
In the interview, he discusses the headwinds in its biggest market, Hong Kong, as well as opportunities in Malaysia, where it is the oldest bank with a 145-year history. The London-headquartered group has a presence in 65 markets worldwide. Singapore's state investor Temasek Holdings Pte Ltd is the largest shareholder, with a 15.97% stake.
On a personal note, the affable American shares the story of how he had actually wanted to be a diplomat but landed in banking instead. Read the cover story in The Edge Malaysia's latest issue this week.