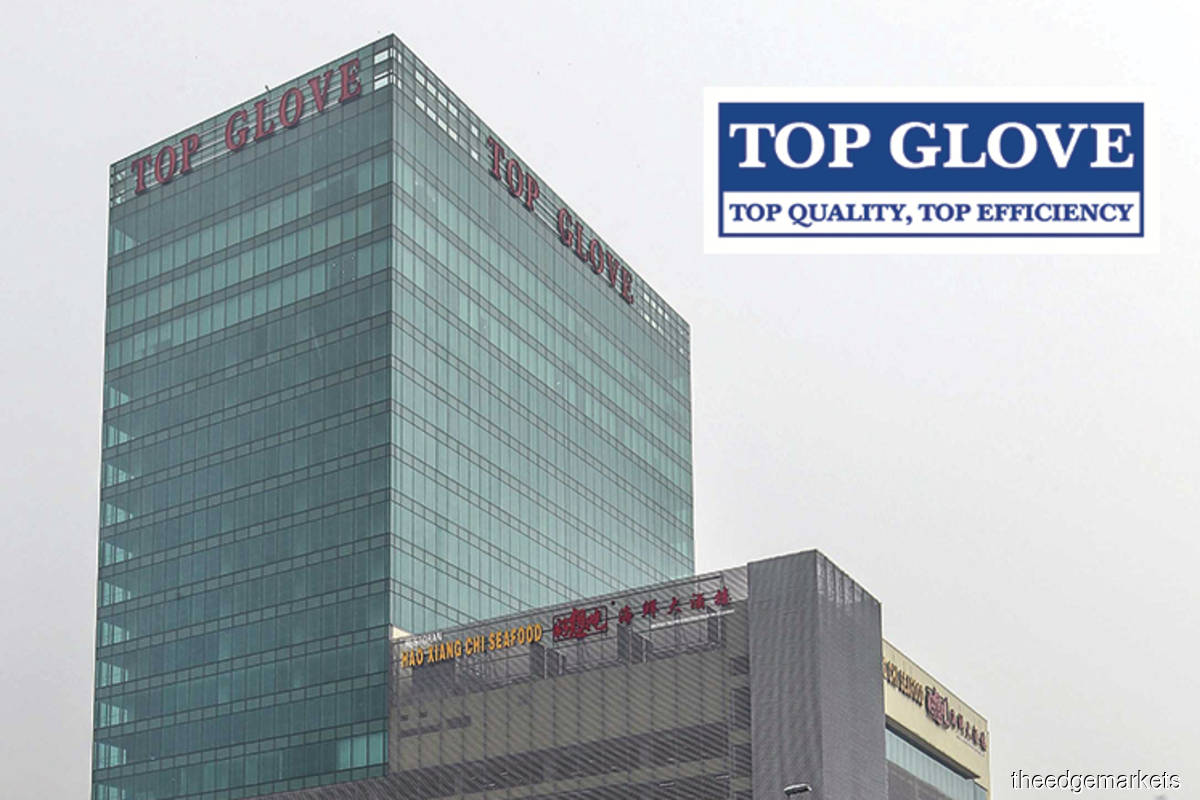 KUALA LUMPUR (Jan 30): The glove bears which shorted Top Glove Corp Bhd shares do not seem to have backed off that easily, despite the move initiated by some anonymous investors to get retail investors to buy more Top Glove shares in order to trap the short sellers in short squeeze positions.
When short sellers are short squeezed, they would be in losses as they have to cover their short positions when share prices are climbing, which is against their bet on a bearish market.  
The latest data released by Bursa Malaysia shows that the regulated short selling volume on Top Glove was 2.516 million shares, worth RM16.68 million. For the holiday-shortened trading week, a total of 17.24 million shares worth RM110.23 million were shorted at the world's largest rubber glove manufacturer. 
This is far less than the volume in the first trading week of the new year. There were 196.19 million shares worth RM1.09 billion shorted during that week. An old timer in the investing fraternity said he has never seen such weight of money being put on the table before this on Bursa. The short selling volume accounted for 56% of the week's total volume.  
The call for retail investors to gang up against short sellers, who are expected to be institutional investors, was inspired by the wild swing in the share price of the US-based video game retailer GameStop Corp. 
To tell a long story short, some hedge funds, which heavily shorted the New York-listed stock, woke up with a short squeeze position. They scrambled to seek more money to cover their short positions, as retail investors swarmed to buy GameStop, driving up the share price sharply. The stock soared 1,700% in two weeks.
This is something that has rarely happened in history. 
With what has unfolded on Wall Street, some local investors decided to follow suit to teach short sellers a lesson, by calling on retail investors to buy Top Glove shares to jack up the share price. But no one knows what is their ultimate motive. 
Nonetheless, one thing that may not have been highlighted is the differences between GameStop and Top Glove, besides their core business. 
GameStop's market capitalisation stood at US$13.5 billion based on Thursday (Jan 28)'s closing of US$193.60. However, it is worth noting that the share capital of the video game retailer is only 69.7 million shares, with a free float of barely 50.7 million shares, according to Bloomberg. 
It is a relatively illiquid stock with such a small number of shares available on the open market. This explains how those retail investors could move the share price by 1,700% in two weeks. 
Top Glove, on the other hand, recently completed a one-for-one bonus issue. Its share capital has expanded to 8.02 billion shares. Its free float of shares is about 3.95 billion, according to Bloomberg. It is apparent that it could be an uphill task to lift Top Glove's share price, compared with GameStop. 
Furthermore, it is worth looking at each of their share price trends.
GameStop shares were trading at barely US$19.90 about three weeks back on Jan 11, and they rallied to above US$300 in a short span of time. Unlike Top Glove, there weren't shareholders holding shares at higher prices waiting to sell, when the retail investors acted together to lift GameStop's share price. 
Like it or not, many "long only" institutional funds are trimming their positions in Top Glove. Meanwhile, there is an increasing number of analysts cutting their target prices, although they maintain their buy call, implying that the market is valuing the glove makers at a lower premium, as more countries expand their Covid-19 vaccination efforts. 
This means the selling pressure is likely to intensify, as Top Glove climbs further. The selling does not only come from short sellers but also those who are holding long positions. 
Beside the powerful share price rally, another factor that has short squeezed the hedge funds is that the net short position at GameStop was as high as 138%, meaning the stock was shorted more than its size of share capital. 
The hedge funds were doing "naked short selling" — short selling without any script in hand. The shortage of GameStop shares got even worse in the already illiquid counter, when the fund managers were trying to cover their short positions and retail investors piled in the market. As a result, a short squeeze happened. 
On Bursa, the regulator has imposed a 4% limit on the net short position of each approved security that is allowed for short selling. 
The net short position at Top Glove was at 239.45 million or 2.92% of its share capital as at Jan 27, Bursa data shows. This is vastly different from GameStop.  
As at time of writing, GameStop shot up US$128.16 to US$321.76 (30 minutes after the opening bell on Friday, Jan 29) on Wall Street, after Robinhood partially lifted the trading limit on the stock.
The quantum leap on share price took place after only 13 million shares exchanged hands. 
There were 161.6 million Top Glove shares traded on Friday. The glove, however, retreated from the day's peak of RM7.12 to  end the week at RM6.74, up 53 sen or 8.5% against Wednesday's closing.