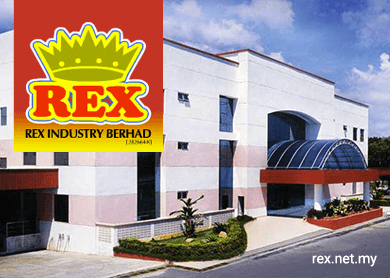 This article first appeared in Corporate, The Edge Malaysia Weekly, on June 20 - 26, 2016.
HWA Tai Industries Bhd's annual general meeting on June 18 in Kawasan Perindustrian Tongkang Pecah, Batu Pahat, would have been its first with canned food maker Rex Industry Bhd as a substantial shareholder.
Considering that Rex had purchased 4.2 million shares or 5.61% equity interest in Hwa Tai on June 3, it was entitled to attend the AGM as the cut-off date for shareholder attendance was June 13.
The question is, does Rex intend to increase its holding to something more meaningful than 5.61%? 
There is very little information available on Rex's plans as its management did not respond to questions sent by The Edge.
Nevertheless, trading in Hwa Tai's shares picked up considerably after Rex bought into the company. From June 3 to last Thursday, trading volume averaged 1.71 million shares a day, in contrast to 120,956 shares from June 2, 2015, to June 2, 2016. 
Since June 2 this year, 17.11 million Hwa Tai shares have changed hands, which is close to 40% of its share base. 
As at March 31, Hwa Tai's net asset value per share was 36.9 sen but it is noteworthy that some of the company's assets have not been revalued for some time now. Its 38-year-old factory and industrial buildings located on two acres in Johor have a net book value of just under RM1.9 million but this valuation was done in 1983. 
Hwa Tai has another four parcels in Tongkang Pecah measuring about six acres, whose valuation was done between 1978 and 2011. Also on its books is a 24-year-old factory located on a 2.8-acre parcel in Kota Kinabalu, Sabah, which was valued at RM2.06 million in 1989. 
All this indicates that the company's net asset value per share could be considerably higher than stated on its books.         
Also, Hwa Tai's shares hit a 52-week high of 59 sen last Thursday, before closing at 55 sen, which indicates that some party is accumulating the stock.
Currently, the biscuit maker's largest shareholder is Soo Thien Ming @ Soo Thien See, who has 30.95 million shares or a 41.36% stake in it.
A lawyer by profession, Soo, 68, is the non-executive chairman of the company and has been on its board since April 1996. His 37-year-old son Soo Chung Yee is the CEO of the company. 
As Hwa Tai is generally a low-key company, it is not known what Soo has planned for it. A source familiar with Rex's management says Hwa Tai has much potential. "Just look at the company's earnings over the past decade," he says.
Hwa Tai's highest yearly earnings were in FY2009 and FY2006, when it raked in a net profit of RM2.1 million on revenue of RM72.1 million and RM69.1 million respectively.
In the first three months of FY2016, Hwa Tai registered a small net profit of RM85,000 on revenue of RM16.74 million. It had suffered a net loss of RM2.44 million on revenue of RM61.33 million in FY2014 but returned to profitability with RM322,382 in FY2015. 
Perhaps, Hwa Tai's turnaround caught Rex's attention. The latter's best financial year was FY2006 when it registered a net profit of RM5.7 million on sales of RM116.9 million. 
Rex just changed its financial year-end from December to June, so in the fifth quarter of FY2016, it suffered a net loss of RM5.98 million on revenue of RM37.07 million. In the notes accompanying its financial statement, Rex says the loss was "due to the allowance for inventory obsolescence of RM4.58 million and higher operating costs incurred by an overseas subsidiary".
As at March 31, 2016, the company had cash and cash equivalents of RM15.21 million while on the other side of the balance sheet, it had long-term debt commitments of RM14.2 million and short-term borrowings of RM573,000. 
At Hwa Tai's closing price of 52 sen on June 3, Rex would have forked out RM2.18 million for the 4.2 million shares. 
However, Rex's cash pile is likely to get a boost since it has sold Jie Yang Rex Foods Co Ltd (JYR), its wholly-owned Chinese subsidiary, to Lee Chai Seng for RM21 million cash. Lee, 73, is a 17.4% shareholder of Rex and JYR's executive chairman. 
Rex's largest shareholder is Darmendran Kunaretnam with a 26.35% stake. Of this,  5.71% is directly controlled while 20.64% is held via Daiman Taipan Sdn Bhd, which Darmendran owns jointly with Chee Cheng Chun. 
Darmendran was appointed Rex's managing director in March last year while Chee assumed a non-executive position.  
Other than their holding in Rex, Darmendran and Chee own 35.66% of Kejuruteraan Samudra Timur Bhd and control 55.21% of the company with Datuk Chee Peck Kiat @ Chee Peck Jan. 
They are in the midst of taking the company private via a selective capital reduction and repayment exercise, which entails 42 sen in cash per share and 12 sen per warrant. 
This is because the company has been categorised as Practice Note 16, which means it is a cash company. 
Kejuruteraan Samudra Timur has sold its tubular handling and land rig businesses, leaving it with a small earnings base from tubular inspection and maintenance services.
Besides owning Rex, Kejuruteraan Samudra Timur, and now 5.61% of Hwa Tai, Darmendran and partners also control Safeguards Corp Sdn Bhd and Saito College, among others.