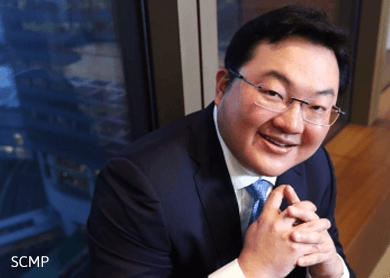 KUALA LUMPUR (Apr 17): Despite police reports being filed against state investment arm 1Malaysia Development Bhd (1MDB) since last December, police have yet to summon businessman Low Taek Jho to investigate the massive financial scandal in the debt-ridden fund, DAP said today.
The party's national secretary, Tony Pua said the fact that the police have yet to question Low was revealed by the businessman himself, who told international media that the Malaysian authorities had not called him up.
As such, Pua questioned why was it that the Inspector-General of Police could be so quick to investigate harmless tweets by opposition leaders and activists, but so slow  in taking action against someone who might have robbed Malaysia of billions.
"It is depressing to learn that while the Inspector-General of Police can be so ruthlessly efficient with investigating harmless tweets by opposition leaders, civil society activist, academics and even the ordinary man on the street, yet he is so tardy in taking any action against someone who could have robbed Malaysian tax-payers of billions of ringgit.
"We would like to find out if Jho Low is a specially-protected person who cannot be arrested or questioned?" Pua asked in a statement yesterday.
He further questioned if Low was "untouchable" because he was known to have a "cosy" relationship with Prime Minister Datuk Seri Najib Razak and his family.
The DAP lawmaker also highlighted the fact that even Umno had demanded for the businessman to be investigated, with the party's youth chief Khairy Jamaludin and Umno Penang making the call after Jho Low had criticised the party in an interview in Hong Kong earlier this week.
"Does he still deserve the protection with the recent blood-thirsty howls from Umno leaders themselves?
"If even the leaders like the Umno youth chief, Khairy Jamaluddin as well as Umno Pulau Pinang, the state where Jho Low originated from, has demanded that the latter be investigated immediately, then surely, the IGP must pay heed to ensure the crooks behind the heinous crimes are made to pay for their crimes," he said, in urging the police to haul up Low for questioning immediately.
Pua, who is MP for Petaling Jaya Utara, said this was necessary as Low had been alleged to have masterminded the transactions behind the joint venture between 1MDB and little-known Petrosaudi International Limited.
This had led to at least US$700 million from 1MDB being misappropriated to Good Star Limited, a company controlled by Low, he added.
He also said that alleged email communications had shown that former 1MDB CEO Datuk Shahrol Halmi had authorised the said transactions with the approval of Najib, who is also the finance minister.
"If these public allegations are true, and they have yet to be specifically refuted by any of the parties above, then it is a brazen and heinous crime against the Malaysian government and its tax-payers.
"The scale of embezzlement may be the largest ever in Malaysia's financial history," he added.
Pua had lodged a police report last month asking for the principal protagonists behind 1MDB – which has accumulated in excess of RM42 billion of debt in just five years – to be investigated.
The parties named in the report on the massive financial scandal included Low, Halmi and Najib.
Former Umno Batu Kawan deputy chief Khairuddin Abu Hassan had in December also filed a police report against 1MDB, asking for a "detailed and comprehensive" investigation against the company. – The Malaysian Insider