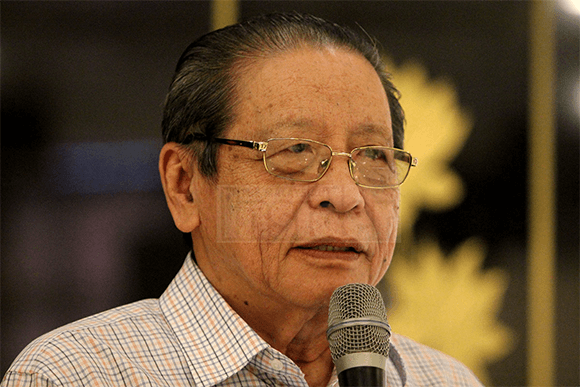 (June 22): DAP's Lim Kit Siang today continued to question Datuk Seri Najib Razak's silence following a Wall Street Journal (WSJ) report that the troubled 1Malaysia Development Berhad (1MDB) had indirectly bankrolled the prime minister's 2013 election campaign.
The parliamentary leader said no ministers from Najib's cabinet had come forward with an open letter to rebut the WSJ report.
 
"In the style of the open letters by Anifah and Idris, one would have thought that a cabinet minister, probably the Second Finance Minister Datuk Seri Husni, would have been assigned the task of writing to the Wall Street Journal to tear its expose into pieces," he said, referring to Foreign Minister Datuk Seri Anifah Aman and Minister in the Prime Minister's department Datuk Seri Idris Jala.
"But there is only deafening silence from Najib and his cabinet so far on the Wall Street Journal report.
"Can Najib explain what this imports, especially as his 'public relations' outfit has claimed that Najib has 'Nothing2Hide' on the 1MDB controversy?" he asked in a statement today.
Last week, Anifah wrote an open letter to the New York Times, protesting an interview by former prime minister Tun Dr Mahathir Mohamad who touched on the 1MDB scandal, Umno and accusations against Najib.
Anifah expressed regret at Dr Mahathir's action "to undermine his own country through the international media as part of a personal political vendetta".
Idris also recently wrote an open letter to Bloomberg over an article by its columnist William Pesek, accusing it of being "consistent with a series of slanted articles that run down Malaysia and its leadership".
Idris said Pesek had written "an unsubstantiated hatchet job on the current prime minister in order to please Dr Mahathir" and had strayed from his past writings about Dr Mahathir's failures and sins as prime minister.
"What is noteworthy is that Idris avoided all comments in Pesek's article quoting Tan Sri Tony Fernandes of AirAsia about the Malaysian government's misguided priorities and its utter lack of accountability, in particular Tony's tweets on what is wrong about Najib's premiership," Lim said.
WSJ said debt-ridden 1MDB had indirectly supported Najib's campaign by purchasing power assets from Genting Group in 2012 for five times more than their worth.
Genting allegedly donated part of the earnings to a foundation controlled by Najib. According to WSJ, the foundation, Yayasan Rakyat 1Malaysia (YR1M), then announced several charity projects that Najib later brought up during his campaign.
"Though set up to help underprivileged Malaysians through education and sport, this charity soon got involved in spending that appeared designed to help Najib retain power in the May 2013 election," said WSJ.
In a response to WSJ, the Prime Minister's Office said the claims were baseless. – The Malaysian Insider