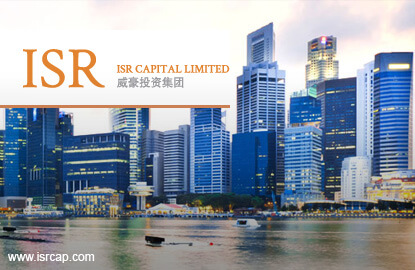 SINGAPORE (March 3): It remains to be seen whether shares in ISR Capital will continue falling when they begin trading again.
What is clear though is that a total crash in the stock could put the acquisition of the rare earth mining concession in jeopardy.
(See also: ISR Capital 'glad' to resume trading on March 6; will continue working towards Tantalum acquisition)
ISR is in the process of acquiring a 60% stake in a company called Tantalum Holding (Mauritius), which owns the rare earth mining concession, for S$40 million in new shares priced at 10 Singapore cents each.
(See also: ISR Capital to acquire REO Magnetic's remaining 40.1% stake in Tantalum Holding for $26.73 mil)
A handful of investors that ISR tapped late last year to raise S$12 million in a placement of new shares at 8.5 Singapore cents each could also find themselves in a bind if the stock dives this coming week.
Among the investors are Bill Ng of Financial Frontiers; Lee Thiam Seng, executive chairman of SGX-listed ecoWise Holdings; Ong Siew Choo, described by the company as an "accredited investor"; and Chen Tong, who was recently appointed executive chairman of the company.
Statements made by officials at ISR late last year could also draw scrutiny from investors and regulators.
Notably, on Dec 1, ISR's executive director and CEO Quah Su-Yin lamented in an announcement posted on SGXNet the "inaccurate media reports" that linked ISR and the "so-called penny stock saga".
"I also wish to state that in my capacity as Executive Director and Chief Executive Officer (since 29 April 2011), I have not been involved in any criminal proceedings," she added in her Dec 1 statement. Later that same month, on Dec 31, Quah Su-Yin quit ISR to focus on "family business".
(See also: John Soh-linked ISR Capital's CEO Quah Su Yin resigns)
What's next for ISR Capital as it resumes trading on March 6? Read the full story on ISR Capital in this week's edition of The Edge Singapore (Issue 769, week of Mar 6), available at major bookstores, 7-11 stores, and selected petrol stations.