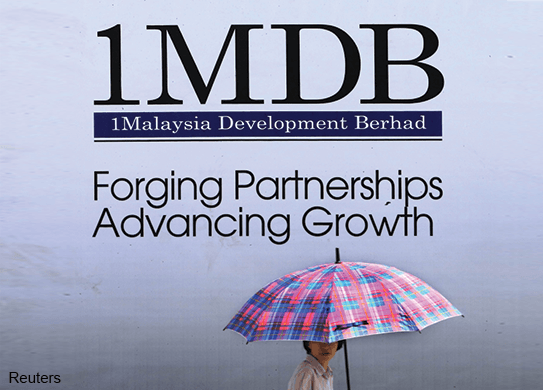 (June 1): Why should Second Finance Minister Datuk Seri Ahmad Husni Hanadzlah deny the winding down of debt-ridden state fund 1Malaysia Development Bhd (1MDB) when his explanation of its next steps obviously points to such a move, DAP said today.
National publicity chief Tony Pua noted a news report by national news agency Bernama that 1MDB would be wound down by next year, which Husni recently denied.
Pua said that Husni on May 29 issued a statement on 1MDB spinning off the Tun Razak Exchange (TRX) and Bandar Malaysia as separate independent entities, offloading all of its energy assets via Edra Global and plans to dispose its questionable "units" to Abu Dhabi's International Petroleum Investment Corporation (IPIC).
As such, Pua in a statement today asked why Husni was now denying the obvious.
This was because there were only three parts to 1MDB's assets: its prized real estate which it acquired on the cheap from the federal government, its energy assets which 1MDB overpaid for in acquiring and its RM13.4 billion of dodgy and opaque "level 3 assets" held overseas.
"If 1MDB is disposing  all these three assets in one form or another, then the Finance Ministry is effectively winding down the controversial and scandalous 1MDB as there would be nothing left in the company.
"Unless of course, Husni knows better and the government intends to revive 1MDB with more funds for new groundbreaking investments," Pua said.
Pua urged Husni to face up to the truth instead of trying to twist and turn the matter.
"Why should the second finance minister take the blame for the biggest scandal in Malaysia's history that is not directly of his making?
"Being frank is the best and only way to ensure that his reputation doesn't collapse to become a half-past-six minister," Pua said.
The Petaling Jaya Utara MP (pic, right) said that the federal government was likely to  buy back TRX and Bandar Malaysia at inflated prices of up to RM10.4 billion in order to make them "independent entities".
He added that Edra Global was likely to be sold or listed at a valuation less than 1MDB's cost of acquisition.
Pua also said that despite the return of US$1 billion expected from IPIC, Malaysians were still clueless on the nature of IPIC's role and participation in the exercise, and the cost to taxpayers.
"Therefore, Husni should not only concede that 1MDB is winding down via a massive bailout exercise.
"He should be upfront to pronounce Najib's 1MDB adventure as a complete failure and disaster, and demonstrate his determination to go after the culprits who have caused the multi-billion ringgit losses to the country," Pua said, referring to the prime minister who is also Malaysia's finance minister and chairman of 1MDB's advisory board. – The Malaysian Insider