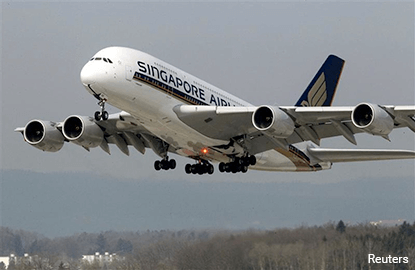 SINGAPORE (June 10): Asean airlines are due to enter a phase of "exceptional profitability" this year, says DBS Vickers, who recently initiated coverage on low-cost carrier (LCC) Cebu Air with a "buy" recommendation and target price of PHP 118.00 (S$3.47).
"As earnings growth continues, we favour airlines that not only post record profitability, but have the potential for tourism-led earnings upside like Asia Aviation (AAV) and Bangkok Airways (BA)," says lead analyst Marvin Khor in a Friday report.
DBS's top picks among the airlines sector are Asia Aviation (AAV), Bangkok Airways (BA), and Singapore Airlines (SIA) with target prices of THB 7.15 (27.4 cents), THB 28.30, and S$12.50 respectively.
After seeing a year of earnings recovery in 2015, Khor is confident that this year will be especially profitable for the Asean airlines industry, due to a trifecta of:
• Cheaper jet fuel prices
Jet fuel prices has declined over 30% in 2016, while fuel costs as a proportion of total operating expenditure has come down for carriers.
"While Brent has moved up to around US$50/bbl (S$67.73/bbl), it is still within our expectations and we do not expect the price to increase beyond US$60/bbl any time soon," says Khor. He adds that the hedging of jet fuel at lower prices should also help smoothen out costs should fuel prices unexpectedly jump, while healthy load factors and yields should aid in offsetting slightly higher fuel costs into 2017.
• Improved supply-demand dynamics
OCBC is taking a "temperate" approach to supply growth for Asean airlines under its coverage, which are projected to slow their capacity growth for a second successive year in 2016. Despite most players committing to grow seat capacity in FY16, the research house notes this comes on the back of improving fleet productivity rather than an influx of costly and underutilised jets.  
Demand has also "resumed a normal growth path" after a downturn in 2014. Khor expects demand to continue being supported by rising urbanisation and the growing middle class of the Asean region, adding that the load factors also look promising.  
• More stable currencies
To a lesser extent, more stable currencies are pushing well-positioned airlines into record profits, and even the last of the stragglers have swung back into the black, says Khor. This is apparent through the series of 1QCCY16 numbers achieved by airlines under OCBC's coverage, where Asia X Berhad (AAX) and Garuda Indonesia (GIAA) experienced a y-o-y turnaround from their original losses in 1QCY15.