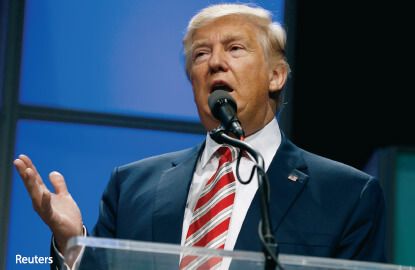 SINGAPORE (Feb 22): Global equities, risk assets and bond yields are on the brink of seeing myriad changes depending on the geopolitical events and policies to come – according to Mark Burgess, chief investment officer (CIO) EMEA and global head of equities at Columbia Threadneedle Investments.
Columbia Threadneedle Investments is the global asset management group of NYSE-listed Ameriprise Financial.
In the group's Feb 2017 Investment Strategy, Burgess says that a shift towards more growth-friendly policies is supportive for equities and risk assets more widely, but not so positive for bonds.
Equity markets, for example, are likely to benefit from an increase in corporate profitability and earnings driven by a fiscal boost, as expected from the new US president Donald Trump. This is likely to lead to a tightening in interest rates – which will bring about a consequent rise in bond yields which the CIO points out will "act as some sort of brake on the economy".
"Because of global quantitative easing, it is likely there will be an international bid for yield that will keep a lid on the Treasury market. So while corporate profits are picking up, bond yields are unlikely to back up because global investors simply won't let them," he adds.
While risk assets are currently exhibiting an "exceptional degree of resilience", according to Burgess, he suggests this is because markets are being "highly complacent" despite the strong presence of far-right parties in both Holland and France, which will be the first to take to the polls during the upcoming Europe elections.
"Should we get a surprise in either country, we can expect a spike in volatility for risk assets due to the uncertainty of what will follow," opines the CIO.
Columbia Threadneedle Investments has opted not to change its portfolio positioning after taking a look at emerging markets (EM) and Japan, where it has an "overweight" position. As such, the group continues to favour asset allocation to commodities and property; Nordic, Australia and EM local hedged bonds; Japan and Pacific-ex Japan under equity regions; as well as the USD for foreign exchange (forex).
Despite acknowledging how macroeconomic and policy backdrops are improving across EM, Burgess highlights that China remains a concern on the notion that the republic's exports are unlikely to rise sufficiently to offset an ongoing slowdown in growth. At the same time, the CIO believes China's domestic consumption is "insufficiently strong" to prop up its economy.
"In Japan, equities have re-rated against a weaker yen and firmer global growth, and corporate earnings upgrades are likely to follow – as a result we expect high single-digit earnings growth and enhanced shareholder returns from Japanese companies," he adds.