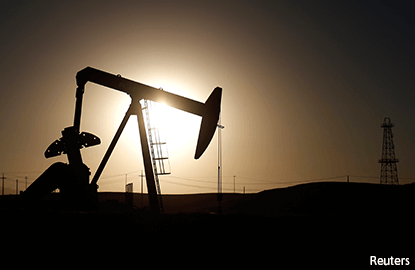 SINGAPORE (March 15): As the Organization of the Petroleum Exporting Countries' (OPEC) continues to follow through with its announcement last year to cut production in a bid to end the global supply glut, US shale has been notably making a record comeback which threatens to undermine the cartel's goal, much to the chagrin of Saudi Arabia.
(See also: OPEC agrees to cut production in drive to end record glut)
Now, analysts are no longer confident that Brent crude can hold above its current US$50 levels, as oil prices have already fallen by almost 10% over the past week since OPEC's agreement to cut output.
Here's what to watch out for as the current battle between OPEC and US shale continues:
US shale rebound
After contracting for two consecutive years, the US Energy Information Administration (EIA) sees output rising to about 9.2 million barrels a day this year. In addition to lower costs and the possibility of efficiency and production gains, many are anticipating an even bigger rebound that what the US shale industry has already seen.
US inventories
Given that EIA has reported nine consecutive weeks of crude stocks' incline to an all-time high of more than 528 million barrels, there is no doubt that the US influence over the market, given its status as the world's biggest oil consumer, will be key in determining whether the sell-off will continue or not.
OPEC meeting outcome
Come May 25, OPEC will have to decide on whether it intends to roll over existing cuts such that inventories may finally begin drawing down in 2H17 – or cut even deeper to give the price a further boost, and risk giving up even more market share. Alternatively, OPEC could also choose to go back to its previous strategy of an all-out price war to begin at square one again.  
Peak oil demand
OPEC has raised its estimates for global demand, predicting growth at almost 1.3 million barrels per day to an average 96.3 million barrels per day in 2017. This is despite the rise of electric cars, which has led to caution of a possible peak in demand for oil in the near future.
Hedge funds
The majority of investors had originally expressed confidence in rising oil prices within the first two months of 2017 post OPEC's cuts – but were met with disappointment as the price failed to break higher. As such, funds are beginning to scale their positions as longs become more expensive to defend.
"Oil faces another moment of truth this evening in the shape of the US EIA Crude Inventory numbers, with the street pricing in a +3 million increase. If the number follows the API from overnight a big undershoot should give Crude a welcome if temporary boost," comments Jeffrey Halley, senior market analyst at OANDA in a note on Wednesday morning.
"Conversely, a bigger increase will see more longs stampeding for the exit door."