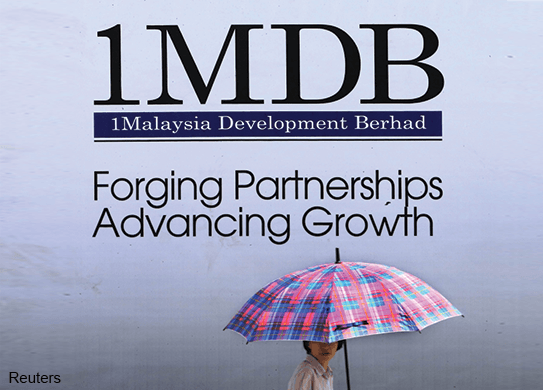 FOR an entity whose debt repayment ability is doubted by some for its lack of operating cash flow, 1Malaysia Development Bhd (1MDB) outdid itself in terms of returns from the sale of a mere fraction of the land it owns in the heart of Kuala Lumpur.
By selling just 1.56 acres (67,792 sq ft) or 2.2% of the 70 acres it has in the Tun Razak Exchange (TRX) financial district for RM188.5 million (RM2,780 psf), 1MDB has recouped 97% of the RM194.11 million (RM63.66 psf) paid for the TRX land, excluding debt servicing charges.
The sale — first leaked online on May 6 and confirmed by Lembaga Tabung Haji on May 7 — is expected to be the first of several land sales by 1MDB to pare down over RM42 billion of debt.
In fact, Tabung Haji is said to be considering more deals within TRX, something that the pilgrims fund has neither confirmed nor denied. In his statement on May 7 confirming the land purchase, Tabung Haji deputy group managing director and deputy CEO Datuk Johan Abdullah said: "Tabung Haji will continue to explore investment opportunities in the domestic market as guided by its Strategic Asset Allocation framework."
Tabaung Haji considered at least three other plots within TRX "apart from the two mentioned in the blog [The Benchmark]," says a source who reckons that Tabung Haji could have negotiated an even lower price.
This is more so if indeed the pilgrims fund agreed to pay 100% of the purchase price upon signing the sale and purchase agreement as shown by what look like internal Tabung Haji documents posted in the blog that have not been declared to be fake. Given the fact that Tabung Haji has lodged a police report against the blog and the police are reportedly looking into using the Official Secrets Act against the leaking of the land deal documents, the ones in the blog are likely real.
"Since we know that 1MDB [needs the cash fast], why didn't Tabung Haji push for a much bigger discount?" asks the source.
Conversely, Australia-headquartered Lend Lease — which 1MDB chose in June last year to develop a 17-acre development with hotel and residential blocks atop a retail podium, known as the Lifestyle Quarter, in TRX — was allowed to make progressive payments, two separate sources say. This could not be confirmed with 1MDB at press time.
Incidentally, Tabung Haji's purchase price of RM188.5 million (US$52.5 million) for plot B.10.15-RT is similar to the next half-yearly payment for 1MDB debt paper due in the middle of this month. Meanwhile, more asset sales are expected in the coming months, especially if the already delayed IPO of 1MDB's power unit Edra Global Energy Bhd has to be pushed back even further.
"The [RM188.5 million] land sale will probably help 1MDB but the size is far from being sufficient to settle its debt. This is but a trickle," says Chua Hak Bin, head of emerging Asia economics at Bank of America Merrill Lynch. "A lot more land sales are necessary to service and repay its huge debt, with a large amount — of over US$1 billion — due in September."
To be fair, to calculate the net profit, the difference between 1MDB's cost and the land sale proceeds will still need to take into account the price of building infrastructure on the land, which observers say will fall on 1MDB as the master developer.
Yet, considering that infrastructure is not ready yet at TRX, Tabung Haji could have asked for a better price, opine real estate experts. The RM2,780 psf that Tabung Haji has paid for the 1.56 acres is only 12.8% below the RM3,188 psf (RM259.16 million) that Malaysian Resources Corp Bhd paid for the 1.87-acre German Embassy land in Jalan Kia Peng near KLCC in April.
The price is also 15.8% below the RM3,300 psf or RM446.7 million that Singapore-based developer Oxley Holdings Ltd paid for 1.3ha in Jalan Ampang in November 2013 and RM3,299 psf that KSK Group Bhd paid for 1.6ha in Jalan Conlay in the Bukit Bintang shopping belt in KL in December 2013.
Although Tabung Haji has denied that it is buying Signature Tower (Phase 2), the leaked documents show that management had wanted to ask its investment panel and board of directors for their approval to pay up to RM3,900 psf or RM578 million for Plot C7.7-CT to be developed into a 74-storey office building known as the Signature Tower.
While Johan claims that Tabung Haji expects to see a gross development profit of RM177.5 million or 27% returns over three years (9% per annum) from the residential land with a gross development value of RM828 million, any delay could potentially reduce these estimated returns.
According to the leaked documents, Tabung Haji's own internal risk assessment had classified the land purchase as "high risk" with "moderate" gross impact because of the oversupply of new luxury condominiums in the Klang Valley.
All these factors bring to the forefront the issue of how Tabung Haji manages potential conflicts of interest to ensure its members benefit from all its investment decisions. Its group managing director and CEO Tan Sri Ismee Ismail is a director of 1MDB while a member of its investment panel, Tan Sri Dr Ahmad Samad Alias — who is chairman of Perbadanan Insurans Deposit Malaysia — is on 1MDB's advisory board. Johan himself is chairman of 1MDB subsidiary Edra Global Energy Bhd.
The deal also brings back to mind questions of just how much 1MDB actually paid the government for the TRX land that was originally supposed to go to another government agency — Pelaburan Hartanah Bhd (formerly known as Pelaburan Hartanah Bumiputera Bhd). Although 1MDB's accounts indicate a payment of RM194.11 million for the TRX land, a sizeable portion of this payment is said to have gone to Pelaburan Hartanah to lift a caveat on the TRX land.
The deal also revives a complaint of local developers that they were denied access to tax exemptions and incentives offered by TRX to foreign developers and partners in the initial years.
"When marketing started, many local developers wanted to participate to have a level playing field but they [1MDB] wanted only foreign developers. Has that stance of only allowing foreign developers changed?" asks an observer, recounting the events of 2010 to 2011.
In any case, given the publicity surrounding 1MDB, what's certain is that any upcoming deal will be closely scrutinised.
This article first appeared in The Edge Malaysia Weekly, on May 11 - 17, 2015.