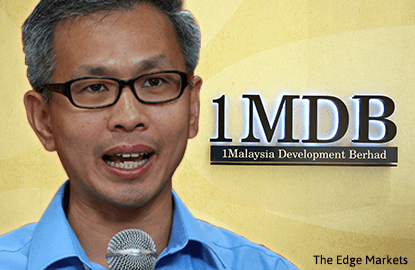 KUALA LUMPUR (July 21): DAP's Tony Pua has urged Prime Minister Datuk Seri Najib Razak to instruct the police and the Malaysian Anti-Corruption Commission (MACC) to follow the leads provided by the United States Department of Justice to discover the identity of the "Malaysian Official 1" who has been accused of siphoning billions of ringgit of 1Malaysia Development Bhd's (1MDB) borrowed wealth.
He said this in a statement today following a  report by the Wall Street Journal (WSJ) that the US Federal prosecutors were poised to launch one of the largest asset seizures in U.S. history as they step up their investigation into billions of dollars siphoned away from 1MDB.
U.S. prosecutors sued on Wednesday to seize more than $1 billion in assets they said were tied to an international scheme to launder money stolen from the Malaysian state fund 1MDB, which was overseen by Prime Minister Najib Razak, and used to finance the Hollywood film "Wolf of Wall Street" and to buy property and famous works of art, reported Reuters.
The U.S. Department of Justice said US$681 million from a 2013 bond sale by 1MDB was transferred to the account of "Malaysian Official 1", who is described in court papers as "a high-ranking official in the Malaysian government who also held a position of authority with 1MDB."
Pua, who is MP for Petaling Jaya Utara said Malaysia has now become the global laughing stock with the US Department of Justice taking action to seize some US$1 billion of assets stolen from 1MDB, which he said the Malaysian Government remained inexplicably oblivious to the grand theft.
Pua said that in the past, the Najib administration had consistently dismissed the WSJ allegations as "unsubstantiated malicious allegations" as part of a "global conspiracy" to "bring down a democratically elected government".
He said the Malaysian investigating agencies took the que and refused to conduct any genuine investigations into the monstrous heist despite mounting evidence and damning Auditor-General and Public Accounts Committee Reports.
Pua called up Najib to chastise the local regulatory authorities for their alleged ineptitude in getting to the bottom the scandal which was not only the largest in the history of Malaysia, but also had set the ignominious record of being the largest seizure in the history of United States.