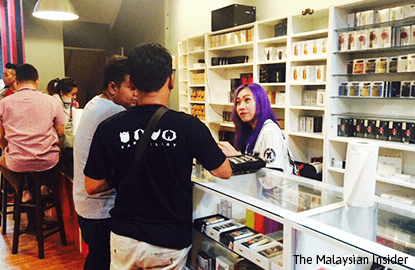 This article first appeared in The Edge Malaysia Weekly, on November 9 - November 15, 2015.
THE estimated RM2 billion vaping industry in Malaysia, which is believed to be the second largest in the world after the US, is huge and growing far too rapidly for the government to ignore.
The relatively new but unregulated industry — spanning retailers, brewers of the vape liquid and distributors — is booming after a particularly explosive year in 2014, which players say was fuelled by a surge in demand as an increasing number of smokers turn to vaping. Vaping refers to the use of electronic cigarettes.
"The industry has reached what we call a tipping point," says Samsul Kamal Arrifin, president of the Malaysian Organisation of Vape Entities (MOVE), which considers itself a consumer rights movement group for the vaping industry. It is one of two bodies in the country that represent the industry, the other being the Malaysian E-Vaporizers and Tobacco Alternative Association
Ironically, despite its rapid growth, the vaping industry falls under a grey area given that liquid nicotine — one of the four ingredients used in making vape liquids — is a controlled substance, regulated under the 1952 Poisons Act, and can only be sold through licensed pharmacists and medical practitioners.
Entrepreneurs first started bringing vape products into Malaysia in 2011, when vaping was at the infancy stage, although some say products were already available on a limited and hard-to-find basis even before that.
Samsul says local retailers and brewers have since mushroomed across the nation, especially in the Klang Valley, drawn to the high margins the business offers. New ones seem to be popping up by the day and it's all getting "a bit out of control". There needs to be some form of regulation, he says, pointing out that it is something that the serious players and most consumers themselves want.
There are no official statistics on the size of the vaping industry or the number of vapers in Malaysia. On its estimated size, different numbers have been bandied about in various media reports, with the most conservative estimate at RM500 million.
Samsul is convinced it's a much bigger market than that. Based on his observation and close rapport with some of the players, he estimates that it was a US$500 million market last year, and that it will likely double this year. "I think it will continue to grow at this pace for the next two to three years, unless, of course, vaping is banned. But even then, the industry is unlikely to die ...  it will just go underground. I think by the end of this year, total sales in the industry will be in the region of US$1 billion and in the next year, it could double that."
He estimates that there are 400,000 to 500,000 vapers in the country, who spend RM300 to RM500 a month on average to support the habit. Many of these vapers are smokers who have turned to vaping as a means to eventually quit smoking, while for others, especially youngsters, it is a recreational pursuit. Malaysia reportedly has 4.7 million smokers.
Samsul believes there are around 200 brewers, of which 50 to 60 are key players. There are 4 to 5 major distributors of the products. As for retailers, there could be around 1,000 vape retailers nationwide, he says.
"It's crazy money. Brewers, the successful ones, make RM100,000 to RM200,000 in net profit a month. And this is just a conservative estimate. The distributors make a lot more," he remarks.
The industry has already spawned several young millionaires, he says.
To put things in perpective,  British American Tobacco Malaysia Bhd (BAT), the biggest of three cigarette makers here, raked in RM4.8 billion in revenue and net profit of RM898.1 million last year.
Considering that the government derived some   RM3.5 billion in revenue from the legal tobacco industry last year, the question that needs to be asked is — why, especially at a time when the government's coffers are tight, does it not also impose taxation on the vaping industry, given how it is likely to grow, with or without government regulation?
As the industry is huge, the government is losing out big on potential revenue. According to Samsul, most players and consumers are agreeable to regulations that include taxation.
Given its lucrativeness, industry sources say one or two well-known businessmen with political connections are positioning themselves to be a part of the vaping industry once it is eventually regulated.
Government stance
If Malaysia moves to regulate the vaping industry, which it indicated it will in an Oct 30 statement issued by the Health Ministry — although there have been conflicting signals sent out since then — it will be the first among its closest neighbours in Asia to do so.
Singapore, Brunei, Thailand and Hong Kong already have an outright ban on vape products, while Indonesia has indicated it is going for a ban too.
In the Oct 30 statement, Health Minister Datuk Seri Dr S Subramaniam said the Cabinet had deliberated on the vaping climate and culture in the country and recognised that there was a need to educate the public on the effects of e-cigarettes and for strongent regulation. He said both measures would be implemented immediately by the ministry.
A few days later, a MoH official issued a statement, saying "until there is enough evidence that the benefits of electronic cigarettes outweigh the harmful effects", MoH was "very much inclined towards prohibiting them as stipulated by the World Health Organisation Framework Convention on Tobacco Control and the International Union Against Tuberculosis and Lung Disease".
But then, last Thursday, according to a local daily, Dr Subramaniam said the government was looking at imposing excise duty for e-cigarettes — a form of regulation, which seems to suggest that it won't be banned.
"If cigarettes are charged excise duty, it can be too for e-cigarettes. We are looking at it legally," Subramaniam was quoted as saying.
He also said that for now, shops selling nicotine-based vape liquids must apply for a permit from the National Pharmaceutical Control Bureau. "If they do not have a permit, then they are committing an offence, and we can take action against them," he said, pointing out that the liquids comes under the Poisons Act.
Vape shops owners were up in arms as the ministry raided 50 to 60 shops nationwide, mainly in the Klang Valley last Thursday, confiscating the liquids. Most vape liquids contain some measure of liquid nicotine.
MoH officials did not respond to requests for comment.
No one regulation model
But how does one regulate the industry? Samsul concedes it will be a Herculean task to get it regulated in a way that benefits both the government and the industry/consumers. It will require legislation and effective enforcement to work.
The countries that have regulated vaping so far include Italy, Spain, and Germany. In the UK, the sale and use of e-cigarettes are legal, while in the US, there are no federal regulations as yet although many states already have their own regulations.
"There are regulation models out there but the vaping climate in each country is not the same; each has its own specific issues to address. So, while we can learn from them, we can't really do a copy-and-paste job," he explains.
Regulation will have to address the government's two key concerns about the vaping industry — under-18 users, and the safety aspect of the vape liquids. As of now, given how the industry has flourished, there is concern over what may go into the liquids, if the ingredients sourced are of good quality and safe for consumption, and if they are brewed under hygienic conditions.
In a nutshell, the regulation has to cover three aspects — the manufacturing of vape liquids and "mods" (as the e-cigarette device is referred to), the selling of the products and the consumers.
"But vaping as a whole needs to be defined legally first. Once it is legally defined, only then we can see where it actually fits into our current laws. If it falls under the Tobacco Act, then it has to follow tobacco-like taxation. But how can this be a tobacco product when there's no actual tobacco in it? So, we think it should fall somewhere between a pharmaceutical and tobacco product — hence, a 'food' product. Either that, or they should come up with a new Act to regulate taxation for this product," Samsul says.
In Italy, there's a controversial "supertax" imposed on vaping. According to reports, the tax assesses 1ml of vaping fluid to about five cigarettes. Post-regulation, the industry today is apparently only a quarter the size it once was, by some estimates.
As such, some industry observers say regulation, particularly over-regulation, may naturally reduce the size of the Malaysian industry. Others, however, think it will result in a thriving black market.
Samsul says MOVE, in a memorandum presented to the MoH last month, proposed consumer-driven regulation. "When it comes to manufacturing of liquids, we are proposing for brewers to have a Good Manufacturing Practice system. Your operation must be audited. You must clearly state where your ingredients are from, and it must be food-grade ingredients (as opposed to industrial grade). The liquid nicotine must be supplied by an authorised body."
As for taxation, he says it's best for the government to tax at the point the nicotine is sold to the brewers. And as for retailers, by having to apply for licences, the number of players would be reduced from what it is now, making it easier for the government to keep an eye on them.
Labelling of vape liquid bottles also needs to be regulated. "The labels need to have certain warnings — like, not meant for under-18 users, and the ingredients and level of nicotine content, and grade of contents, need to be clearly specified.
"There are usually four ingredients found in vape liquids — propylene glycol  and vegetable glycerine which are widely used in making ice cream and cakes,  as well as some flavouring and liquid nicotine."
While many users see vaping as the best alternative to smoking, there continues to be mixed opinions as to how it impacts health. There is no conclusive evidence as to how it might impact health over the long term.
A study commissioned by Public Health England in the UK this year found that best estimates show e-cigarettes to be 95% less harmful to health than normal cigarettes. And, when supported by a smoking cessation service, it helps most smokers to quit tobacco altogether.
Threat to cigarettes?
Contrary to popular belief, cigarette manufacturers are not against the vaping industry despite the threat it is said to pose to their own business. Two of the local players tell The Edge they support appropriate regulation for e-cigarettes.
Industry sources say with some of the big global cigarette makers having started to penetrate the e-cigarette market since 2012, it wouldn't be surprising if their Malaysian units did the same once the industry is regulated.
In August, BAT Plc formed an alliance with Reynolds American Inc to share vapour technology and licensing, and agreed to buy Polish e-cigarette maker Chic Group to expand its e-cigarette product range.
"The issue of e-cigarettes has been one of the great debates in public health in recent years with many health professionals and experts issuing supportive research and views. We too believe that these products have the potential to positively impact public health and we therefore support a regulatory framework that gives consumers the assurances they deserve around product quality, safety and availability," BAT Malaysia's managing director Stefano Clini says in an email response to The Edge.
He points out that BAT Malaysia currently does not manufacture or sell e-cigarettes. "However, BAT Group is committed to harm reduction and as such, in 2013, BAT was the first to launch an e-cigarette, Vype, in the UK and recently in Florence too," he adds.
Meanwhile, Philip Morris Malaysia Sdn Bhd corporate affairs director Ozan Ibrisim says, "Philip Morris Malaysia supports appropriate regulations for all tobacco propducts and e-cigarettes and we believe these products should be restricted to adults above the age of 18."
UOB Kay Hian Research, in a report on the Malaysian tobacco industry on Oct 12, says while it believes the e-cigarette market will continue to grow, it doesn't pose a serious threat to the traditional cigarette market in the near term. Among the reasons it cites is that the majority of smokers still prefer the taste of regular cigarettes and the fact that e-cigarettes are not significantly cheaper.
A one-time investment in a China-made "mod" in Malaysia can cost as low as about RM200, while a 30ml bottle of locally-made vape liquid costs around RM40.
"In our view, the canibalisation of traditional cigarette sales due to e-cigarettes is still minimal at this juncture," it says, adding that declines in legal volumes of late was mainly because smokers went for cheaper contraband cigarettes after excise duty was raised last year.
Last week, the industry was hit with another round of excise duty hike — this time, by a sharp 40% or so, resulting in BAT raising its prices by between 22% and 26% a pack.
Clini says BAT Malaysia is unable to determine the impact the vape industry on domestic cigarette volumes given that the industry is relatively new and there are no official statistics on its size.
" We are of the view that the decrease (in legal volumes) was largely driven by the softer demand among consumers due to weaker market sentiment after GST implementation. In addition, the tobacco industry's legal volumes are also impacted by the high level of illegal cigarettes which is currently at 33.7%," he says.
Meanwhile, industry players say it may take a long time before the government actually comes out with any effective form of regulation. Until then, the industry will likely continue to grow, although more retailers may opt for online platforms as the raids on their outlets continue.
It will be interesting to see how things play out over the next few weeks.