This article first appeared in The Edge Financial Daily, on January 20, 2020.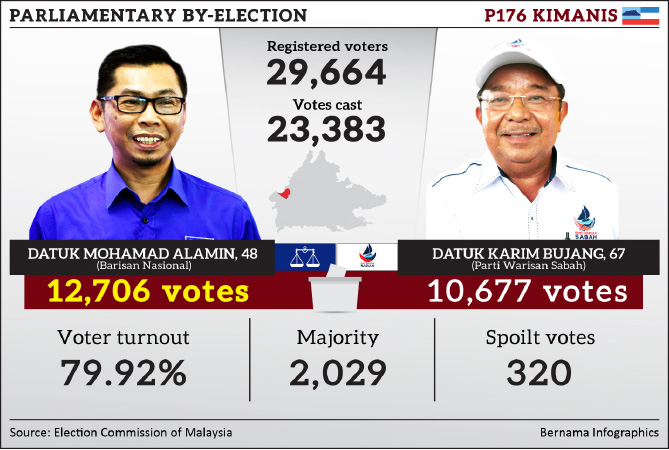 KUALA LUMPUR: The analyses are aplenty on why Barisan Nasional (BN) won the Kimanis by-election on Saturday when it was expected to lose and why Warisan lost when it was expected to win. Now it is for party operatives to study the people's verdict and chart their parties' next moves.
What would that next step be for BN? Obviously BN, particularly Umno, which fielded the winning candidate in Kimanis, is in buoyant mood after the victory, is the coalition's fifth by-election win since the 14th general election (GE14).
Granted Umno is now not as strong as it was pre-GE14 and is not the powerful force it used to be — as political analyst Dr Hamidin Abdul Hamid reminded me.
This is not to pour cold water over the victory, but Kimanis has always been won by Umno in previous elections. What is more it is a Muslim-majority constituency. To recap, in GE14, former federal minister Datuk Seri Anifah Aman won the seat for BN/Umno but the win was declared null and void by the Election Court due to irregularities. Hence Saturday's by-election.
Even before the court decision, Umno had lost the seat when Anifah left the party in September 2018 to be an independent member of parliament. Now Umno has got back the seat it lost. For the record, Anifah did not contest this time.
Despite Hamidin's observation that Umno is not as strong as it used to be, he points out that the Kimanis win has injected Umno and BN in Sabah with "a high dose of confidence".
As soon as it was announced that BN/Umno's Datuk Mohamad Alamin had defeated Datuk Karim Bujang of Warisan, Sabah Umno chief Datuk Seri Bung Moktar Radin said he believed the victory "marks the resurgence" of his party in the state.
"I believe Sabah Umno will rise up from our past mistakes. We will correct the mistakes of Sabah Umno and BN and work with the local parties to face the 15th general election," said Bung Moktar as quoted by Malaysiakini.
Sabah Umno was badly hit by defections after losing power in the last general election. It has managed to regroup since then — pulling together the fractious opposition including former BN allies in the state.
Now the magnitude of victory in Kimanis has surprised even Bung Moktar. Mohamad won the seat with a 2,029 majority, whereas in GE14, Anifah won by 156 votes in a three-cornered fight.
While Warisan is not in the Pakatan Harapan (Pakatan) coalition, nevertheless it is an ally and a Warisan loss is also seen as a defeat for Pakatan.
To Pakatan's Datuk Seri Mohamed Azmin Ali, the support for Warisan in Kimanis has not changed much from the last general election as its candidate received almost the same number of votes and therefore "the decline of votes does not arise".
Warisan's Karim garnered 10,677 votes in Saturday's straight fight which saw a high voter turnout of 76.14 %, exceeding the Election Commission's expectation of 70%. In GE14 Karim obtained 11,786 votes in a three-sided contest.
Kimanis is a rural constituency and as Mohamed Azmin sees it, more time is needed to "convince voters of our efforts to narrow the urban and rural gap". He said the Warisan government "will continue this effort in cooperation with the federal government".
Pakatan chairman and Prime Minister Tun Dr Mahathir Mohamad attributed the Warisan loss to the possibility that voters in the constituency have yet "to embrace the Pakatan administration".
"Everything we do takes time... like the new policy for agriculture, we cannot do it today and expect results overnight," Dr Mahathir was quoted as saying.
Dr Mahathir is confident that overall, people in Sabah, in time, will understand and appreciate that "the government now is better than the previous one".
Nonetheless, Dr Mahathir said, Pakatan will do a post-mortem to find out the factors that led to the defeat.
According to political observers, the state administration led by Datuk Seri Shafei Apdal has been putting in lots of work instead of getting involved in intense politicking.
Still to Hamidin, "Warisan must be clearer in what they are doing and be more aggressive in building up the people's trust in them as a ruling party which can bring about changes".
That is with regard to Sabah. But what about the effect of the Kimanis by-election result on Pakatan, as seen in a national perspective?
PKR president Datuk Seri Anwar Ibrahim, in noting that "many of the problems faced by the people are economic problems", said Pakatan and Warisan will have to step up efforts to serve the people.
He also said the onus is not only on the prime minister but on the entire Pakatan leadership including Anwar himself to address this issue.
He has said before with regard to previous by-election results not favouring Pakatan. But this time he also said now is not the time to point fingers but to acknowledge that the discontent towards Pakatan is nationwide. The four by-election defeats in the peninsula and this one in Sabah support that view.
For the record Pakatan has won five by-elections held since GE14, both parliamentary as well as state contests. In sports parlance that would put the scoreline at Pakatan 5 BN 5.
As Anwar puts it "action must be taken and if we do not accept the reality then the consequences will be dire. It seems to have spread nationwide".
I am sure Anwar is not the only one in Pakatan who is saying that out loud or otherwise. The key words are "nationwide discontent".
The question is — what is Pakatan doing about it?
---
Mohsin Abdullah is a contributing editor at The Edge. He has covered politics for more than four decades.