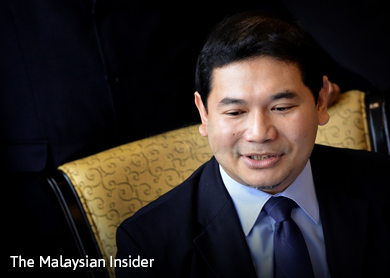 (July 23): PKR today asked when the task force investigating debt-ridden 1Malaysia Development Bhd (1MDB) would be questioning Prime Minister Datuk Seri Najib Razak, which the opposition party described as being at the centre of the scandals surrounding the state investment firm.
Its secretary-general, Rafizi Ramli, said people wondered if the prime minister will have his statement taken and be interrogated over his role in the controversial state investment vehicle. Najib is finance minister and chairman of 1MDB's advisory board.
"While the inspector-general of police (IGP) has made various statements to investigate and arrest many parties, including me and Pua, the people are still waiting for when the task force will start to take the statement and question Najib, the main individual in the 1MDB scandal," he said in a statement today.
"This question is definitely playing in the minds people and does not give a good impression of the independence of the special task force if this important individual is yet to be interrogated and had his statement taken."
To date, two have been detained over investigations into 1MDB. They are Datuk Shamsul Anwar Sulaiman of Ihsan Perdana Sdn Bhd and Jerome Lee Tak Loong, whom sources in the investigating team said was believed to have had dealings with SRC International Sdn Bhd, a Finance Ministry-owned entity that was previously a 1MDB subsidiary.
A special task force was formed to investigate 1MDB as well as claims that billions of ringgit were transferred from other companies linked to the fund to Najib's personal accounts.
The investigation into Rafizi and Pua, who are two of 1MDB's fiercest critics, is said to be for allegedly committing activities detrimental to parliamentary democracy, following their many exposes on the fund, according to a police source as reported by Malaysiakini.
Rafizi said today that although he welcomed the arrests of the two individuals, he was shocked that authorities had failed to locate three people linked to the scandal including businessman Low Taek Jho (Jho Low), Nik Faisal Nik Othman Kamil and Datuk Suboh Mohd Yassin, as reported by English-language daily The Sun.
"The Sun also reported that one of them was suspected of being in Indonesia which means that they have absconded while those who are strongly criticising the government over 1MDB have had travel bans imposed on them," the Pandan MP said.
Jho Low is alleged to have schemed to cheat Malaysia of US$1.83 billion through the debt-ridden state investment vehicle, which sits on a RM42 billion debt after just six years of it being set up.
Najib is also the finance minister and chairman of the 1MDB advisory board. His political image has taken a beating in recent months following the damaging reports and exposes on 1MDB.
The Wall Street Journal reported on July 2 that US$700 million (RM2.67 billion) were transferred into Najib's personal bank accounts from 1MDB-linked entities, including Ihsan Perdana.
The alleged wrongdoing has seen former prime minister Tun Dr Mahathir Mohamad calling for Najib to step down.
The prime minister had denied taking 1MDB funds for "personal gain", but has not commented directly on the fund transfers. His accounts that received the funds have since been closed. – The Malaysian Insider