This article first appeared in The Edge Malaysia Weekly, on June 15, 2020 - June 21, 2020.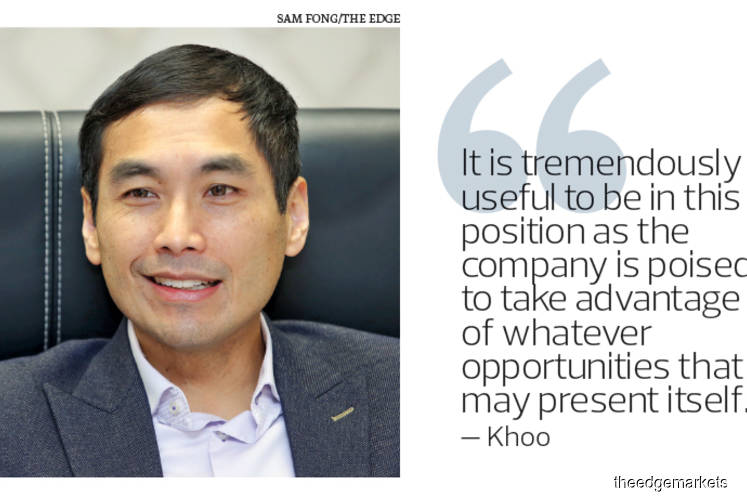 CASH is king — and more so in the midst of a prolonged pandemic where uncertainty is the order of the day.
As a growing number of companies embark on cash conservation to survive, there are a handful on Bursa Malaysia that are already sitting on a tidy sum of cash. More to the point, their cash and cash equivalents are larger than their market capitalisation (see table).
In other words, the trading share price of the company is lower than the net cash and cash equivalents per share. Note that the cash and cash equivalents stated in the table is as per Bloomberg data, defined as "cash and liquid securities that can be converted into cash quickly at a reasonable price".
That the market capitalisation of these entities is below their liquid position can be attributed to various reasons.
A fairly typical reason is the sale of a core business by a company, but as it has yet to find a suitable, new asset to be injected into it, it is sitting on the sale proceeds.
More often than not, it is simply because a company's share price has fallen quite substantially.
Nevertheless, because these companies are trading below their cash or liquid assets, they are often seen as privatisation targets.
Take the case of Star Media Group Bhd. CGS-CIMB Research notes in an April 27 report that a privatisation could "perhaps" be on the cards. "Many companies on Bursa have been privatised to make way for a restructuring. And with Star Media's share price so low, high-net-worth media aficionados may be looking to snap up this storied brand for themselves."
Then, in a follow-up report on June 1, CGS-CIMB says it believes that Star Media's controlling shareholder, the MCA, could put the group's cash to better use by privatising the media group by way of selective capital reduction.
Meanwhile, Kenanga Research anticipates that Star Media would prioritise cash conservation during this period, and has cut its dividend assumptions for the group.
"Post-results, we revise our sales decline and margin assumptions, leading to earnings revisions of -171%/-113% for FY2020E/FY2021E. We anticipate both years to be difficult for the group. Though we expect FY2021 to see a continuing decline in revenue, we opine further optimisation strategies could reduce operating pains," it adds in its June 1 report.
Nevertheless, in its quarterly announcement to Bursa on May 29, Star Media says its net cash position "will serve as a solid base" to "capitalise on merger and acquisition opportunities during the market consolidation and even penetrate into new businesses that have a promising outlook".
MCA chairman Datuk Seri Wee Ka Siong did not respond to The Edge's request for comment.
As at end-FY2019, Star Media was sitting pretty on net cash of RM364.62 million versus a market capitalisation of RM260.92 million on June 11. Thus, its cash position in 2019 was nearly 1.5 times its market capitalisation.
From a five-year closing high of RM2.33 on July 1, 2016, Star Media's share price has fallen, closing at 35.5 sen on June 11, 2020.
Malayan United Industries Bhd or the MUI Group's 66.51%-owned subsidiary, Pan Malaysia Corp Bhd, is also in the cash-rich group.
As at end-FY2019, Pan Malaysia Corp had no bank borrowings while cash and bank balances amounted to RM59.2 million. It has another RM32.5 million invested in a money market fund. Its total cash position of some RM91 million slightly exceeds its market capitalisation of RM88.55 million.
Pan Malaysia executive director Andrew Khoo says the management is continuously reviewing the cash at hand to determine the optimal usage of these funds to enhance stakeholder value.
"This could include a rationalisation of the overall corporate structure, enhancing product and manufacturing capabilities, and selective strategic investments. Suffice it to say, it is tremendously useful to be in this position as the company is poised to take advantage of whatever opportunities that may present itself," he tells The Edge.
Khoo, who is also the chairman and CEO of MUI, shares that Pan Malaysia fully recognises the unprecedented challenges facing all aspects of the economy. "Due to changes in the operating environment, which has also resulted in changes in consumer behaviour, a revamped strategy has been mapped out. This includes expanding product penetration and brand communications for both online and offline retail channels, introduction to new exciting product categories, and continuous cost improvement activities to navigate the business through its next phase of growth."
The gap between cash and market capitalisation may even widen in some cases.
Should Lion Industries Corp Bhd's latest plans to dispose of its hot-briquetted iron (HBI) plant and business in Labuan materialise, it could rake in some US$128 million (RM546.56 million) cash from Singapore's Esteel Enterprise Pte Ltd.
Its cash and liquid position stood at RM212.78 million in FY2019 versus a market capitalisation of RM207.65 million as at June 11.
The deal, if completed, is expected to increase Lion Industries' net asset per share by 63.62 sen and reduce its gearing to 0.08 times from 0.1 times.
Also on the list of companies with a high cash position from a disposal of an asset is Dutaland Bhd. The property development and investment holding group was sitting on net cash of RM585.31 million in FY2019, which is nearly double its market capitalisation of RM314.33 million on June 11.
The bulk of its cash came from the disposal of 42 parcels of plantation land in May 2018 to Boustead Plantations Bhd. In Sabah, Dutaland sold an aggregate land area of about 11,579.31ha for RM750 million cash.
Dutaland chairman Tengku Datuk Seri Ahmad Shah Sultan Salahuddin Abdul Aziz Shah said in the company's 2019 annual report that the directors believe the group is in a good position to secure strategic assets and businesses as and when the opportunity arises given its strong cash position.
"The management will look for viable business ventures and will ensure all assets are being managed prudently," he added.
Dutaland indicated in its annual report that it is "searching for new businesses and/or assets so that the proceeds raised from the disposal of the plantation assets can be utilised to generate revenue stream and profit for the group".