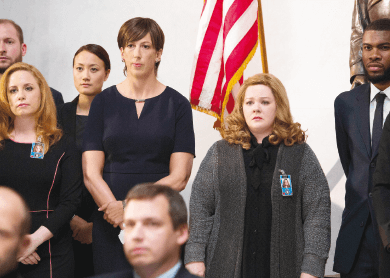 Director: Paul Feig
Cast: Melissa McCarthy, Jason Statham, Rose Byrne, Miranda Hart, Jude Law
Rating: 4 out of 5
Length: 120 minutes
Opening: May 21, 2015
IN Spy, Susan Cooper (Melissa McCarthy) is an unassuming, desk-bound Central Intelligence Agency (CIA) analyst and the unsung hero behind the agency's most dangerous missions. Seemingly meek and lacking in social skills, Susan's strength is tested when her partner (Jude Law) is murdered in cold blood and the safety of another top agent, Rick Ford (Jason Statham), is compromised. Shaken but realising her capacity to help — she is one of the few agents whose identities have not been compromised by a mole in the CIA — she volunteers to go deep undercover to infiltrate the world of a deadly arms dealer and prevent a global disaster.
In between tracking down Rayna Boyanov (Rose Byrne), the daughter of a billionaire arms dealer, Susan is forced to polish up her rusty CIA-agent training skills while being hilariously albeit unintentionally sabotaged repeatedly by Rick. Surprisingly, Susan proves to be a highly efficient field agent, and manages to not only fool Rayna into thinking that she's her personal bodyguard, but also bail Rick out of several sticky situations.
Instead of making an ultra-serious espionage movie or a completely ridiculous one in an attempt at slapstick comedy, director/writer Paul Feig manages to create a spy film that treads delicately between the lines of seriousness and hilarity. The entire cast shines brilliantly through the witty dialogue and scenes that play to their strengths.
Although McCarthy can barely be believable as a real-life CIA agent, she truly steps up to the game and brings so much life and humour into the character of Susan that for two hours, the audience gets to catch a glimpse into what a housewife would be like if she is a spy: clueless, gullible but harbouring some serious pent-up anger inside that manifests as superb fighting skills.
Flanked by the talented Statham and Byrne — each of whom play over-the-top yet gleefully likeable characters because of their sheer absurdity — Spy manages to be both thrilling and genuinely funny. The storyline itself isn't a stroke of genius nor are the plot twists particularly shocking, but the audience gets such a thrill out of watching the characters slum it in dodgy motels, run around the streets of Paris and Budapest, and most entertaining of all, fighting in the cabin of a private jet.
Even the supporting characters manage to inject their own personalities and jokes into the brief scenes that they appear in. Rapper 50 Cent (Curtis James Jackson III), British comedian Peter Serafinowicz and Swedish actor Bjorn Gustafsson, in particular, come to mind — although they only have several lines in a handful of scenes throughout, they nevertheless add in their own brand of comedy, making Spy a conglomeration of different types of humour excellently mashed into one movie.
In summary, Spy is a surprisingly fresh take on the espionage genre, supported by an extremely talented cast whose performances are absolutely top-notch — yes, even 50 Cent. Whether you're looking to catch a movie to fill up your weekend or to have a hearty laugh at one of this year's best comedies, Spy is one that you shouldn't miss.
This article first appeared in The Edge Financial Daily, on May 15, 2015.