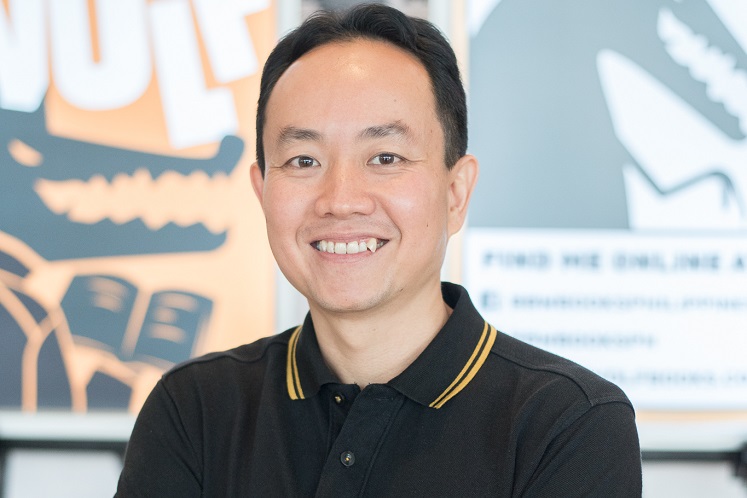 The year of 2020 was supposed to be a big one for BookXcess Sdn Bhd, which has 10 bookstores in Malaysia and runs the Big Bad Wolf (BBW) book sales. The company had plans to bring the famous book sale to another 10 or 20 cities this year, and continue doubling its revenue the way it had in the last few years.
But Covid-19 threw a spanner into the works. According to Andrew Yap, a co-founder and managing director of BookXcess, it will not be able to hold the BBW sales this year, which accounted for 95% of its revenue.
"Our event is all about crowds. Our margins are low and we rely on massive crowds to survive. Since social distancing is going to be a part of our lives for at least a year or two, it almost seems like our business is doomed," Yap tells Enterprise.
But BookXcess is nothing if not agile. Yap's team has gone into overdrive since March to change its business model, switching from BBW sales to improving its e-commerce channel over BookXcess' website.
It was an overhaul of its business plans since Yap had originally planned to only focus on the online portal a few years down the road. This is because BookXcess is a mission-based company that aims to make books accessible and affordable to the masses, says Yap. The books sold in the store are either printed specially for BookXcess or they are overstock or leftover books. The majority are sold at discounts of up to 80% off the recommended retail price, according to its website.
"The sad reality is that books are only accessible to those who do not need it the most, while they are not accessible to those who do. But we feel that giving a person a book can make all the difference in their lives," says Yap.
He observes that most people who buy books online are already readers who know what they want. Meanwhile, physical bookstores can target underserved markets, where casual readers may come into the store and browse for interesting titles.
"BBW and BookXcess are seeding the market by introducing books to underserved groups in developing countries. We will only bring in the online model when these people fall in love with books," he says.
Since the pandemic has temporarily shut its retail stores for a time and eliminated the possibility of organising a big book sale this year, Yap had to accelerate this digital push.
"We would not have pushed ourselves so hard and so fast if we didn't have the nightmare of going bust in the next few months. Now, we have many ongoing plans will come to fruition in late July or early August," says Yap.
Challenge or opportunity?
During the movement control order (MCO), Yap's team worked to improve the BookXcess website and increase its advertising. 
The results were encouraging. Its online sales grew by 15 times when the MCO started, and this was maintained even through the conditional MCO (CMCO) period. 
At the same time, Yap converted the lobby of BookXcess' headquarters in Shah Alam into a bookstore connected to the driveway. It uses this space to introduce a pickup option for online book buyers, who can collect their orders two hours after purchasing it on the website.
Parents sometimes bring their children for a joyride and stop by our headquarters to collect their books. We practise social distancing at the store too, so some families feel safe enough to come down from the car to browse and buy books," says Yap.
This online-to-offline concept was successful. Within two days, it achieved its target for a whole month, with hundreds of customers dropping by. 
The traction from online sales, however, still cannot match the revenue that the company could get from organizing BBW book sales. In addition, BookXcess is stuck with almost RM120 million worth of books in its warehouse, says Yap. 
Without a BBW book sale, how can they manage their existing and incoming stock? The answer is a massive online BBW sale, which Yap hopes to organise this year. 
"In order to do that, we must be able to pick and pack 20,000 to 30,000 orders a day. It's a crazy volume, so we are investing in the infrastructure to enable that. We are very busy now, coming up with new systems and layouts, as well as reinventing our warehouse to make it suitable for e-commerce," he says.
BBW book sales are oftentimes one of the biggest events in the cities it goes to, Yap observes. Now, he hopes to replicate it online and become the biggest online book seller. 
Even though this is an innovation born out of a crisis, it could actually be an opportunity for the company to grow.
Many people may not make that pilgrimage to the annual BBW sales because of the crowd, traffic and location. But if it's online, anyone can access it. "I personally think that the online BBW will see five times more traffic than the physical event. We can reach out to Malaysians in every corner of the country," he says.
This was proven when BookXcess had an online sale for two days at the end of May. The revenue from sales in two days was equivalent to five months of revenues pre-MCO, Yap says. "That shows you the power of going online. What's stopping us from doing the BBW online sale now is that we cannot pick and pack those orders fast enough," he adds.
"It has been so painful running the company and trying to sell books physically in the last 10 to 12 years. In this aspect, Covid-19 has been helpful [in accelerating our digital push.]"
Not ditching retail
But Yap is not turning his back on physical bookstores. In two months' time, a new BookXcess store will open in Tropicana Gardens Mall and there are more stores coming soon in other locations.
Each store they build has a unique design and feature, like its spiral tower-style book store in its Setia Alam and its 24-hour bookstore in Cyberjaya.
This expansion is occurring at a time when bookstores in Malaysia are either closing down or downsizing. 
Why is Yap still focusing on physical stores? He says it's to serve the audiences that want to discover new books.
"Even Amazon started having physical bookstores because it knows that the interaction that people have with physical books is important. The Internet can open our world but it can also close our world, meaning that the ones who control the algorithms control what we see and buy," says Yap.
"Of course, it might not be convenient for one to go to a bookstore all the time, so there is a need for both physical and online stores. We want to capitalise on this opportunity and capture as much market share as possible. The bigger we are, the higher our volume of sales, and the better the deals we can offer our customers."