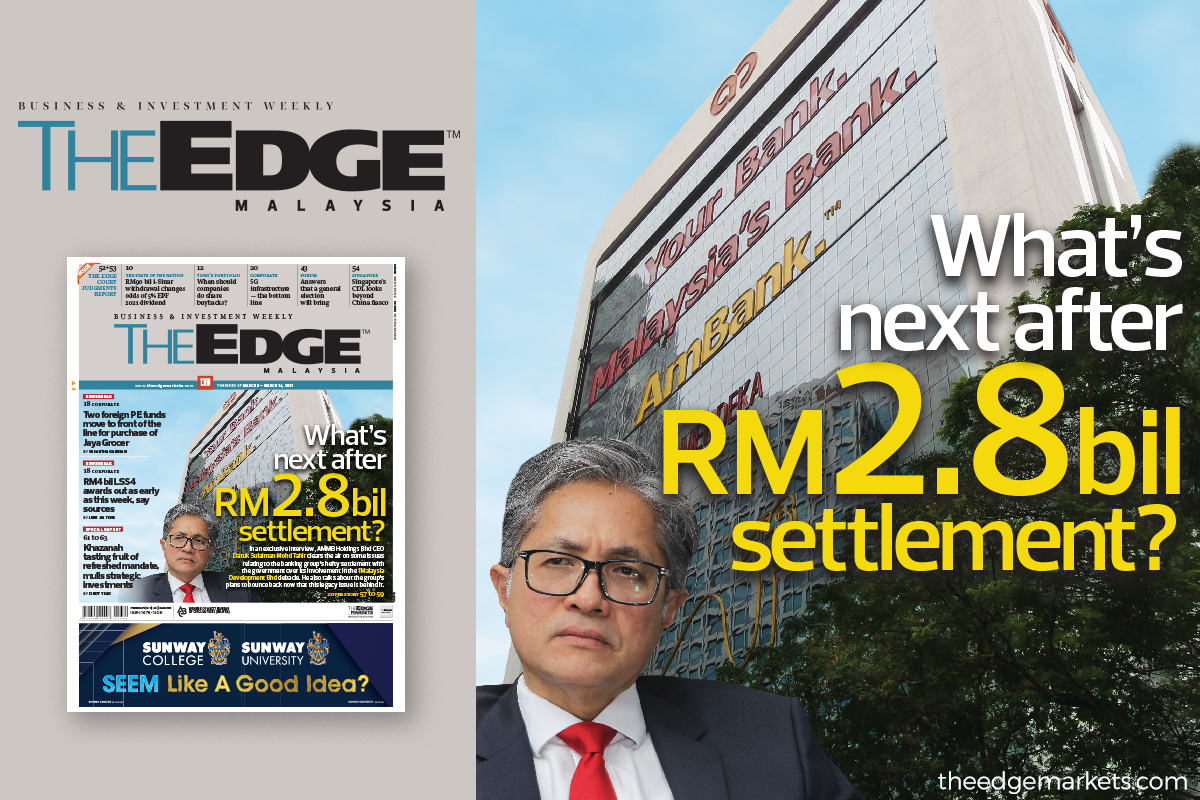 KUALA LUMPUR (March 6): It is now just over a week since AMMB Holdings Bhd stunned the market on Feb 26 with news that it would be paying a massive RM2.83 billion to the Malaysian government as a global settlement for the group's involvement in the 1Malaysia Development Bhd (1MDB) fiasco. Yet, so many questions remain.
The investment community, in particular, was miffed that there had been no warning that such a hit was coming. "The potential risk of such contingent liability has never been highlighted," UOB Kay Hian noted in a recent report.
In his first media interview since the development, AMMB chief executive officer (CEO) Datuk Sulaiman Mohd Tahir moves to clear the air by addressing some of those questions, revealing that intense discussions with the government commenced only in February. This then led to a point where a decision had to be taken on whether to settle or take the legal route.
"There were no claims, nothing on my table, no amount sent or stated and agreed with the authorities prior to that period in February. Clearly, I can't put something as a contingent [liability] when I had nothing at that point of time. If I were to, that would also be misleading," he states.
He also reveals that as part of the settlement agreement with the government, AMMB has the right to go after the individuals and parties responsible for it landing in this situation.
In the interview, Sulaiman also talks about the plans to bounce back now that this legacy matter is behind the group. Meanwhile, the settlement has also sparked speculation that AMMB may be put up as a merger and acquisition (M&A) candidate. Will there be proposals coming in for the country's sixth largest banking group by assets?
Read our cover story in this week's The Edge Malaysia for the full interview.