This article first appeared in The Edge Malaysia Weekly, on June 17, 2019 - June 23, 2019.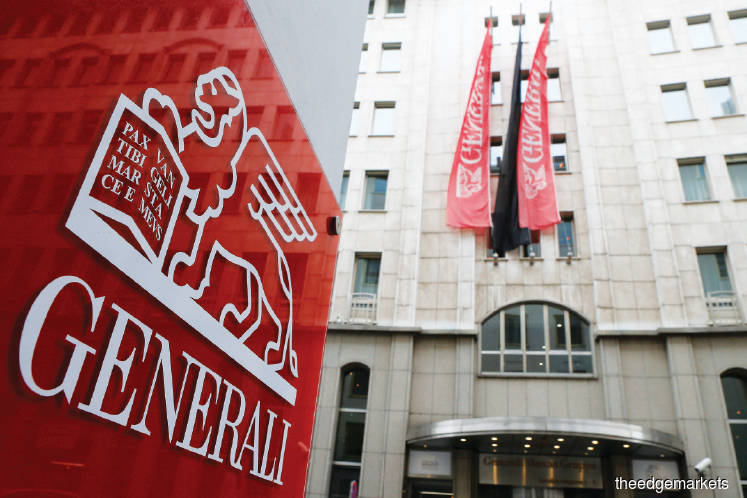 Generali Asia — a subsidiary of Italian Generali Group — acquired the stake from MPHB Capital Bhd in 2015. Photo by Reuters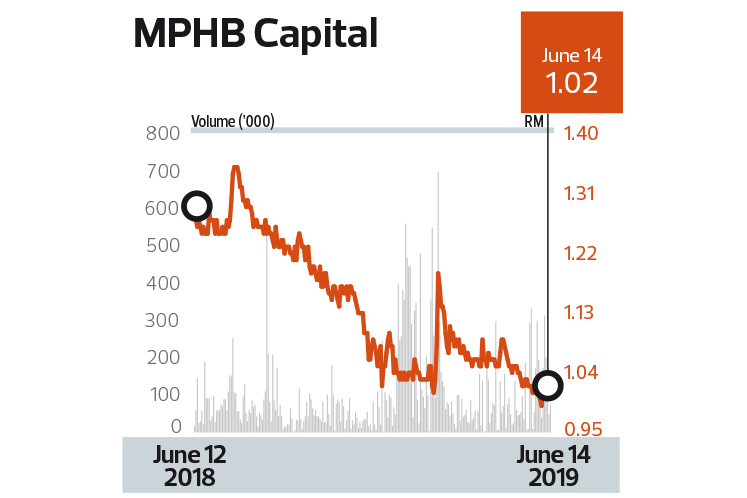 THE clock is ticking for Generali Asia's investment position in local insurer MPI Generali Insurans Bhd. In less than a year, Generali Asia's put option on its 49% interest in MPI will kick in.
Generali Asia — a subsidiary of Italian Generali Group — acquired the stake from MPHB Capital Bhd in 2015.
The put option will come into play in May next year, five years after the completion of Generali Asia's 49% stake acquisition in May 2015.
The put option is exercisable at any time within six months of the expiry of five years from the date of completion of the acquisition. It allows Generali Asia to sell to MPHB its entire 49% stake in MPI, subject to certain conditions. Generali Asia will have to make a decision soon on whether to exercise the put option.
Any further disposal or acquisition of a stake in MPI would require Bank Negara Malaysia's consent.
There was a call option in the  agreement that was exercisable within two years of the completion of the deal but it expired in 2017. The call option was for an additional 21% stake in MPI, raising Generali Asia's stake from 49% to 70% — the maximum permitted for foreign shareholders in Malaysian insurers.
However, in September 2017, MPHB announced on Bursa Malaysia that Bank Negara would not make a recommendation to the minister of finance to approve the application for the call option by Generali Asia to raise its stake in MPI to 70%.
"The company will explore the options available together with Generali Asia and will make the necessary announcement at the appropriate time," MPHB says.
It will be interesting to see what Generali Asia does when the put option kicks in.
At press time, Generali Asia had not responded in writing to The Edge on whether it is still keen to raise its stake in MPI, or what it plans to do with its investment in Malaysia.
Generali Asia has had a presence in Asia since the 1980s. Apart from Malaysia, it is in China, Hong Kong, India, Indonesia, the Philippines, Thailand and Vietnam. The foreign insurer has controlling stakes in the local units operating in the majority of the Asian countries it is in.
In December 2014, Generali entered into an agreement with Multi-Purpose Capital Holdings Bhd — a wholly-owned subsidiary of MPHB — to acquire a 49% stake in Multi-Purpose Insurans Bhd for a consideration of RM355.8 million.
Through this acquisition, Generali Asia entered the Malaysian market, placing itself among the top 10 general insurers here.
In July 2015, the name of the insurance subsidiary was changed to MPI Generali Insurans Bhd to reflect the integration with the Generali Group, which is one of the largest global insurance providers.
Analysts note that any further divestment in MPI by MPHB could unlock dividends at the holding company. MPHB currently needs approval from Bank Negara to declare dividends as it is a financial holding company (FHC) due to its 51% holding in MPI.
"They haven't paid out dividends for years now and it is known that they have been seeking the regulators' approval to pay out dividends. It is unclear what has transpired between the company and Bank Negara on this … but what is clear is they have not paid dividends for some time now and they would need Bank 
Negara's approval to do so," says the head of research at a bank. "Did Bank Negara specify why they can or cannot pay out dividends?"
It is learnt that at a recent annual general meeting, minority shareholders had brought up the dividend issue as MPHB is sitting on cash.
"It is frustrating for shareholders. Remember, part of the cash that is stuck in the company is not from the insurance business," the head of research points out.
The last time MPHB proposed a dividend was in FY2013 — a final single-tier dividend per share of five sen for the financial year ended Dec 31, 2013, but it was rejected by Bank Negara.
Interestingly, the Financial Services Act 2013 came into force that year, mandating that FHCs must comply with the same strict capital requirements that had already been imposed on banks.
FHCs are typically the holding companies for various financial services that range from commercial banking to insurance.
In its FY2016 annual report, MPHB acknowledged that "dividends form an important aspect of the shareholders' return and dividends will be declared and paid out upon approval from the relevant authorities".
However, no dividends were subsequently proposed or paid out.
From a financial perspective, MPHB has been seeing its earnings decline, partly because of the sale of half of the insurance business in 2015.
Apart from its 51% stake in MPI, MPHB has businesses in the hospitality segment through its hotel brand Flamingo and it is also in the credit business and has investments in land. From a net profit of RM97 million in FY2015, earnings have fallen to RM27.6 million in FY2018.
However, its net assets per share did not fall as much relative to its earnings. In FY2018, its net assets stood at RM1.90 compared with RM2.20 in FY2015.
MPHB's stock fell to its all-time closing low of 99 sen on June 4. It has since recovered slightly to close at RM1.02 last Friday, for a market capitalisation of RM729.3 million.
MPHB demerged from Multi-Purpose Holdings — which is now known as Magnum Bhd — and was listed on Bursa Malaysia in June 2013. The demerger was to separate the financial services and other investments from the gaming business to improve the operational and financial efficiency of the businesses.