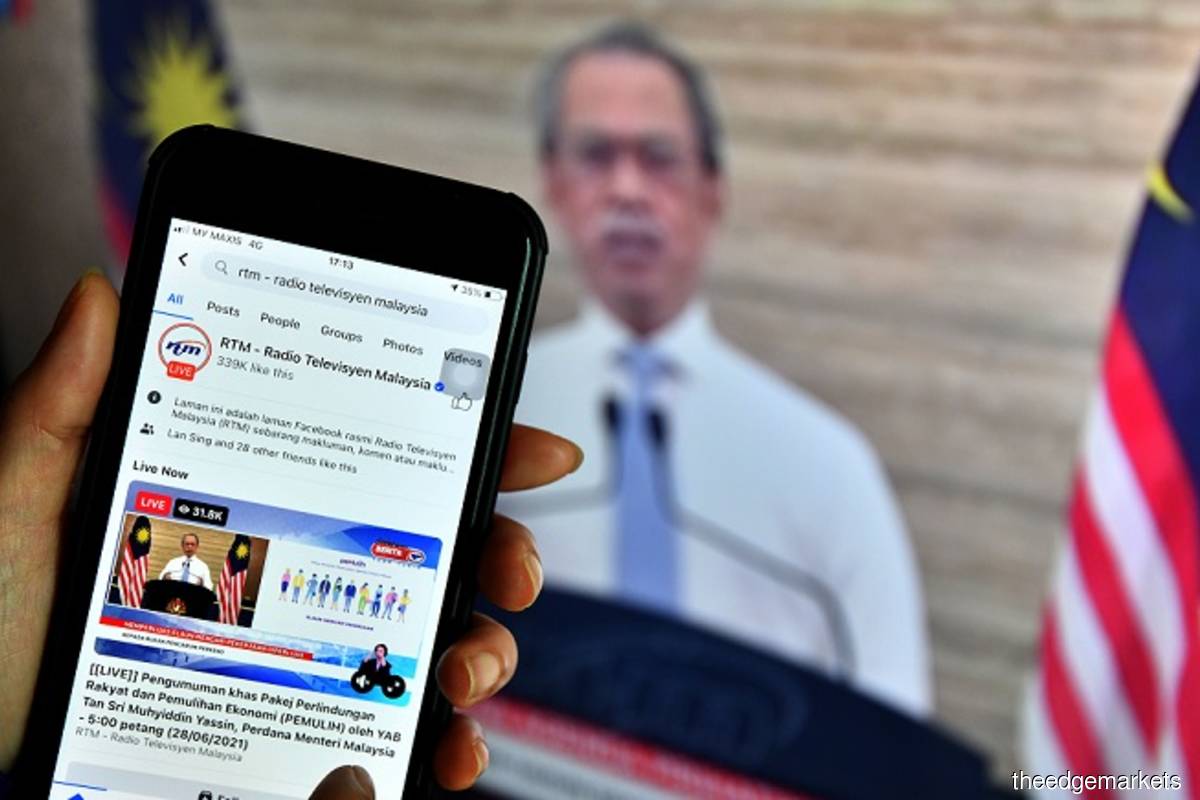 KUALA LUMPUR (June 28): Prime Minister Tan Sri Muhyiddin Yassin today announced the National People's Well-Being and Economic Recovery Package (PEMULIH) worth RM150 billion, with a fiscal injection of RM10 billion, following the extension of the first phase of the National Recovery Plan, where the full movement control order (MCO) remains in force and economic activities are greatly curtailed.
The stimulus package, announced during his televised national address earlier today, outlined several measures targeted at supporting the business sector, given that many business premises are not allowed to operate under the current full MCO. The aim is to reduce costs borne by employers, encourage digitalisation efforts, as well as provide financial support and tax incentives, Muhyiddin said.
Under the new stimulus package, the government will be providing additional assistance under the Prihatin Special Grant (GKP) 4.0 programme, and give micro SMEs one-off payments of RM500 in September and another RM500 in November 2021.
Muhyiddin also announced an improved version of the Salary Subsidy Programme (PSU 4.0) to support up to 500 employees for each employer, at a rate of RM600 for each worker for four months – with two months under the second phase outlined in the Economic Recovery and People's Protection Package (PPN), and a further two months for those categorised in the negative list in the third phase of the PPN.
The government previously limited the salary subsidy programme to employees who earn below RM4,000, but this cap has now been removed.
The government will also grant a two-month exemption on Human Resource Development Corp levies for employers that cannot operate during the MCO.
Meanwhile, under the newly-introduced Small Entrepreneur Digital Empowerment Programme (PUPUK), the government will be allocating RM200 million to assist micro SMEs and RM100 million for SMEs.
These allocations will go towards the Shop Malaysia Online and Go-eCommerce Onboarding initiatives; the SME Digitalisation Grant for SMEs to acquire matching grants of up to RM5,000; to encourage strategic partnerships between social media providers, telecommunication companies and community internet centres to help rural entrepreneurs go digital; and to the the Agriculture Sector Digitalisation and Transformation Programme.
The government is also extending the 10% discount on electricity bills for those operating in affected economic sectors, which was originally meant to end in September, by another three months from October to December.
For those in the tourism industry, the government has also agreed to postpone the monthly income tax instalments for companies, as well as provide exemptions on tourism and service taxes for hotel operators until year-end. And to kick-start the tourism industry under the third phase of the National Recovery Plan, the government will provide a one-off assistance of RM3,000 to over 5,300 registered tourism agencies.
For those in the creative arts industry, the government has allocated RM100 million in the form of financing facilities and fiscal support.
Operators of sporting facilities, which can only resume operation under Phase 3 of the PPN, will also be given a one-off financial assistance of RM3,000.
The government will also be giving RM500 per month for three months to the disabled who are unemployed, which is estimated to benefit over 2,000 individuals. Moreover, a total of RM20 million has been allocated to help the disabled and the homeless start their own business by covering capital requirements and business assistance.
The Prime Minister also announced the easing of procedures involved in government procurement by allowing the variation of prices for projects that have been affected by a spike in building material costs up to Dec 31, 2021.
The government also aims to assist G1 to G4 local contractors that are involved in small-scale projects, with the use of new civil engineering and building work rate schedule,s as well as electric work rate schedules.
Contractors involved in supply and service contracts who have been affected by the MCO will also be allowed an extension of contract, subject to their respective contract clauses.
Meanwhile, to ensure the SME sector remains relevant and competitive, Syarikat Jaminan Pembiayaan Perniagaan Bhd (SJPP) has also agreed to increase its guarantee ceiling by RM20 billion.
A further RM2 billion will also be allocated by Bank Negara Malaysia (BNM) for the purpose of assisting SMEs and micro entrepreneurs.
Cooperative institutions will also receive assistance via a RM20 million allocation for the Cooperative Economic Recovery Intervention Financing, which enables entrepreneurs to carry out economic activities in groups or via cooperatives.
Read also:
Highlights of the PEMULIH package