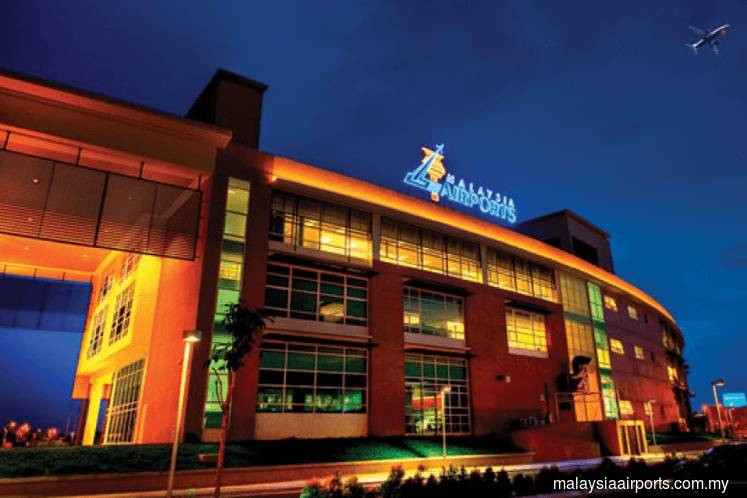 KUALA LUMPUR (Aug 23): As the systems outage at Kuala Lumpur International Airport hits its two-day or 48th hour mark, there have been concerns about how the situation at the key Malaysian airport will impact Malaysia Airports Holdings Bhd (MAHB).
At this juncture, some analysts are of the view that the possible financial impact will likely be mostly in the form of a regulatory fine, but this is not expected to be significant. 
Meanwhile, its share price has held up well in the face of the unprecedented incident. From when it closed at RM8.55 on Wednesday (Aug 21), the day the outage struck hours later at night, the stock settled at RM8.63 today, up 8 sen or 0.94%.
In a note today, CGS-CIMB Research analyst Raymond Yap estimates the disruptions could result in a fine of around RM1.65 million for MAHB, going by the set of Quality of Service or QoS criteria that regulator Malaysian Aviation Commission uses to evaluate KLIA and klia2, each month since September 2018.
While the sum is not very material in the context of MAHB group's core net profit RM811 million forecasted for its financial year ending Dec 31, 2019 (FY19), Yap said MAHB needs to get to the bottom of the issues at hand, or else risk a repeat "and incur even more fines".
Also at risk are MAHB's reputation and investors' confidence in the airport operator's execution abilities, which will be particularly critical from Jan 1, 2020 onwards, when it will undertake up to RM5 billion of capex (capital expenditure) over the 2020 to 2022 period under the Regulatory Asset Base framework, Yap said. 
MAHB's wholly-owned unit Malaysia Airports (Sepang) Sdn Bhd operates KLIA and its low-cost terminal klia2. According to CGS-CIMB Research, the unit reported aeronautical revenue of RM1.16 billion in 2017 and is expected to rake in RM1.40 billion in 2019, or an average of RM117 million a month.
Breaking down the RM1.65 million fine, Yap said based on the QoS that Mavcom evaluates the airports on, MAHB is liable to pay 0.11% of its aeronautical revenues, if it scores less than 4.3 out of 5 in a passenger survey about its flight information displays. 
"If MAHB fails to achieve a score of at least 4.3 in August 2019, it may be subject to a fine of RM128,700, based on 0.11% of its monthly aeronautical revenue forecast of RM117 million," Yap noted.
WiFi availability and baggage handling, if not up to mark, can also be fined, at the rate of 0.28% of its aeronautical revenues, and 1.02% of aeronautical revenues, Yap said, which would amount to RM327,600 and RM1.19 million respectively, based on the same monthly aeronautical revenue forecast.
He also noted that long check-in counters and immigration queues have been reported at KLIA and klia2 under the systems outage, and under the QoS, the criteria is to achieve no more than a 10-minute wait at least 99% of the time. 
"However, there are no penalties to MAHB for failing to meet these two criteria, as it is thought to be the responsibility of the airline manning the check-in counters and the responsibility of the immigration officers. The long queues since Aug 21, on the other hand, are clearly the fault of MAHB, but we assume that Mavcom will not penalise MAHB in this instance," Yap said.
CGS-CIMB Research is maintaining its 'Add' call on the operator, with a target price (TP) of RM9.41. 
An analyst who spoke to theedgemarkets.com but declined to be named, concurred with Yap's view that the financial fallout from the ongoing disruption will not be material on MAHB. "The repercussions as such, are more on safeguarding their [MAHB's] systems, which after this, might need some capex to fix the issues that caused this disruption," he said.
Meanwhile, in terms of passenger spending at KLIA and klia2, the analyst noted that there could be a rise, as passengers would have to spend more time at the airport and consequently need to buy meals or provisions. Having said that, he noted that MAHB is reportedly compensating passengers with food vouchers.