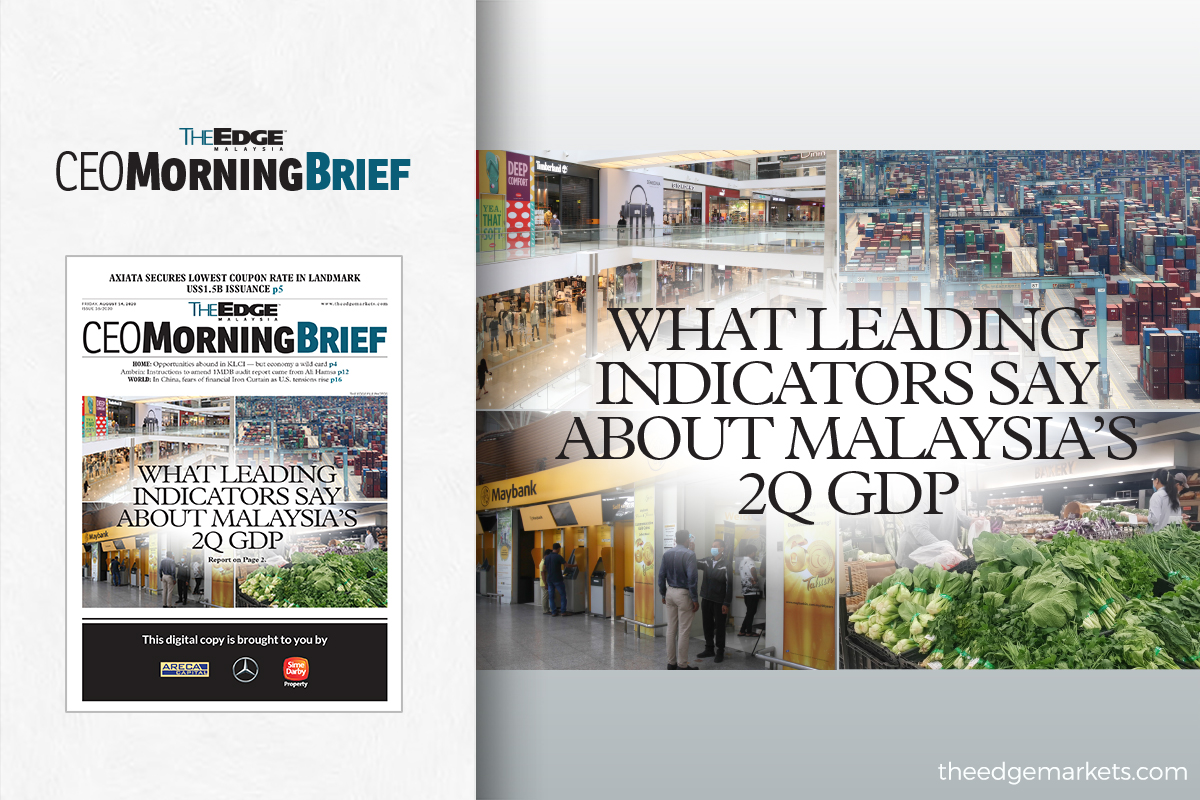 KUALA LUMPUR (Aug 14): Bank Negara Malaysia is scheduled to release the country's second quarter (2Q20) Gross Domestic Product data today, with many economists expecting to see the sharpest contraction since the 1998 Asian Financial Crisis recession.
With the economy hammered by the COVID-19 pandemic and the Movement Control Order (MCO), the street's median expectation is a 9% contraction in GDP.
Estimates by economists, however, vary wildly with some expecting a decline in the high-teens.
We revisit key leading indicators to see if expectations of a steep contraction in the GDP is justified, or if the recovery seen now will help to cushion the severe underperformance at the start of the MCO.
Gross exports
Malaysia's total exports jumped 32.3% month-on-month to RM82.9 billion in June. It was also the second highest across the first six months of 2020.
The monthly jump was supported by higher volume with equipment and manufactured goods staging the climb, although the value of the export units declined.
In fact, June's total exports was higher by 8.79% compared with the same month in 2019.
Comparatively, gross exports in 2Q20 was lower by 11.86% compared with 1Q20 numbers.
Industrial Production Index (IPI)
Malaysia's IPI strongly rebounded to pre-MCO levels in June, which pundits attributed to potential pent-up demand arising from the supply chain blockage in April and May.
The index declined 0.4% year-on-year in June, but rebounded by a sharp 26.2% from May levels. May IPI fell 22.1% on-year.
On a year-on-year basis, double-digit growth was recorded in June's production of electrical and electronic products; food, beverages and tobacco; as well as transport and equipment, whereas apparels and metal products fell.
For 2Q20, Malaysia's IPI contracted 17.9% on-year. The same index climbed 0.45% in 1Q20.
Wholesale and retail trade
Malaysia's wholesale and retail trade posted a gradual rebound from RM66.85 billion in April — which experienced the biggest monthly plunge in the nation's history — to RM84.44 billion in May and RM102.87 billion in June.
The latest figure, while still at its 26-month low (after excluding April and May), shows signs of recovery with growth in both double digit growth in sales value and volume.
Purchasing Managers' Index (PMI)
The headline IHS Markit Malaysia Manufacturing PMI, which indicates manufacturing performance, rose to 51 points in June — which is above the survey's long-run average of 49 points.
It was also the highest in 21 months since September 2018, when the nation recorded a PMI of 51.5.
The rebound was the fastest rate in the survey's Malaysian history, with anticipation that the rapid turnaround in production since the April collapse supports the view of a V-shaped recovery.
During 1H20, Malaysia's PMI fell below 45 points once in April, when it booked 31.3 points. Gradual reopening of the economy during MCO helped push the figure to 45.6 in May.
In July, the index slipped on-month to 50 points, but was still above the level in January through May.
Credit card spending
Domestic credit card spending among Malaysians slowed in April to RM5.33 billion — its lowest since nine years ago in February 2011.
However, the Malaysian public returned to spend more in the following months, with June's figure of RM9.15 billion not far below levels seen prior to the COVID-19 outbreak, signalling a recovery in consumer confidence.
Loan disbursement
Malaysia's onshore banks too, saw a dip in total loans disbursed in April to RM73 billion — levels last seen seven years ago in February 2013, when it lent out RM65.66 billion.
While May figures remained low at RM75 billion, the amount loaned out in June was back at the level seen prior to the pandemic — which provides some encouragement for productivity moving forward.