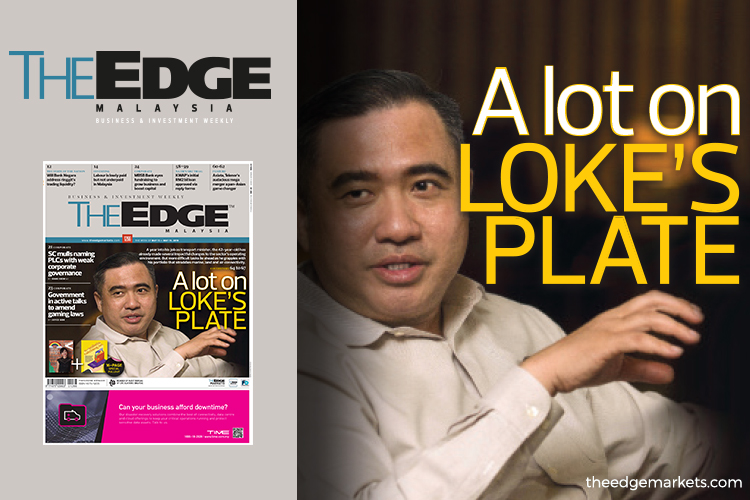 KUALA LUMPUR (May 11): Transport Minister Anthony Loke Siew Fook seems to have a lot on his plate as his portfolio comprises entities such as Keretapi Tanah Melayu Bhd (KTM) and Prasarana Malaysia Bhd, which are mired in debt, and wide-ranging assets under airport operator Malaysia Airports Holdings Bhd (MAHB) and the maritime sector.
The airport sector is likely to see considerable change with the introduction of four clusters — Sabah, Sarawak, Sepang and the rest of Peninsular Malaysia — enabling investors who may be airport operators to partner MAHB in these clusters.
Loke's logic is that in the past, airports had sought funds from the government for expansion, and usually had to take turns due to a lack of funding. Now, with the new plan, all the clusters can be developed simultaneously.
While he seems sharp, energetic and ready to take on the challenge, the fact of the matter is that operators such as KTM and Prasarana have been incurring losses for many years and to make a significant change would require tremendous resolve.
Loke has started off strong with the removal of approved permits for the transshipment of vehicles at local ports in early April this year, and he hopes to do away with many of the 74 lists of items requiring APs. He has also been promoting the ports in trips to Europe and China thus far.
As for KTM, Loke says it will be a different animal once the 190-km RM8.9 billion double-track rail line linking Gemas to Johor Baru is completed and operating in 2022. He feels that in Prasarana's case, posting an operating profit would be commendable, as expecting profitability after billions in capital expenditure would be asking for too much.
Among others, he also explains the issues faced at the Johor Baru-Singapore Rapid Transit System, and how the cost has to be reduced to ensure that the project is affordable for Malaysian workers to use.
Read the minister's interview in the latest issue of The Edge.