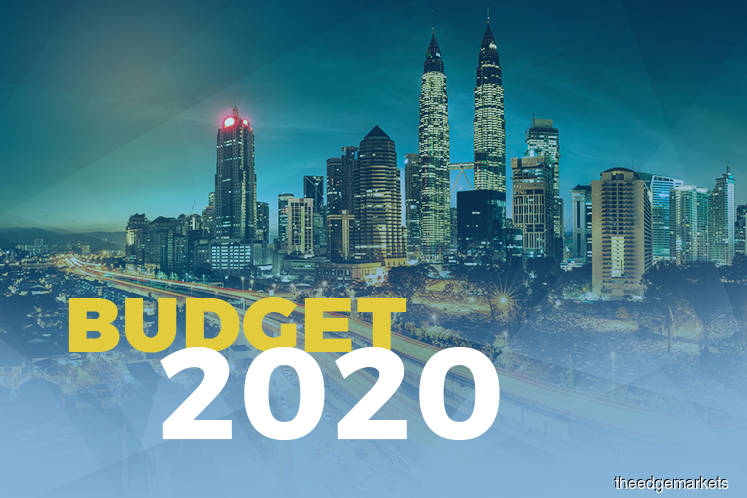 KUALA LUMPUR (Oct 14): Budget 2020, which was announced last Friday (Oct 11) by Finance Minister Lim Guan Eng, has spurred various reactions from brokers.
A change of tone — Hong Leong Investment Bank Research
"Unlike its austerity sounding predecessor, Budget 2020 certainly heard a change of tone," Hong Leong Investment Bank Research analysts said.
From an equity perspective, the research house is relatively positive on Budget 2020 and moderated its one-year KLCI target to 1,660 (from 1,670) after recalibrating its five-year mean and standard deviation (SD).
"Our one-year KLCI target is based on 16.5x PE (-0.5SD) tagged to 2020 EPS.
"Against its historical trend, KLCI valuations look compelling with (i) 1-year forward rolling PE below -1SD, and (ii) earnings yield spread to MGS at >2SD. Furthermore, P/B is now at a 10-year low of 1.57x. With cumulative net foreign selling (since 2011) at -RM20 billion, we are inclined to believe the exodus has peaked," said HLIB.
More positive surprises than negatives —CGS-CIMB Research
"We deemed Budget 2020 to be mildly positive for the market as there are more positive surprises than negatives, against our expectation," CGS-CIMB Research said.
The research firm projects Budget 2020 measures to be neutral to KLCI earnings but mildly positive for future corporate earnings and maintained its KLCI target of 1,583 points.
It said in Budget 2020, the government introduced special tax allowance to encourage the electrical and electronics (E&E) sector for companies that have exhausted the reinvestment allowance to reinvest further in Malaysia.
"We are of the view that this will encourage semiconductor companies to reinvest profits and allow Malaysian players to better compete globally," the research house said.
Technology companies in its coverage recorded higher effective tax rates in recent years as they have exhausted the reinvestment allowance.
As such, the proposed tax incentives are positive for technology players, though partly offset by the higher minimum wage in cities.
CGS-CIMB's Ivy Ng stated she believed that the lower minimum threshold for foreign property purchase will help to address some of the existing property overhang, though the impact may not be significant.
"The lower threshold price for foreign buyers could potentially benefit mass-market developers focusing on the affordable product range such as LBS [Bina Group Bhd] and Mah Sing [Group Bhd]," she added.
She said major fiscal adjustments front-loaded in 2019 leave the government with a clean slate in Budget 2020 to pursue a 'slightly expansionary' strategy to counter meaningful downside risks to Malaysia's economy from external headwinds.
The research house thinks that the optimistic GDP growth target of 4.8% and the prudent budget deficit of 3.2%% should provide sufficient fiscal headroom for further intervention should economic momentum falter next year.
Prosperity shared and future-proofed — AmInvestment Bank
Budget 2020 promotes responsible growth, addresses the rakyat's welfare, champions diversity and future-proofs the nation with heavy emphasis on the development of a digital and knowledge-based economy.
AmInvestment maintained its end-2019 KLCI target of 1,680 points based on 17 times of the 2020F earnings projection (+7.9%).
"We believe the risk-off trade will prevail over the rest of 2019," it said.
These budget goals will be achieved without digressing from the commitment towards fiscal consolidation, although Budget 2020 does revise the deficit target slightly higher to 3.2% of GDP compared to 3% projected during Budget 2019.
Nonetheless, this is still an improvement over an estimated deficit of 3.4% in 2019.
According to AmInvestment, sector-wise, the more apparent winners are consumers (cash grants and fuel subsidies) and property (government-guaranteed rent-to-own (RTO) scheme and lower price threshold for foreign ownership) sectors.
To fulfil the Shared Prosperity theme of the Budget 2020, the citizens' welfare will be safeguarded by cash grant scheme Bantuan Sara Hidup (expanded to cover more individuals), increase in the monthly minimum wage to RM1,200 from RM1,000 in major cities and a new targeted fuel subsidy scheme.
"On the other hand, we believe the biggest disappointment belongs to the construction sector," the research house said.
While gross development expenditure is projected to increase by 4.3% to RM56 billion in 2020 from RM53.7 billion estimated for 2019, there is a lack of initiatives to embark on new mega infrastructure projects (typically funded with special purpose vehicle or SPV debts).
As development expenditure typically goes towards funding basic infrastructure projects such as roads, bridges, schools and water supply projects, these will largely only benefit smallish/unlisted contractors.