This article first appeared in The Edge Malaysia Weekly, on June 22, 2020 - June 28, 2020.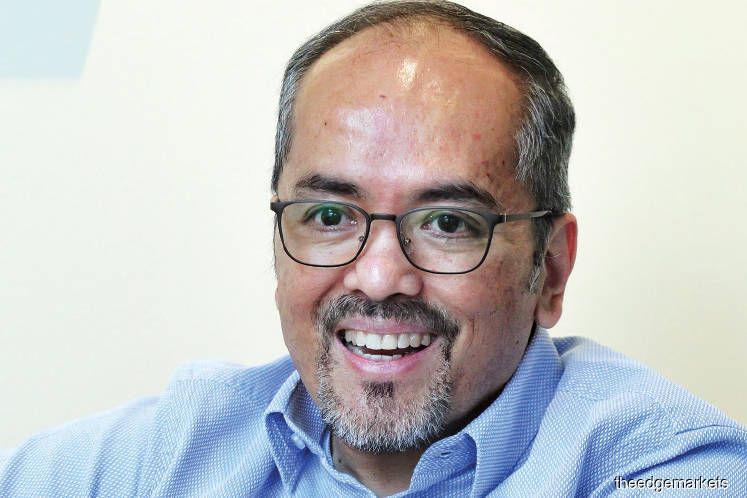 TUNKU Alizakri Alias, CEO of the Employees Provident Fund (EPF), predictably deflected the question when asked whether dividends for 2020 would be above 4% or north of 5% based on the numbers the country's largest institutional fund has seen so far this year.
"We still have two more quarters to go," he told reporters who attended a special briefing at the EPF's headquarters in Kuala Lumpur last Wednesday evening to discuss its first-quarter performance released on June 13.
He had earlier described the highly volatile investing environment using a five-letter word: "In the financial world, I have this very technical term for what's happening in equities: It's a weird market. It's a very weird market."
He added: "Who really knows what's happening [next month or six months down]? Things can literally change overnight." The Covid-19 pandemic had given rise to a "VUCA (volatile, uncertain, complex and ambiguous) world on steroids", he pointed out. "At the same time, oil prices went down and for the first time in history, we see something of this magnitude where practically every country has been affected [and recovery patterns will be varied across countries and regions]."
Equities, which were traditionally invested in for capital appreciation, for instance, were delivering higher dividend yields as stock prices fell to multi-year lows. Meanwhile, capital gains were being booked from the trading of fixed income instruments that were traditionally boring but gave steady yields.
While equities contributed 52% of the RM12.16 billion gross investment income booked by the EPF in the first quarter of this year despite comprising only 36% of its total investment assets as at end-March, the asset class also made up most of the write-downs or fair value adjustments that the EPF decided to take in its books.
The EPF — which traditionally only reports net investment income at the end of the year when it makes impairments or fair value adjustments — said in its June 13 release that its net investment income was RM7.5 billion "after taking into consideration the write-down on listed equities, a prudent practice by the EPF in ensuring that its long-term investment portfolio remains healthy".
"All asset classes were severely affected, particularly equities, which suffered steep declines with the global markets going down as much as 32%, while our local FBM KLCI dropped by 15% as at March 31, 2020," the EPF said in its statement. It added that it was "hopeful to see market sentiment improving in the near future", having "recorded some soft recoveries in various markets since April".
The EPF declares its annual dividend payout based on its net realised income for the year, which is derived from total gross realised income after deducting net impairment on financial assets (except listed equities), unrealised gains or losses from inter-company transactions, investment expenses, operating expenditure, statutory charges as well as ­dividend on withdrawals.
 Without specifically saying whether the EPF was tempering expectations on 2020 dividends, Alizakri said the extreme market volatility was the reason the EPF saw it "prudent" to make quarterly assessments of the value of its assets.
"We've always believed in transparency. We have to make sure that our members are aware of our positions. In terms of accounting, we no longer do impairments [but have write-down policies post-implementation of MFRS9 from Jan 1, 2018]. We don't need to do it but we decided to, to ensure the health of our books. It was a deliberate decision from our end. We want to be as transparent as possible so at least our members understand," Alizakri said.
RM50 billion write-down?
Excluding the unspecified amount of write-downs from "mainly equities" that resulted in a net investment income of RM7.5 billion for 1Q2020, the headline gross investment income of RM12.16 billion for 1Q2020 was not too shabby compared with the RM9.6 billion booked in 1Q2019 — which incidentally was the EPF's worst quarter last year as income from equities fell by about RM2 billion compared with the subsequent quarters.
The EPF's total investment assets of RM874 billion as at end-March 2020, however, were down just over RM50 billion or 5.5% compared with RM924.75 billion as at end-2019.
It is likely that the value of its equity assets fell by about RM46 billion to RM314.6 billion while the value of its investments in money market instruments declined by just under RM30 billion in the first three months of the year, The Edge's back-of-the-envelope calculations show. Our calculations also indicate an RM18.8 billion valuation gain from its fixed income assets from the previous quarter and a RM6.2 billion valuation gain from its real estate and infrastructure assets.
In its 1Q2020 earnings release, the EPF said equities made up 52% of total gross investment income, fixed income instruments 40%, real estate and infrastructure 4.4%, and money market instruments the remaining 3.5%.
What is certain is that the EPF needs to adjust its strategic asset allocation (SAA) framework to take into account higher volatility in the short to medium term.
Chief investment officer Rohaya Mohammad would only say that the EPF will continue to have a "majority" of its assets in fixed income and aim for capital enhancement from equities. Among the questions the fund is asking is whether having 3% of its total assets in liquid assets is enough, she adds.
As at end-March 2020, some 54% of its RM874 billion investment assets were in fixed income instruments, 36% in equities, 6% in real estate and infrastructure and 4% in money market instruments. Fixed income instruments made up 49% of its asset base as at end-2019, equities 39%, money market instruments 7% and real estate and infrastructure 5%.
That overseas assets made up only 28.8% of the fund's total investment assets as at end-March, down from 30.3% as at end-2019, was due to "overall valuations" rather than a strategic shift back to Malaysia, Rohaya says. The valuation decline is about RM28 billion in absolute terms, our back-of-the-envelope calculations show.
Even 4% dividend tough
Alizakri reminded yet again that the threshold to deliver every 1% of dividend has risen substantially in the past decade and is still increasing. In 2009, the EPF needed RM3.43 billion to pay 1% of dividend. That means that the RM45.82 billion dividend declared for 2019 would have been enough to pay more than the 13% dividend declared in 2009.
The EPF — which recorded RM50.29 billion gross investment income (GII) for 2019 — declared total dividends of RM45.82 billion for 2019 [5.45% or RM41.68 billion for conventional savings (SK) and 5% or RM4.14 billion for shariah savings (SS)]. This was just below the RM47.3 billion declared for 2018 (6.15% SK, 5.9% SS) and RM48.13 billion declared for 2017 (6.9% SK, 6.4% SS).
Our back-of the-envelope calculations show that the EPF would need to make at least RM46 billion to keep the dividend above 5% for 2020 when it announces the annual payout in February or March next year. To deliver a 4.5% dividend for 2020, the EPF needs to make RM42 billion, going by average annual increases in the past decade. It needs RM37 billion to pay 4% — the amount that paid a 5.7% dividend in 2016. This is given that the amount the EPF needs to pay 1% of dividend (SK + SS) is likely to increase to RM9.2 billion this year — up from RM8.48 billion in 2019 (RM7.65 billion for SK and RM828 million for SS).
These dividend numbers were arrived at based on the EPF's historical fund growth trajectory, which may differ this year owing  to the Movement Control Order (MCO) that  was implemented from March 18 to May 4, after which almost all sectors were allowed to reopen under the Conditional MCO (CMCO).
Employers were also allowed an additional fortnight to remit their EPF contributions for March to July salaries (April to August contributions) from the 15th to the 30th of each month. Under the Employer Covid-19 Assistance Programme (e-CAP) launched by the EPF in April, small and medium enterprises (SMEs) with fewer than 200 employees on their payroll can also apply for a deferment of up to three months in remitting the employer's share of EPF contributions for April, May and June 2020. As at June 12, a total of 31,400 applications had been received for e-CAP. Of this, 7,194 had been approved involving RM47.9 million employers' contributions.
As at June 12, a total of 4.22 million applications were approved involving RM1.98 billion in withdrawals from members' Account 2 under the i-Lestari withdrawal facility, according to data from the 9th Prihatin Economic Stimulus Package Laksana (implementation) report. This was up from 4.1 million applications involving RM1.94 billion in withdrawals as at June 5 and 1.17 million applications involving RM570,000 in withdrawals as at April 12.
As at June 5, a total of RM1.87 billion had been released to 5.7 million EPF members who were contributing at the reduced rate of 7% while 1.85 million opted to keep their contribution rate at 11% — which works out to a 75.5% take-up rate among 7.55 million active EPF members, according to Laksana reports.
It remains to be seen how these changes to cushion the impact of Covid-19 on businesses and wage earners will affect the EPF's fund growth. According to the latest available data from Bank Negara Malaysia at the time of writing, gross contributions to the EPF for April this year of RM6.45 billion were down month on month for the third straight month compared with RM7.6 billion in January and were also slightly below that seen in April 2019 and April 2018.
Net contributions (excluding withdrawals) to the EPF for April of RM5.49 billion, however, were the highest in more than five years, with withdrawals at only RM966 million compared with an average of about RM4 billion.
Total contributions to the EPF (including dividends) stood at RM931.24 billion as at end-April 2020 compared with RM916.6 billion as at end-2019 and RM839.6 million as at end-2018 — figures which have yet to take into consideration adjustments to reserves (for net unrealised and realised losses and gains on investments) as well as retained profits to total funds attributed to members that stood at RM832.3 billion as at end-2018.
The EPF has yet to release its 2019 annual report and financial statements, which need to be approved in Parliament beforehand.
The EPF only needs to deliver at least a 2.5% nominal dividend and beat inflation by at least 2% on a rolling three-year basis.
For its part, the EPF, Alizakri said, will continue to be prudent and remain focused on capital preservation and safeguarding the long-term health of its members' old-age savings.
"I don't want to spend too much time on what might [give] a false sense of either doom and gloom or exuberance. It won't be fair guidance. Let's not get distracted by quarter-by-quarter or even short-term impact. Let's focus on the long term and make sure that the health of our fund is intact and we are able to deliver our mandate. That's what I really want to focus on," he concluded.