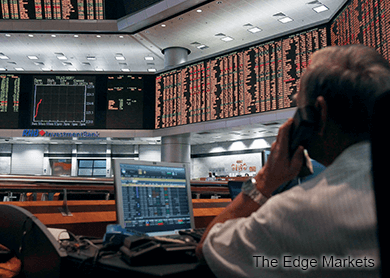 BONDS are usually issued directly over-the-counter between the corporates and the institutions looking to buy them. The problem with bond issues is that each issuance comes in large amounts, usually in the billions. Bond issues come in standard lots of RM5 million, which is typically out of the range of the average retail investor. That is why it is easier for issuers to sell their bond issues over-the-counter.
"On a retail level, there is less demand for highly rated paper compared with the institutional level. These issues are snapped up by long-term funds, such as pension funds and insurance companies. It is also a matter of convenience, as it is a lot easier for the issuers to manage one or two [large] investors compared to thousands [of smaller ones]," says AmBank's Wong. 
That is not to say that high net worth investors who have significant capital cannot access these bond issues. "High net worth investors who want access to these bonds go through their private banks, which are able to get them for their clients," says Azdini Nor Azman, head of fixed income at Asian Islamic Investment Management Sdn Bhd. 
"The private banks are able to take the RM5 million lots and split them into denominations of RM10,000 or RM100,000 for their clients. Otherwise, retailers typically access the bond market via their unit trust funds," she says. 
The effort required to educate retail investors about bonds could be huge. For one, there are the various characteristics of a bond, which can be confusing to investors who are used to stocks. 
"Companies will sometimes undergo debt restructuring to better manage their cash flows or negotiate better credit terms for themselves. This could mean changes in the terms and conditions of the issued bonds, or they could sometimes have multiple issues of debt. It is harder for the retail investor to keep track of these changes," says Wong.
Despite these significant obstacles, it is in everybody's interests that the bond market is made more accessible to retail investors. "In addition to access, the intent of the ETBS is to create greater transparency in bond trading, specifically in the pricing of bonds. Having real-time prices and volumes will help investors track their investments and narrow the bid-ask spread," says Jamaluddin Nor Mohamad, director of Islamic and alternative markets at Bursa. 
"Currently, with the institutional market, bond trades move in big lots. If the retail clients go in, you will start to see a wide variety of pricing [of bonds], and the bond market will become more robust and liquid. The exposure is also not as concentrated among institutional players," says Azdini.
According to the Securities Commission Malaysia's Capital Market Masterplan 2, there needs to be a strengthening of the environment for electronic trading and infrastructure for bond lending, market-making, trading, clearing, settlement and custodian services in order to widen access to the secondary bond market. After the DanaInfra issue, the government proposed during the Budget 2015 announcement, in October last year, that MGS be listed and traded on the ETBS market. 
"We expect that this addition [the MGS' listing and trading] will widen the appeal and distribution channels to enable greater retail participation. The retail investors will have the opportunity to participate in sovereign bonds and sukuk, which offer minimal credit risk and better yields compared to bank deposits. This is something the market can look forward to in the near term," says Jamaluddin.
Besides including additional securities for trading, Bursa has been promoting ETBS at its marketing events and retail roadshows. "Factors that will support the sustained popularity and take-up of asset classes or products are straightforward — persistence in educating the public followed by concerted, collaborative and continuous marketing efforts by the issuers, market makers and brokers. Familiarity with this product is key and reach is critical in hitting the retail masses," says Jamaluddin.
In fact, Bursa also launched its Bursa Marketplace online community last year, which aims to assist the investing public in obtaining trading information and educational material. "One of the biggest challenges we see is overcoming the fear to trade. Bursa Marketplace is meant to address this," says Jamaluddin. 
Zahidi believes that the Malaysian retail bond market is heading in the right direction. "We are of the view that going forward, the retail bond market will get more popular on the back of the government's initiatives to facilitate retail participation in the bond market. However, we believe more measures can be introduced, such as education [about the bond market] and lowering the entry requirements," he says.
"It will be quite exciting for the market to have an additional asset class. The Malaysian market has developed quite a bit and the savvier investors will have another instrument to further diversify their portfolios. Overall, the market will benefit more from it," says Azdini.
Having the world's largest sukuk market has not had the desired spillover effect on Malaysia's secondary bond markets. Despite issuing two-thirds of the world's US$290 billion (RM1.03 trillion) outstanding sukuk to date, the country's retail bond market has been much quieter by comparison.
This article first appeared in Personal Wealth, The Edge Malaysia Weekly, on May 25 - 31, 2015.