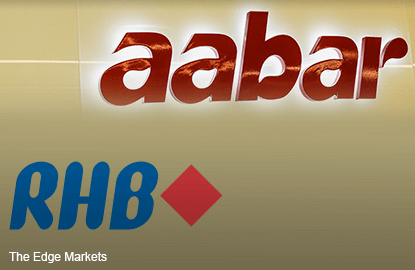 This article first appeared in digitaledge Weekly, on September 21 - 25, 2015.
News last week that Aabar Investments PJS' voting rights in RHB Capital Bhd is capped at 15% took many by surprise and raises questions as to what Aabar's next move will be and whether the banking group's proposed rights issue to raise RM2.5 billion might be delayed.
It could also put RHB (fundamental: 1.40; valuation: 1.65) back in the M&A spotlight, some analysts say.
Aabar currently has a 21.09% stake in RHB.
It is understood that bankers working on the rights issue will be seeking clarification from Bank Negara Malaysia about issues that arise following the latest development.
"This is something out of the ordinary, so the bankers will be seeking clarification to be absolutely certain on how best to approach the rights issue now. If need be, RHB may have to delay the timelines of the rights issue slightly," a source familiar with the matter tells digitaledge Weekly.
Under the initial plan, the exercise was to have been completed by end-October.
Another source says there was communication between RHB and Aabar last week, but that this was just a regular business update between RHB's management and the Middle Eastern investor. At that point, Aabar had yet to indicate whether it would take up its entitlement of the rights issue.
The revelation about the cap came about on Sept 17 when RHB, in a stock exchange filing, said it had been informed by Bank Negara of the central bank's "order" to Aabar relating to the latter's shareholding in RHB.
The central bank, in a letter to RHB on Sept 14, said it required RHB to give effect to the order prohibiting Aabar from exercising its voting rights in respect of the shares held in RHB in excess of 15%. It also said RHB is prohibited from issuing any further shares to Aabar in excess of a 15% shareholding, thus limiting Aabar's entitlement to the rights issue to not more than 15% of the issue.
Ultimately, what this means, is that regardless of Aabar's higher shareholding in RHB, it will only have a 15% voting right. It is unclear if this is a new development, or something that was imposed on Aabar when it first emerged as a substantial shareholder in RHB back in 2011.
"The shareholding condition imposed by Bank Negara on Aabar is in respect to the initial approval granted by the finance minister for Aabar to acquire a 24.9% stake in RHBCap," RHB said in the stock exchange filing.
The wording of the announcements suggests that this was already a precondition in the original agreement with Aabar, says Maybank IB Research.
"Investors will recall that Aabar acquired its original 24.9% stake in RHB from its sister company Abu Dhabi Commercial Bank (ADCB) back in June 2011 for RM10.80 a share. Unlike ADCB, which is a bank, Aabar is a company and back then, BAFIA restricted corporate shareholding in banks to no more than 20% (the current Financial Services Act, which superseded BAFIA in June 2013, is silent on this).
"As such, it is our assumption that it may have been a prerequisite for Aabar to have pared down its shareholding within a specific time frame, which could have been five years, since Aabar has just entered into its fifth year as a shareholder of RHB," its banking analyst Desmond Ch'ng says in a Sept 18 report.
Assuming Aabar takes up 15% of its entitlement to the rights issue, its stake in RHB would fall to just over 20% from 21.09% currently. Should the Middle Eastern investor decide not to take up the rights, its shareholding in RHB would drop to 17.5%.
"There is heavy dilution amid a rights price that is so heavily discounted versus book value," notes an industry observer.
In 2008, ADCB acquired a 25% stake in RHB for  RM7.20 per share, valuing it at 2.2 times price to book. It then sold the stake to its sister company Aabar in 2011, valuing it at 2.25 times book.
RHB's current share price translates to an ex-rights price of RM6.12 versus Aabar's entry cost of RM10.80 per share, Maybank IB Research notes.
The other major shareholders of RHB — the Employees Provident Fund (EPF) and OSK Holdings Bhd — have committed to subscribe fully to their respective stakes of 41.58% and 9.97%. The balance would then be underwritten by a consortium of investment banks which includes RHB Investment Bank, Affin Hwang Investment Bank, CIMB Investment Bank, Credit Suisse Securities (Malaysia) Sdn Bhd, Maybank Investment Bank and Public Investment Bank.
"Moreover, it is the EPF's intention to apply for excess rights of up to 2%, thus potentially mopping up part of the excess rights from Aabar's restricted stake," Maybank IB says.
With Aabar's voting rights capped at 15%, industry observers and banking analysts point out that this could potentially lead to fresh takeover attempts being made on RHB.
"I wouldn't be surprised if RHB gets back into the M&A spotlight as a target again. The stock price is at lows so a deal can still get done if it's a stock deal," says an industry observer.
However, given the current weak economic environment, companies have become more cautious about undertaking any M&A exercise.
Earlier this year, a proposed merger between RHB, CIMB Group Holdings Bhd and Malaysia Building Society Bhd fell through despite months of talks due to a number of reasons that included the worsening economic environment.
It was no secret that during their talks for the potential mega merger, Aabar — with its 21.2% stake in RHB then —  was a potential stumbling block to the deal. This was given the fact that it had indicated it wanted at least RM12 per share in any deal — an asking price that was nearly 20% more than the RM10.03 per share that RHB was valued at in the proposed deal.
---
Note: The Edge Research's fundamental score reflects a company's profitability and balance sheet strength, calculated based on historical numbers. The valuation score determines if a stock is attractively valued or not, also based on historical numbers. A score of 3 suggests strong fundamentals and attractive valuations. Visit www.theedgemarkets.com for more details on a company's financial dashboard.