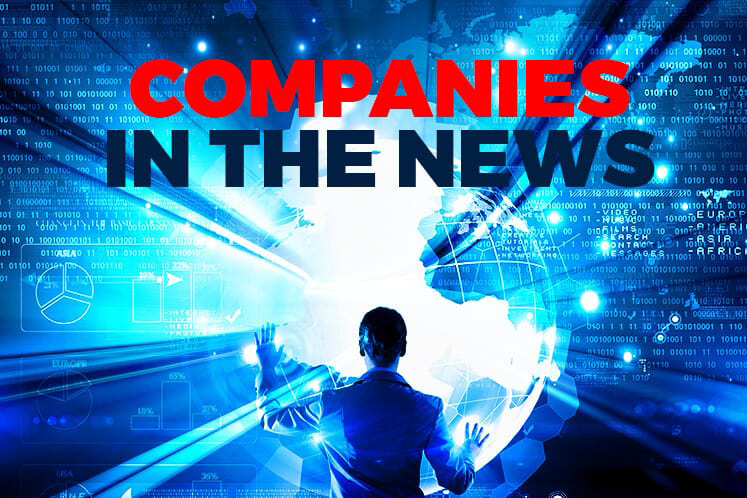 KUALA LUMPUR (July 25): Based on corporate announcements and news flow today, companies that may be in focus on Thursday (July 26) may include the following: Westports Holdings Bhd, Star Media Group Bhd, JAKS Resources Bhd, Cuscapi Bhd, Uzma Bhd, Marine & General Bhd, Vizione Holdings Bhd, D'nonce Technology Bhd, Capitaland Malaysia Mall Trust, Gadang Holdings Bhd, M-Mode Bhd and Mega First Corporation Bhd.
Westports Holdings Bhd's net profit fell 18.1% to RM121.81 million in the second quarter ended June 30, 2018 (2QFY18) from RM148.82 million a year ago, as a result of higher depreciation and finance costs during the current quarter following the completion of Container Terminal 8 (CT8) and CT9, and the absence of an investment tax allowance that was previously claimed in 2QFY17.
Quarterly revenue also dropped 21% to RM394.04 million from RM501.44 million in 2QFY17, due to the adoption of the MFRS 15 accounting standard from Jan 1.
Nevertheless, the group declared a first interim dividend of 5.4 sen per share amounting to RM184.1 million for the financial year ending Dec 31, 2018, payable on Aug 20.
Star Media Group Bhd today confirmed that it has been served with a fresh Erinford injunction by JAKS Resources Bhd.
The Court of Appeal has fixed Friday to hear the injunction, the media group said in a filing with Bursa Malaysia.
Yesterday, JAKS said it has filed a fresh injunction in the Court of Appeal to restrain two banks from releasing a RM50 million guarantee to Star Media. This comes after the High Court on Monday dismissed a similar injunction application filed by the group through its subsidiary JAKS Island Circle Sdn Bhd (JIC).
Cuscapi Bhd has set up a wholly-owned subsidiary to operate a cryptocurrency exchange in the Philippines, upon obtaining a licence from the Cagayan Economic Zone Authority (CEZA).
In a filing with Bursa Malaysia today, Cuscapi said the subsidiary Cuscapi Blockchain Sdn Bhd will also conduct other information technology related businesses.
A wholly-owned subsidiary of Uzma Bhd, Uzma Engineering Sdn Bhd (UESB), has secured a five-year umbrella contract from Petronas Carigali Sdn Bhd for the provision of drilling fluids and associated services for Petroleum Arrangement Contractors (PACs).
In a filing with Bursa Malaysia, Uzma said there is no firm value for the umbrella contract, as it depends on work orders to be issued to it from time to time at the discretion of PACs.
The tenure of the umbrella contract is five years from the date of the Letter of Award dated May 30, 2018.
Marine & General Bhd (M&G) said its unit has been awarded a contract worth RM17 million, to provide a straight supply vessel (SSV) in support of a client's operations.
In an exchange filing today, M&G said the contract, which was awarded by Hess Exploration and Production Malaysia B.V. to its unit Jasa Merin (Malaysia) Sdn Bhd (JMM), will commence on Aug 1.
The contract is for a primary duration of three years, with two annual extension options for Hess.
Vizione Holdings Bhd posted another quarter of record earnings as net profit soared by 60.4 times to RM11 million in the fourth quarter ended May 31, 2018 (4QFY18) compared with RM183,000 a year ago, mainly due to construction works undertaken during the period by a newly acquired subsidiary.
The group also saw revenue increase by about 6.9 times to RM110.7 million in the quarter from RM16.1 million in 4QFY17.
For the full financial year ended May 31, 2018 (FY18), Vizione saw net profit grow by 43.8 times to RM26.2 million from RM598,000 the previous year.
The group's FY18 revenue is 8.4 times higher at RM413.2 million compared with RM49.1 million in FY17.
D'nonce Technology Bhd (DTB) has entered into a development rights agreement for the sole and exclusive rights to carry out development on a piece of freehold land measuring 6,774 sq m in Seberang Perai Tengah, Penang for RM10 million cash as part of its plan to diversify into property and construction for additional income streams.
The agreement with the two vendors — Tan Than Kau and Tan Tiang Yang — was entered into by its wholly-owned subsidiary D'nonce Properties Sdn Bhd, and provides DTB an opportune platform to diversify its earnings base as well as an opportunity to establish its maiden property venture, the industrial packaging company said in a bourse filing.
DTB will be paying the vendors RM5 million each in cash, financed by a combination of bank borrowings (60%) and internally-generated funds (40%).
The proposals are expected to be completed by the fourth quarter of 2018.
CapitaLand Malaysia Mall REIT Management Sdn Bhd (CMRM), the manager of CapitaLand Malaysia Mall Trust (CMMT), announced today that CMMT achieved net property income (NPI) of RM53.4 million for the second quarter of its financial year ending Dec 31, 2018 (2QFY18), which was 10.8% lower than its 2QFY17 NPI of RM59.8 million.
In a filing with Bursa Malaysia today, CMMT said Gurney Plaza in Penang and East Coast Mall in Kuantan recorded stronger performances that partially mitigated lower contributions from its Klang Valley shopping malls, including Sungei Wang, which is currently undergoing asset enhancement to reconfigure its annex space into a new lifestyle zone, called "Jumpa".
CMMT said its distributable income for 2QFY18 was RM40.8 million and distribution per unit (DPU) for the quarter was 2 sen.
Gadang Holdings Bhd posted a 21.72% drop in net profit to RM23.27 million in the fourth quarter ended May 31, 2018 from RM29.73 million a year ago, on poorer construction earnings, mitigated by stronger property profits.
However, revenue increased 4.09% to RM182.01 million, from RM174.85 million a year ago, on continuing progress of its construction projects, including those related to the refinery and petrochemical integrated development project (RAPID) in Pengerang, Johor, second line of the Klang Valley mass rapid transit, Tun Razak Exchange, and Cyberjaya Hospital.
M-Mode Bhd's founder Datuk Lim Thean Keong has stepped down as the group's managing director.
Lim resigned to devote more time to operation matters at subsidiary level, the group said.
M-Mode also said its new single largest shareholder, Ong Chee Koen, will be redesignated as chief executive officer from his previous position as executive director.
Mega First Corp Bhd said the construction of the Don Sahong Hydropower Project (DSHP) in Laos has not been affected by the collapse of the Xepian-Xe Nam Noy dam there.
Its board gave the assurance after making enquiries with the management of Don Sahong Power Company (DSPC) and the project consultants, it said in a filing today.
"At this juncture, the Board concurs with the management of DSPC and its consultants that the incident is unlikely to result in any delay in the completion of the Don Sahong Project or a material change in the overall cost of the project," it said.
It said that the company's board is satisfied that present and future dam safety risks remain low and are continuously being monitored and managed in accordance with the industry and international best practices.
On Monday, a dam that formed part of the Xe-Pian Xe-Namnoy hydroelectric power project collapsed, causing flooding in six villages in the Attapeu province.
At least 20 people have been reported to be killed and more than 6,000 villagers made homeless.