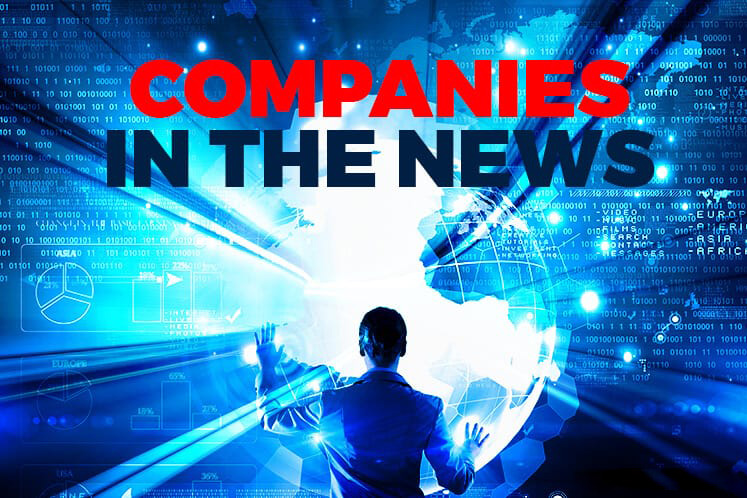 KUALA LUMPUR (Feb 8): Based on corporate announcements and newsflow today, companies in the spotlight on Friday (Feb 9) may include: Westports Holdings Bhd, Maxis Bhd, Hup Seng Industries Bhd, Gabungan AQRS, Atrium Real Estate Investment Trust, RCE Capital Bhd, Censof Holdings Bhd, Daya Materials Bhd, Petronas Chemicals Group Bhd and Astro Malaysia Holdings Bhd.
Westports Holdings Bhd's net profit rose 36.1% to RM210.98 million in the fourth quarter ended Dec 31, 2017 (4QFY17) from RM155 million a year ago, on lower tax expenses mainly due to tax incentives.
Earnings per share were up at 6.19 sen in 4QFY17 from 4.55 sen in 4QFY16. Quarterly revenue, however, stayed flat at RM573.96 million from RM573.26 million in 4QFY16.
Westports said operational revenue for 4QFY17, however, was down by 7% year-on-year (y-o-y) at RM435.1 million, mainly due to lower container throughput, which fell 13% y-o-y to 2.22 million TEUs (20-foot equivalent units).
For full-year FY17, Westports' net profit increased 5.6% to RM651.51 million from RM616.83 million in FY16, while revenue was up 2.6% to RM2.09 billion from RM2.04 billion.
However, the group's operational revenue declined 5% y-o-y to RM1.716 billion in FY17, mainly due to a reduction in container throughput by 9% to 9.02 million TEUs.
Maxis Bhd's fourth-quarter net profit rose 11% to RM559 million from RM505 million a year earlier as the mobile telecommunication network provider's postpaid revenue increased while business expenses including traffic, commission, network and finance costs fell.
Revenue for the three months ended Dec 31, 2017 (4QFY17) fell 2.9% to RM2.15 billion from RM2.21 billion in 4QFY16, due to a decline in contribution from its prepaid services.
For full FY17, the group posted an 8.9% increase in net profit to RM2.19 billion from RM2.01 billion as revenue inched up 1% to RM8.7 billion from RM8.61 billion previously.
Hup Seng Industries Bhd's net profit fell 5% to RM14.42 million in the fourth quarter ended Dec 31, 2017 (4QFY17) from RM15.42 million a year ago, on escalating input cost which slowed down margin growth of the group despite an improvement in revenue.
The biscuit maker said higher promotion expenses incurred during the current quarter under review also resulted in the fall in profit.
Hup Seng's earnings per share were also lower at 1.8 sen in 4QFY17 compared with 1.93 sen in 4QFY16. Quarterly revenue, however, rose by 4% to RM86.22 million from RM82.8 million in 4QFY16, on stronger market demand.
For the full FY17, Hup Seng reported a net profit of RM44.49 million, down 10% from RM49.41 million in the previous year, while revenue increased 5% to RM299.67 million from RM285.65 million in FY16.
Gabungan AQRS Bhd's net profit doubled to RM15.23 million in its fourth quarter ended Dec 31, 2017 (4QFY17) from RM7.45 million a year ago, on higher revenue and more progressive construction stages.
Quarterly revenue climbed 74.53% as the group saw improved contribution from more progress in the projects of its construction division.
For the full year, the group's net profit surged 112% to RM48.04 million on the back of a 42.23% climb in revenue to RM469.44 million.
Atrium Real Estate Investment Trust (REIT) closed its fourth quarter ended Dec 31, 2017 (4QFY17) with a net property income of RM4.02 million, up 13.58% from RM3.54 million recorded a year ago.
The uptick follows the full rent-out of its Atrium Shah Alam 2, Selangor in the quarter under review, said Atrium.
Earnings per share was higher at 1.78 sen compared with 1.52 sen. Quarterly revenue rose 9.79% to RM4.32 million in 4QFY17 from RM3.93 million in 4QFY16.
The REIT also declared a fourth and final dividend per unit (DPU) of 1.85 sen for FY17, bringing its DPU for the year to 7.4 sen. The latest payout will be issued on March 16.
For the full FY17, Atrium REIT's net property income climbed 23.07% to RM15.18 million from RM12.34 million a year ago. Revenue rose 19.15% to RM17.3 million from RM14.52 million in FY16.
RCE Capital Bhd's net profit grew 5.2% to RM22.92 million in the third financial quarter ended Dec 31, 2017 (3QFY18) from RM21.77 million a year ago, underpinned by higher interest and fee income from its consumer financing segment.
Earnings per share rose to 6.71 sen in 3QFY18 from 6.52 sen in 3QFY17. Quarterly revenue also increased 10.4% to RM64 million from RM57.98 million in 3QFY17 on higher interest and fee income buoyed by its consumer financing segment's expanded loan base from RM1.5 billion to RM1.6 billion.
For the cumulative nine months (9MFY18), RCE Capital recorded an increase of 13.8% in its net profit to RM65.66 million from RM57.7 million a year ago.
Censof Holdings Bhd has bagged a RM6.43 million contract from the Inland Revenue Board of Malaysia (IRB) to undertake an accounting system upgrade.
Censof said its wholly-owned subsidiary Century Software (Malaysia) Sdn Bhd has accepted a letter of award from IRB yesterday for the proposed work.
The tenure of the contract is one year and six months starting from Feb 1 this year to July 31, 2019.
Daya Materials Bhd, which has been scouting for opportunities in Papua New Guinea over the last few years, is firming up a joint venture there with the nation's oil and gas (O&G) company.
Daya Materials has entered into a Memorandum of Understanding (MoU) with Papua New Guinea's national O&G company (NOC) Kumul Petroleum Holdings Ltd, it said.
"The MoU is intended to reflect the intention of Daya Materials and Kumul Petroleum to participate in O&G projects in Papua New Guinea as a joint venture," it said, but did not provide additional details on any projects that have been identified.
The MoU is valid for a year from today.
Petronas Chemicals Group Bhd (PetChem) and Petronas Hartabina Sdn Bhd have signed a land lease agreement (LLA) in relation to PetChem's participation in the petrochemicals project under the Refinery and Petrochemicals Integrated Development (RAPID) project in Pengerang, Johor.
PetChem said its unit PRPC Polymers Sdn Bhd had today entered into the LLA with Petronas Hartabina for a plot of land measuring 91 acres with an annual lease fee of RM2.71 per square foot, located in Pengerang.
The lease is for a 30-year period from June 14, 2016, it added.
The lease will allow PetChem to construct, develop, install and operate the polymer plants and equipment on the land for the duration of the lease.
Astro Malaysia Holdings Bhd has signed a conditional joint venture (JV) agreement with Grup Majalah Karangkraf Sdn Bhd (GMK) as part of its plan to invest in the latter's wholly-owned unit Karangkraf Digital 360 Sdn Bhd (KK30).
Astro, via its unit Astro Digital Sdn Bhd (ADSB), first signed a binding term sheet with GMK on Dec 6 to form a JV where it said it would invest RM100 million for a 51% stake in KK30.
The JV aims to pursue 360° monetisation strategies for the KK360's content intellectual properties across multiple platforms, leveraging on Astro's capabilities, growing reach and engagement.
It would also extend Astro's online presence among the Malay-language audience and propel its combined monthly unique visitors to approximately 10 million, it said.