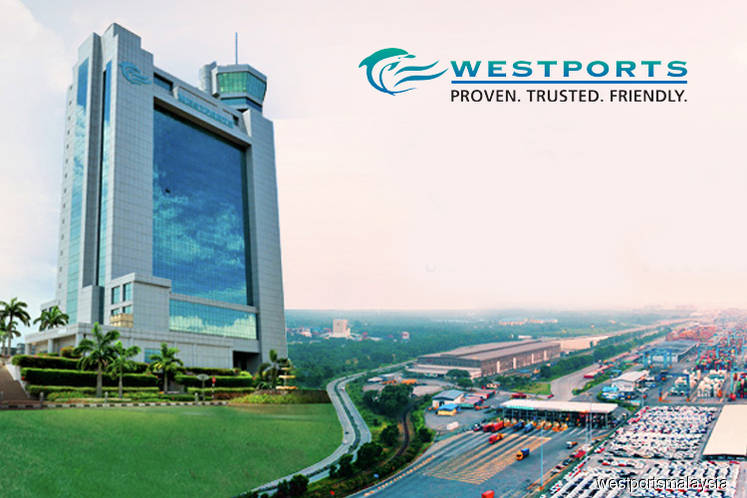 KUALA LUMPUR (Aug 13): Shares in Westports Holdings Bhd took a beating this morning, falling as much as 28 sen or 7.39% to RM3.52, after analysts downgraded the stock on the back of a six-month delay in the scheduled gateway tariff hike instructed by the Port Klang Authority (PKA).
Both Affin Hwang Capital Research and MIDF Research dropped their ratings on Westports today from "buy" to "hold" and "neutral" respectively, with reduced target prices of RM4.01 and RM3.69 each.
"As we factor in the lower quantum of tariff hike and the revised period of its implementation, we are tweaking our total container revenue per twenty-foot equivalent unit (TEU) assumption for the 2018 and 2019 financial years to RM154.28 and RM156.53 (from: RM158.35 and RM160.55) respectively," MIDF Research said.
Meanwhile, TA Securities cut its recommendation on the stock from a "hold" to "sell", with a target price of RM3.78, as future investor sentiment could be marred by trade war concerns, it said in a note today.
CIMB Research retained its "add" call on Westports but lowered its target price to RM4.48 from RM4.50 previously, saying that the delay in tariff hike will reduce its 2018 to 2019 financial years' core net profit forecasts by 1% to 3%.
At 10.40am, the stock had pared losses to trade at RM3.62, still 18 sen or 4.74% down from its last close of RM3.80. Westports was the ninth largest decliner on the bourse, with some 213,200 shares crossed.
Westports had announced last Friday that PKA had instructed it to delay the scheduled 13% gateway tariff hike by six months to March 1, 2019, after it was originally scheduled to be implemented on Sept 1 this year.
"We are mildly disappointed over the container tariff deferment by six months, though the impact is minimal. However, we take the opportunity to downgrade Westports given the recent impressive share price performance, fairly reflecting its immediate prospects ahead," Affin Hwang said.
Shares in Westports recently hit a nine-month high of RM3.86 on Aug 8.