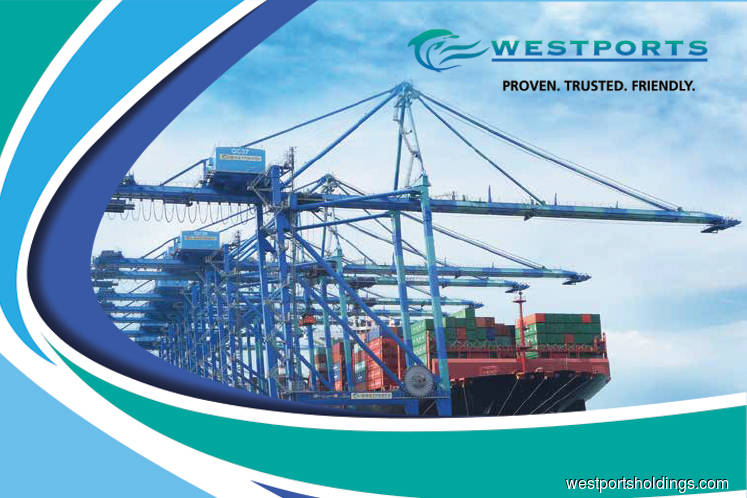 KUALA LUMPUR (Jan 30): Westports Holdings Bhd reported a 31% drop in its fourth quarter net profit at RM145.54 million from RM210.98 million a year earlier mainly on higher taxes.
The port operator said it had a year earlier registered a lower effective tax rate due to investment tax allowance claim.
Today, Westports said in its Bursa Malaysia filing that revenue shrank by 27% to RM418.02 million in the fourth quarter ended Dec 31, 2018 (4QFY18) from RM573.96 million a year ago.
"It (the drop in revenue) was mainly attributed to adoption of MFRS 15 from Jan 1, 2018. The group recorded profit before tax (PBT) of RM193.8 million in 4QFY18 representing 33% increase compared to 4QFY17. The growth in PBT was due to higher gross profit.
"The group profit after tax of RM145.5 million was below by 31% compared to 4QFY17 mainly (because) in 4QFY17 effective tax rate was lower due to claim of investment tax allowance," it said.
For 4QFY18, Westports declared a second interim single tier dividend of 6.33 sen per share. The dividend brings full-year dividends to 11.73 sen a share.
For the full year (FY18), Westports reported a decline in net profit to RM533.47 million from RM651.51 million a year earlier, while revenue was down at RM1.61 billion from RM2.09 billion.
"For the 12-month ended on 31st December 2018, Westports handled a total container throughput of 9.5 million twenty-foot equivalent units (TEU), a growth of 6% over the previous year. Gateway volume increased by 18% over the previous year, reflecting favourable domestic economic activities, while transhipment throughput edged higher to 6.2 million TEUs.
"Westports container throughput is expected to register a single-digit percentage growth rate in 2019," the group said.