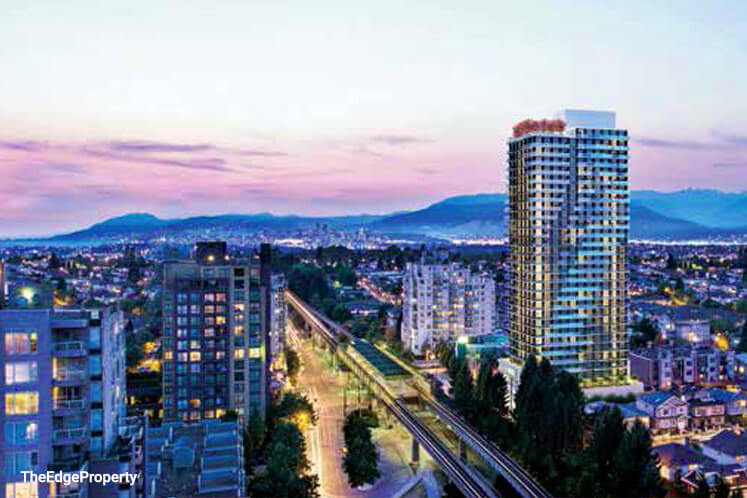 VANCOUVER-based luxury real estate developer Westbank held the global launch of JOYCE, its 256-unit landmark development in the neighbourhood of Joyce-Collingwood, Vancouver a month ago.
More than 3,000 people visited its sales gallery in Vancouver when it opened in the second week of June. Another 200 interested parties attended its weekend exhibition in Hong Kong the following week. The weekend launch at Four Seasons Singapore on July 1 and 2 saw "double-digit sales", according to exclusive agents SQFT Global Properties, which marketed the project together with global luxury realtor Singapore Christie's International Real Estate.
JOYCE is 90%-sold to date — "just a month after its launch", says Luke Fehon, the Hong Kong-based managing director of Westbank.
New level of luxury condos
The 30-storey, 290m-high JOYCE is designed by Vancouver-based architectural firm Henriquez Partners Architects. Located just steps from the Joyce-Collingwood SkyTrain Station, it is a 12-minute transit ride to the Vancouver city centre and a 32-minute ride to the airport.
JOYCE will introduce high-rise luxury residential living with amenities to the neighbourhood, says ­Fehon. Rooftop amenities include a library, a learning lounge staffed by a professional tutor, six private study rooms for schoolwork and music lessons, a multi-purpose entertainment lounge, a private listening room for ­music enthusiasts, and a fitness centre equipped with top-of-the-line Technogym equipment.
While there are one-bedroom units starting from 492 sq ft, about 65% of the units are two- to three-bedroom units sized from 700 to 1,259 sq ft to cater to families. Prices of units range from C$580,000 (RM2 billion) to C$1.3 million, or just under C$1,000 to C$1,400 psf for the large units on the high floors.
The Joyce-Collingwood neighbourhood is one of the most established in Vancouver, says Fehon. It has 50,000 residents, half of whom are families. The area has lakes and is well served by parks. There are also many elementary schools, pre-schools and high schools within a 10km ­radius of the Joyce-Collingwood SkyTrain ­Station. It is near Burnaby, where Metropolis in Metrotown, one of the largest malls in Vancouver, is located.
One of the most liveable cities
With a population of 2.45 million in the Greater Vancouver area, and about 631,486 in the city, Vancouver is considered small compared with other global cities such as London (8.8 million), New York City (8.5 million), Tokyo (13 million) and Hong Kong (7.4 million). However, Vancouver has consistently ranked among the world's most "liveable" cities: It was third in The Economist Intelligence Unit's most recent ranking, and fifth according to the ­Mercer Quality of Living Survey.
"Vancouver has always been attractive to foreign home buyers — whether it's for retirement, education or leisure," says Westbank's Fehon. "From an investment perspective, Vancouver is a mature real estate market and does not experience large market swings like those in Asia."
Demand greater than supply
As demand outstrips supply in the housing market, prices have been appreciating annually. According to the Housing Price index, prices in Vancouver have risen 9.71% y-o-y (from April 2016 to April 2017). This is driven mainly by demand for condos and townhouses, as local buyers are looking to downsize from their single-family homes for the convenience of condo living, notes Fehon.
The July 5 release by the Real ­Estate Board of Greater Vancouver bears out his observation: The imbalance between supply and demand in the condo market is creating homebuyer competition across Metro Vancouver. "Two distinct markets have emerged this summer," says REBGV president Jill Oudil. "The detached home market has seen demand ease back to more typical levels while competition for condos is creating multiple-offer scenarios and putting pressure on prices for that property type."
The rental market for apartments in Vancouver remained tight, with the vacancy rate at 0.7% in 2016, ­according to the Canada Mortgage and Housing Corp. Investors in JOYCE can, therefore, expect gross rental yields of between 4% and 5%, Fehon estimates.
Strong foreign demand despite new tax
In spite of a new 15% tax on ­foreign buyers levied by the provincial govern­ment of British Columbia since last August, demand from foreign ­buyers has been resilient, says ­Fehon, who estimates that 35% of JOYCE's ­buyers are from overseas.
In March, Westbank and Peterson Group launched their ­luxury develop­ment, Alberni by ­Kengo Kuma, the globally acclaimed Japanese architect who designed Tokyo's Olympic Stadium. Of the 184 units within the sculptural 43-storey ­tower, 70 units (38%) at Alberni were snapped up by buyers from China, Hong Kong, Taiwan and Singapore.
Typical units from the third to 37th floors range from studios to one- to three-bedroom apartments, with ­sizes ranging from 518 to 2,566 sq ft. These are priced from C$1.26 million to C$19.99 million, or upwards of C$1,700 psf.
There are sub-penthouses on the 37th to 39th floors, which are single-­level, three-bedroom units sized from 2,998 to 4,054 sq ft. Three ­penthouses span the 40th to 43rd floors and are sized from 5,628 to 7,688 sq ft. ­Prices of the penthouses — the first to be sold — range from C$18 million to $22 million. Two of them were purchased by overseas buyers. "We have a strong foreign ­clientele. But ­local ­buying interest has been ­equally healthy," notes Fehon.
Singapore was the first to introduce a 15% additional buyer's stamp duty, and even local buyers have to pay a 10% ABSD on their third and subsequent residential property purchases. In Hong Kong, the stamp duty for foreigners was raised to 30% last November. And in April, the government announced that first-time home buyers in Hong Kong who purchase  more than one flat will be slapped with a 15% stamp duty. The Chinese government has introduced property cooling measures and, recently, ­capital controls.
The UK government has increased stamp duty on foreign buyers, and so has the Australian government, ­especially in Sydney and Melbourne. In Vancouver and recently Toronto, a 15% tax on foreign buyers has been introduced.
"As more countries impose simi­lar taxes, those in Singapore and Hong Kong who are interested in ­buying overseas property have ­simply ­factored that into their overall transaction cost," says Dave Loo, managing director of SQFT Global Properties.
Fehon concurs. "When considering a purchase in Vancouver, most of our clients do not compare it with ­another property in Vancouver," he says. "They compare it with a purchase in ­London, Los Angeles, New York, Singapore, ­Tokyo, Sydney or Melbourne."
Vancouver House
Westbank first launched a project in Singapore in late 2013. It was a small development called Kensington ­Gardens, in Vancouver's Kingsway. It was completed early this year and contains mainly two-bedroom units of about 799 sq ft.
The project that stole the show in Singapore and around the world when it was launched in 2014 was Westbank's 150m-tall twisted skyscraper, Vancouver House. A total of 35 units were snapped up here over one weekend, according to SQFT Global Properties. It was named the Future Project of the Year 2015 at the World Architecture Festival held in Singapore that year.
The 59-storey development designed by Dutch architect Bjarke ­Ingels of the eponymous Bjarke ­Ingels Group is located at the corner of Beach ­Avenue and Howe Street in downtown Vancouver.
The first nine floors of the tower comprises offices, shops and restaurants. Westbank also intends to ­liven up the public plaza and the area under the Granville Bridge with retail and cultural development as well as ­public art, including a "spinning chandelier" by artist Rodney Graham.
There are 333 suites on the lower floors; 50 estate homes from the 47th to 57th floors; and five penthouses on the 58th and 59th floors. Unit sizes range from 368 sq ft for a studio to 3,034 sq ft for a four-bedroom home. The penthouses are said to be priced above C$20 million. Vancouver House is scheduled for completion next year.
'Real estate as art'
Westbank was founded by Ian ­Gillespie in 1992. Right from the start, his intention was to work with both international and local architects to create developments that stand out against the skyline and set the benchmark for luxury. "We like to see our real estate as art," says Fehon.
Today, Westbank has over C$20 billion worth of development projects, predominantly in Vancouver, Calgary, Toronto and Victoria in ­Canada, ­Seattle in the US, and ­Tokyo. "Tokyo is our first venture outside North America," says Fehon.
Tokyo was a natural maiden foray into Asia, as Westbank had worked with many Japanese architects, from Kengo Kuma to Toyo Ito. The develop­ment team that flew to Japan for ­design meetings with Japanese architects saw the opportunity to develop projects there, says Fehon.
The first two projects Westbank is developing in Tokyo are designed by Kengo Kuma. The first is in Kita-­Sando, near the Yoyogi Park and Meiji Shrine in Shibuya, and close to ­Harajuku and Shinjuku. The ­bespoke residential project has just 13 units, with every unit customised by the ­architect for the individual buyer. The second development is located in a slim tower next to Tokyo Midtown, in the heart of Ropponggi and ­Akasaka. Its 12 units will also be ­customised individually by Kuma.
Westbank is currently working on several other projects in Tokyo, adds Fehon. It has also looked at opportunities in Singapore and Hong Kong. "We would certainly love to do something in Singapore," he says. "The Singapore market has been depressed for the last several years, but I think things are picking up. We hope to offer a Singapore product to our customers who are buying property in Vancouver and Toronto."
In Asia, Westbank opened an office in Hong Kong five years ago. Today, it also has offices in Beijing, Shanghai, Tokyo and Taipei, but has yet to open one in Singapore. "We were only launching one project [here] a year until now," says Fehon.
New landmark developments
Westbank has embarked on two global launches this year, with another two lined up for the second half of 2017.
One of them is Horseshoe Bay in West Vancouver. Previously a ­surface car park serving Sewell's Marina and largely underutilised for much of the year, the 256,759 sq ft site will be developed into 158 new residential units and small commercial spaces, both marina- and non-marina-related.
Designed by architect Paul Merrick, the Horseshoe Bay project also seeks to maintain the West Coast Village feel of the bay. It will incorporate a series of cottage-inspired two-storey townhouses, elements of a ­European village with cobblestone piazzas, green common areas and pedestrian areas connecting to a neighbouring park.
Burrard and Nelson by Westbank is an upcoming new development in the heart of downtown Vancouver. It involves the restoration and expansion of one of the city's most historic churches, which will be integrated with a 550ft residential tower. Designed by Bing Thom Architects, the tower will "provide Vancouver with a bold new iconic landmark that highlights the highpoint of the downtown peninsula and the historic gateway into the West End".
From launching just one project a year in Singapore to four so far this year, perhaps now is an opportune time for Westbank to open an office here.
This article first appeared in The Edge Property Singapore, a pullout of The Edge Singapore, on July 17, 2017.
For more stories, download TheEdgeProperty.com pullout here for free.