This article first appeared in The Edge Malaysia Weekly, on February 7, 2022 - February 13, 2022.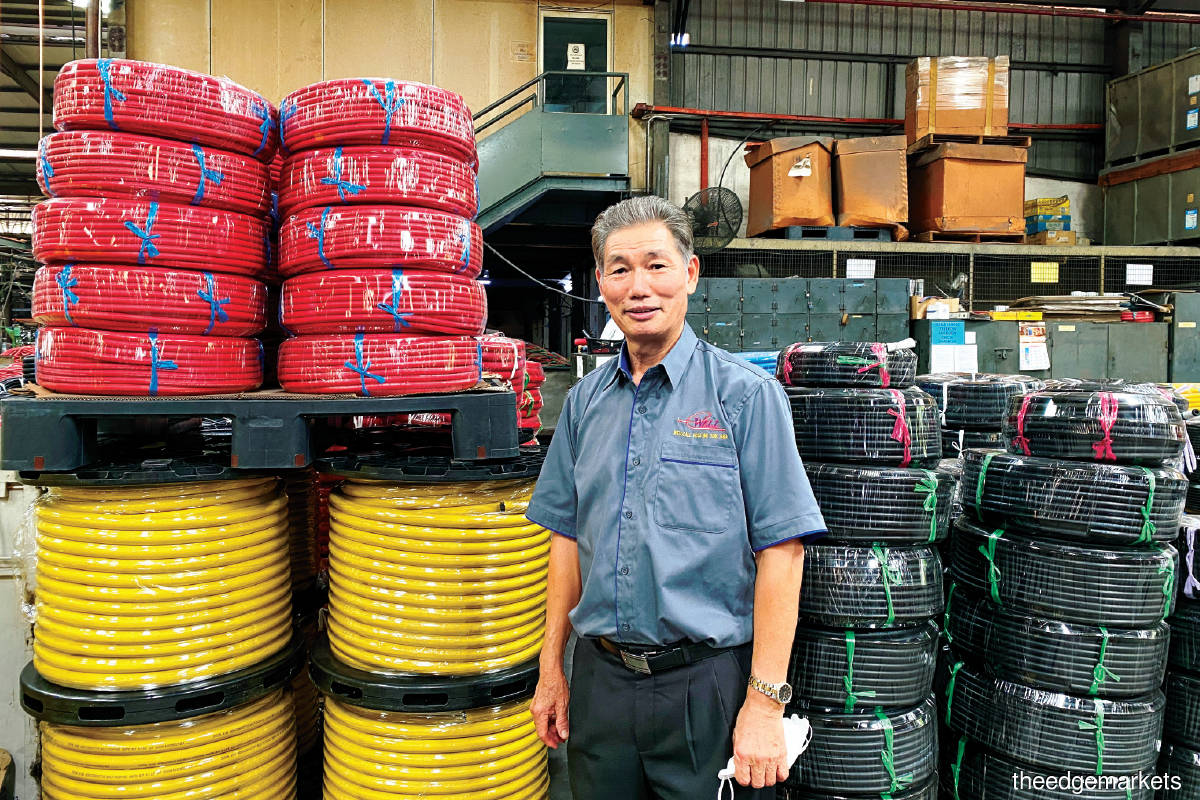 PERAK-based Wellcall Holdings Bhd — the largest rubber hose manufacturer in the country — has adopted a high-mix, low-volume (HMLV) strategy, which gives the company a significant competitive edge in producing customised merchandise for its clients.
According to co-founder and managing director Huang Sha, the HMLV strategy is the crucial factor as to why Wellcall has a retention rate of more than 90% of its customers.
"We work very closely with them [customers] to maintain a long-term win-win business relationship. In fact, our current orders will keep us busy at least until May to July," he tells The Edge in a recent interview at the company's headquarters in Pusing.
Huang observes that many large hose manufacturers focus on high-volume manufacturing, standardising their products. Orders, meanwhile need to meet a certain volume, making customisation and low-volume orders very challenging.
Wellcall, however, differentiates itself with its HMLV manufacturing strategy, and remains highly focused on serving niche markets.
"We focus on doing what we are good at, which is customised products," Huang stresses.
Wellcall manufactures low- and medium-pressure industrial rubber hoses for a diversified customer base. Its products — which are categorised into two major types: mandrel hose and extrusion hose — can be used for multiple applications.
Huang points out that Wellcall has the ability to make swift adjustments to its manufacturing processes to cater for customers' specific demands.
"For instance, some of our customers want their hoses to be fire resistant, oil resistant, heatproof, conductive or energy saving. It is our job to meet their different requirements and expectations," he says.
It is worth noting that Wellcall is an original equipment manufacturer (OEM) and does not own a brand. Its direct clients include wholesalers, distributors and industrial manufacturers.
From the customers' perspective, says Huang, the beauty of sourcing hose products from Wellcall is that a company does not need to make large-volume purchases.
"They can place an order with us every month for a smaller volume to better manage inventory risk and avoid tying up too much working capital and cash flow in inventory," he says.
By maintaining a good relationship with customers, says Huang, Wellcall has created a recurring and steady income stream for itself.
Huang owns a 3.43% stake in Wellcall. The 66-year-old Taiwanese national and Malaysian permanent resident was appointed to the board in April 2006. Non-executive director Tan Kang Seng is the sole substantial shareholder of Wellcall with an equity interest of 11.58%, of which 11.24% is held through Maximum Perspective Sdn Bhd.
Among its top 30 shareholders are the Employees Provident Fund Board, Kumpulan Wang Persaraan (Diperbadankan) and Fortress Value Tactical Fund.
A defensive stock
Over the past 12 months, Wellcall's stock has gained 23% to close at RM1.30 last Thursday, giving it a market capitalisation of RM647.33 million. The counter is currently trading at a historical price-earnings ratio of 18 times, offering a trailing 12-month dividend yield of 5.38%.
Wellcall saw its net profit grow 16% to RM34.15 million in the financial year ended Sept 30, 2021 (FY2021), up from RM29.36 million a year ago. The stronger earnings were attributed to a recovery in orders brought about by the commencement of cross-border activities.
It is worth noting that Wellcall has been known as a resilient and defensive dividend stock. Quite remarkably, the company has consistently paid dividends every single quarter since August 2007, and it paid the highest dividend per share (DPS) in FY2021 since its listing.
A check on AbsolutelyStocks shows that Wellcall's net cash position stood at RM61.6 million as at Sept 30 last year. Its DPS was 6.13 sen in FY2016, 6.17 sen in FY2017,
5.45 sen in FY2018, 5.65 sen in FY2019 and 4.95 sen in FY2020, before it shot up to a record high of seven sen in FY2021.
Huang says Wellcall is committed to its 50% dividend payout policy and will continue to reward its shareholders.
Noteworthy is that about 90% of Wellcall's products are exported — mainly to Canada and the US, followed by the Middle East and Australia — while the remainder is sold in Malaysia.
"We do not have many direct competitors in Malaysia, although there are some smaller local manufacturers focusing on making lower-priced hoses. Then, of course, we also have competitors in China," Huang says.
He highlights that amid the Covid-19 pandemic, shipping and raw material costs have escalated dramatically. Although the increase has slowed since May last year, prices have not come down to pre-pandemic levels. It is learnt that since the outbreak, shipping costs have increased by two to five times.
Huang acknowledges that Wellcall has to continue to purchase raw materials, despite higher costs, because orders are still coming in from its customers.
"We have to be mindful because, like it or not, there could be a situation where our customers cancel their orders after we have bought the raw materials. This is a business risk that we as manufacturers have to take and we have decades of experience managing these risks," he says.
Wellcall's main raw material is synthetic rubber, which has tripled in price over the past 12 months.
"Some of our customers are complaining about prices and we understand their concerns. We will try to be as reasonable as we can, and there must be strong justifications for any price increase," Huang says.