This article first appeared in The Edge Malaysia Weekly, on October 21, 2019 - October 27, 2019.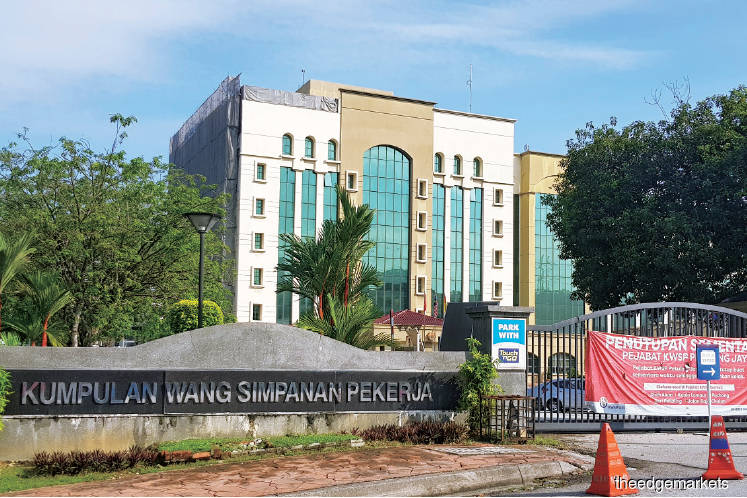 The 59-year-old EPF building in PJ has been closed since a fire broke out in February last year. Photo by Suhaimi Yusuf/The Edge
AFTER the Employees Provident Fund (EPF) announced last month that it would be shutting down its branch office in Jalan Gasing, Petaling Jaya, its members and property industry players are keen to know what its plans are for the strategically located prized asset.
The 59-year-old Petaling Jaya landmark, which sits on a parcel valued at RM70 million to RM80 million, has been closed since it caught fire in February last year. The fire was said to have been triggered by sparks during maintenance work. EPF members were notified last month that the branch would be moved to a new location near Amcorp Mall by year-end.
EPF will also be relocating its headquarters in Jalan Raja Laut, Kuala Lumpur, to a new building in Kwasa Damansara, Selangor, which will be ready end-2020.
Asked about its plans for the assets after the relocation, EPF says, "It is not the right time for us to comment."
The former PJ office sits on a 3.62 -acre or 157,488 sq ft leasehold site. The six-storey building has 134,389 sq ft of gross floor area and 106,335 sq ft of net floor area (NLA) is on Jalan 5/37 and overlooks the Federal Highway.
Valuers contacted by The Edge say that apart from an outright sale, EPF can redevelop the site or repurpose it. For example, the estimated gross development value of developing serviced apartments on the land would be RM400 million to RM500 million.
VPC Alliance Malaysia Sdn Bhd managing director James Wong tells The Edge that the EPF parcel is zoned for institutional land use. "In view of its prime location and visibility from the Federal Highway and the age of the building, the land is ripe for redevelopment, provided the land use can be changed to commercial from institutional."
He says it would be ideal for a mixed-use development of serviced apartments and a four-star hotel, adding that the EPF can develop the land on a joint-venture basis with a private developer.
Alternatively, EPF can do an outright sale, which can be deemed a monetisation of government assets. Noting that there are no recent land transactions in the area, Wong pegs the market value of the leasehold land — which possibly has less than 50 years on the lease — at RM450 to RM500 psf, which is similar to the prices of nearby leasehold land in Section 13. At this range, the land may be able to fetch RM71 million to RM79 million.
According to valuer and real estate agent Adzman Shah Mohd Ariffin, "We would need to look at the best use of the site. Since it is facing the highway, it would be ideal for commercial development such as hospitality, education or commercial residences.
"If the building is left in its original condition, it can be used as an office, but there is an oversupply of office space. Since it is located across the Federal Highway from University Hospital, one suggestion would be an extension to the hospital by opening complementary services such as a rehabilitation centre or a halfway house," says Adzman, who is the chief real estate consultant at ExaStrata Solutions Sdn Bhd.
Another option could be to look at assisted living. "Not only is the office building close to a hospital, this area in Petaling Jaya has many senior citizens. The building can be repurposed as an upmarket retirement home. EPF can extend its role of a retirement fund to its contributors," he says.
Adzman also suggests that EPF could open a specialist hospital, such as an aesthetic centre or a hospitel — a hospital that provides accommodation for the patients' families.
As for the EPF's Raja Laut headquarters, it is a 28-storey building with 441,476 sq ft of NLA that sits on a 1.7 acre freehold parcel.
The new EPF headquarters that is currently under construction is located in Kwasa Utama — a 30-acre commercial development that will include a mall, hotel, media hub and office towers — within the 2,330-acre Kwasa Damansara.
An earlier report had said that Kwasa Utama will have a total GFA of 7.91 million, with the EPF office tower alone measuring 527,930 sq ft.
It is not clear if EPF will vacate its current headquarters after it moves to Kwasa Damansara. It is worth noting that just 3km from its Raja Laut office, the provident fund has another branch in Changkat Raja Chulan — a 12½-storey building with 185,139 sq ft of GFA and 110,524 sq ft of NLA on a 0.49 acre freehold parcel.
If the EPF decides not to maintain a branch office in Jalan Raja Laut after it relocates to Kwasa Damansara, Adzman says it could consider redeveloping the site to raise the image of the area.
"The Raja Laut office is an old building and has run out of its economic life," he adds, pointing out that the area is prone to flooding too. "Land of this size (1.7 acres) may be worth more if it is redeveloped."