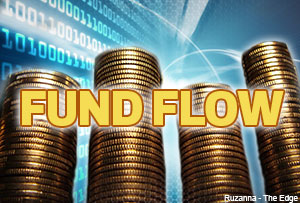 KUALA LUMPUR (Oct 27): Investors classified as foreign offloaded RM351.3 million in Malaysian equity for the week ended Oct 24, compared to RM545 million sold the previous week, according to MIDF Research.
The selling last week took the total year-to-date tally of equity sold to RM4.2 billion, eclipsing the RM3 billion net inflow in 2013.
In his weekly fund flow report, MIDF Research head Zulkfili Hamzah said Malaysia was again bucking regional trend in money flow.
He said that while foreign funds started to nibble again in Taiwan, Korea, India and Indonesia, and putting a brake on their selldown of Thailand and Philippines stocks, the selldown of Malaysian equity continued at a "sustained but moderate" pace.
Zulkifli explained that foreign investors were net sellers before the public holiday on Wednesday, but bought a marginal RM19 million when the market reopened on Thursday.
He said that was the first purchase in eight days.
However,  hopes for a reversal in sentiment was short-lived, as selling continued on Friday, he said.
Zulklifi said foreign participation stayed "elevated" (more than RM1 billion) for the third week running, adding that daily average gross purchase and sale rose slightly to RM1.08 billion from RM1.05 billion.
As expected, local investors stayed on the sideline last week. Participation rate of local institutions dropped to RM1.84 billion, the first time it fell below the RM2 billion threshold in a long 18 weeks!
"Local funds absorbed RM537 million last week, reflecting market support," he said.
Zulkifli said retail investors turned significantly bearish, offl oading RM186 million, the second highest selldown in a week this year.
However, participation rate was moderate with average daily gross sales and purchases at only RM765 million, among the lowest this year, he said.
Commenting on the region, Zulkili said that after four weeks of turmoil, the world's equity markets roared back to life last week.
He said that at Wall Street, the bellweather market, the Dow Jones rose 2.6%, the best this year, while the S&P500 rose 4.1%, the best since January 2013.
He said the trend may be reversing, adding that after six straight weeks of a disconcerting selldown, global funds appear to be making a comeback in Asia, although it is still early days for a rise in optimism.
He said foreign funds started to nibble again in Taiwan, Korea, India and Indonesia, and putting a brake on their selldown of Thailand and Philippines stocks.
Zulkifli said much of the loss on Bursa Malaysia in October was regained last week.
However, because volume was relatively thin, he said the upward movement was amplified.
"With five trading days left in October, we are not discounting the possibility that the KLCI and FBM70 may surprise by ending the month in the greenzone.
"However, the FBM Smallcap index is unlikely to reverse the situation as it is still too deep in the redzone.
"We would continue to be cautious in the days ahead because market volatility is too high for comfort, oil price is sliding again, and uncertainty over how the market will react to the result of the ECB's bank stress test," he said.
Zulkifli said the week ahead would also be laden with statistics and decisions, and that Thursday was the big day when the FOMC meets.