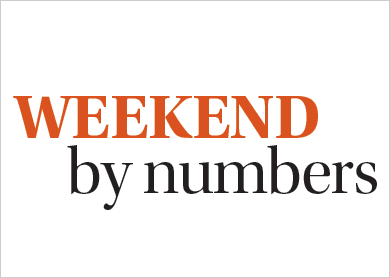 3 different sounds to enjoy
Debussy's La Mer 
Dewan Filharmonik Petronas, KLCC
(03) 2051 7007
mpo.com.my 
At 8.30pm tonight and tomorrow, German musical director and conductor Christoph Konig conducts his debut performance with the Malaysian Philharmonic Orchestra. Featuring four works by four different composers, two German and two French, it will be an exploration of the link between German romantic, Carl Maria von Weber, and French music. Apart from Weber's Freischutz Overture, the orchestra will also play Hindemith's Symphonic Metamorphoses, which is inspired by themes from Weber, Messiaen's Les Offrandes Oubliées (Forgotten Offerings) and the thrilling title work, Debussy's La Mer. Ticket prices range start from RM53 to RM137. Children under eight years of age are not allowed in the concert hall. 
Billie Holiday Tribute 
No Black Tie, 17 Jalan Mesui, KL
(03) 2142 3737 
noblacktie.com.my 
Led by the Michael Veerapen Trio, some of Malaysia's up-and–coming and established songstresses will be paying tribute to the legendary American Jazz singer, Billie Holiday. Born and bred in Harlem, New York, the late Holiday began her career in the jazz clubs of Harlem. At her peak, she played to a record sold-out crowd at Carnegie Hall in 1948, despite not having a hit record at that point. A Tribute to Billie Holiday is Veerapen's passion project in commemoration of her 100th birthday. Evie Fernandez, Samantha De Lune, Maya Tan, Frances Tsen and Dasha Logan will be performing tonight and tomorrow from 10pm. There is a cover charge of RM60 (tonight) and RM70 (tomorrow). 
VDJ OOF – Cinemix 
Pisco Bar, 29 Jalan Mesui, KL
(03) 2142 2900 
www.piscobarkl.com 
A pioneer in the art of mixing music and video, French DJ, director and composer OOF specialises in modernising and transforming movies into synchronised video clips, exploring French cinema classics of the 1960s to create an immersion of sound and images. In other words, OOF presents his eclectic brand of electro pop music in an audiovisual performance using film footages. The project is titled Cinemix, and it has been presented over 400 times in France, Hong Kong, India and the United Kingdom. If you're curious enough, head down to Pisco Bar tonight to catch it. Entrance fee is RM20.
1 meaty affair
Meat All You Can
The Barn, 1 Mont Kiara, KL
(03) 6211 5620
www.thebarn.com.my 
It's all about wine, tapas and grill at The Barn in Mont Kiara this Sunday, as it celebrate its half-year anniversary. Starting from 5pm to 9pm, enjoy a selection of lamb, chicken, steak and pork ribs for only RM88, with beer at RM2 and wine at RM5. What would a party be without music? Live band Along Akustika will be playing some latin and salsa rhythms, as well as popular hits. Make sure you call ahead to get your tickets to the party. Children below six years old eat for free, while those aged between six and 12 pay RM33. 
1 weekend must-read
On the cover of Options, the lifestyle section of The Edge weekly, this week is veteran actor Robert De Niro and his business partner, celebrity chef Nobu Matsuhisa. In this exclusive interview held when the duo were in town for Nobu Kuala Lumpur's official opening, find out more about their successful business venture that now consists of 30 restaurants worldwide, and is evolving to include hotels and resorts. Options' senior writer Petrina Fernandez discovered that the duo are as night and day — the chef's enthusiasm and witty candidness are a stark contrast to the actor's reserved and contemplative demeanour. But what they have in common is a passion for good food and hospitality. The June 1 issue of The Edge is available at all news stands beginning tomorrow. 
2  big ways to party
Pentatonix: The On My Way Home Tour
Stadium Negara, KL
(03) 9222 8811 
www.ticketcharge.com.my
Famed American a cappella group Pentatonix (PTX) is bringing their pitch-perfect harmonies to Kuala Lumpur for the first time tomorrow night at 8pm. The award-winning vocal quintet — Scott Hoying, Kirstie Maldonado, Avi Kaplan, Mitch Grassi and Kevin Olusola — will be performing their distinctive medleys consisting of a cappella versions of popular hit songs, as well as some original material. Hailing from Texas, PTX is one of the biggest musical acts that made it big on the Internet, with over eight million subscribers on their YouTube page. The group's medley cover on French electronic duo Daft Punk has been watched more than 136 million times and garnered them a Grammy Award, while other videos also average several million views. Organised by BlackCat Live and The WonderLand+, the performance is part of the group's The On My Way Home Tour 2015. 
Heatwave 
Rougeur, Menara Tokio Marine Life, Jalan Tun Razak, KL 
(03) 7880 7999 
www.ticketpro.com.my
If you fancy a full-on Friday night party, then Heatwave is the event for you. Argentinian double team Heatbeat headlines a four-deejay party which also includes Malaysian deck maestros MisterAriffin and Adib, who will be bringing some trance and progressive house to the floor. Australian EDM queen Jesabel will also be there, bringing her medley of electro and house beats. Heatbeat's sound is described as cutting-edge, futuristic and often a fusion of multiple genres that have set the house scene on fire; it is expected to play some of its chart-topping hits at Heatwave tonight. Doors open at 8pm. Tickets are priced at RM75 and include one complimentary drink. 
2 interesting happenings in town
KL Big Kitchen Festival 2015 
Dataran Merdeka, Kuala Lumpur 
(03) 2698 0332 
www.klbigkitchen.com 
The celebration of Malaysia's gastronomic diversity begins today, as the inaugural KL Big Kitchen Festival gathers over 60 food counters, serving delights from all 13 states of our country. Curated by chef Norman Musa, the three-day festival  transforms Dataran Merdeka into eight distinctively presented quarters — Negeri, Warung, Manisan, Food Trucks, Warisan, Samplings, The Dulang and Mayor's Courtyard. There are pop-up stalls, appearances and workshops by celebrated local and international chefs, who will be presenting 119 recipes collectively, as well as food-related competitions. This includes the KL Signature Dish competition, the winning dish of which will be showcased in local restaurants in town. Then there is the Big Race - forget the supermarket sweep, get ready to plunder through Chow Kit Market for ingredients and head back in time to cook a dish. Don't forget to purchase your Kupangs (the festival's currency token) to feast away!  
Secret Antique & Collectibles Fair 
APW (Art Printing Works) 29 Jalan Riong, Bangsar, KL
www.facebook.com/thesecretantiquefair
Looking to acquire something low-key and different? Head towards the first Secret Antique & Collectibles Fair in Kuala Lumpur tomorrow (10am to 5pm) and on Sunday (11am to 5pm) to browse and purchase from a selection of specially chosen vendors. Expect a mix of smaller items to larger collector pieces, such as a four poster-bed made of old kampung house beams, along with other furniture pieces from around Malaysia, Southeast Asia and beyond. There will also be vintage jewellery as well as other antiques on sale. Admission is free and credit card payment facilities are available. 
This article first appeared in The Edge Financial Daily, on May 29, 2015.