This article first appeared in The Edge Financial Daily, on July 27, 2018.
3 creative experiences
Jom Pi Merkit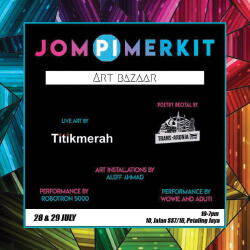 Enjoy a weekend rich with art by heading to Jom Pi Merkit, an art bazaar hosted by Wicked Art Space — the newest art gallery and event space in Kuala Lumpur. Running tomorrow and on Sunday from 10am to 7pm, Jom Pi Merkit will feature products of artisanal brands from all across Malaysia, as well as art installations created by Aleff Ahmad, a young Malaysian artist born in Petaling Jaya. Admission is free. Support this event at Wicked Art Space, 10 Jalan SS7/16, Petaling Jaya, by heading over to eventbrite.com to register.
Here I Could Even Pluck the Stars by Hand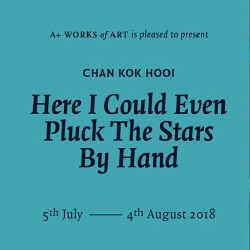 Chan Kok Hooi's curiosity surrounding the appeal of high-rise living in Malaysia is fascinating — he wonders why inhabitants of such homes choose to reside so close to the stars, and whether this verticality presents spiritual circumstances that differ from that which is its opposite. Until Aug 4, the award-winning artist presents Here I Could Even Pluck the Stars by Hand, an art exhibition of 13 works for which he draws inspiration from Chinese philosophy, Egyptian painting, national controversial events and more. The exhibition is open Thursday to Saturday from noon to 7pm, and is located at A+ WORKS of ART, d6-G-8, d6 Trade Centre, 801 Jalan Sentul, Kuala Lumpur. Call (018) 333 3399 or email [email protected] for more information.
Redux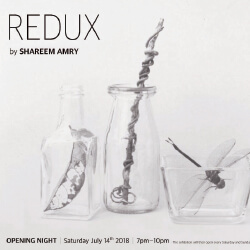 Make your way to The Print Room this weekend to see Redux, a photography exhibition by Shareem Amry that is guaranteed to impress. Running until Aug 5, this exhibition visually conveys the notion that purpose and beauty can be found in all things — including those that are dead or have been discarded. Collecting items from rubbish tips and the floors of her relatives' homes, the photographer has created an ingenious concept with an important message. You can catch Shareem's exhibition on both Saturdays and Sundays from 2pm to 6pm at The Print Room, 49 Lorong 16/9E, Section 16, Petaling Jaya. Log on to theprintroomkl.com for more information on the exhibition.
1 shakespearan afternoon
A Tale That Must Be Told: Macbeth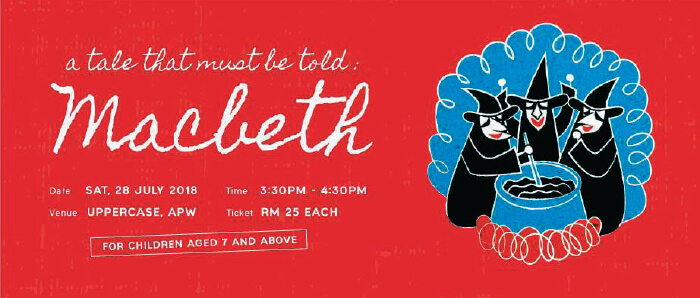 Devote tomorrow afternoon to an hour of Shakespearean theatre, as the KL Shakespeare Players present A Tale That Must Be Told: Macbeth. Friendly to children as young as seven years old, this interactive production has been performed over 30 times in various different locations since its opening in September 2017. This unique performance of Macbeth begins at 3:30pm tomorrow at APW Bangsar, 29 Jalan Riong, Kuala Lumpur. Log on to macbeth.peatix.com to purchase tickets at RM25.
1 vital history lesson
Forum: Should We Rewrite Our History Textbooks?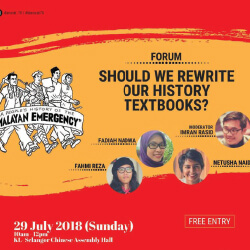 Unfortunately bound to repeat history's tragic mistakes, it's up to us to learn and discuss to prevent such events from reoccurring. For this reason, spend this Sunday morning (10am-noon) at Should We Rewrite Our History Textbooks? — a forum that invites young people to have a conversation about the rhetoric of history textbooks in reference to Malaysia's anti-colonial strive for independence. Head over to the Kuala Lumpur and Selangor Chinese Assembly Hall at 1 Jalan Maharajalela, Kampung Attap, Kuala Lumpur to take part. Log onto the event's Facebook page to RSVP and for more information.
2 exquisite feasts
Sitka Studio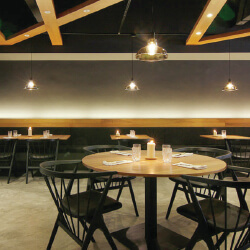 Exclusively open on Friday nights, Sitka Studio harbours Sitka (the restaurant)'s main culinary team to cook up a scrumptious meal made predominantly with Malaysian ingredients. The business claims to have a positive rapport with farmers and fishermen in order to be able to garner the freshest and best organic food that Malaysia can provide. Treat yourself to their incredible selection of wine, champagne, cocktails and more to unwind after a tough week's work at Sitka Studio located at 8-5A, Jalan Batai, Damansara Heights, Kuala Lumpur. Make reservations at sitkastudio.dinesuperb.com, or via text or Whatsapp to (017) 277 78848 or (010) 986 9832.
Sunday Jazz Brunch @ The St Regis KL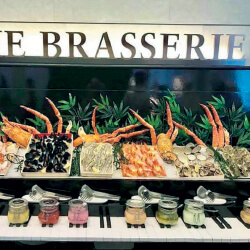 If you find that your hunger for a sophisticated Sunday meal has always been infuriatingly insatiable, look no further. The St Regis invites you to The Brasserie every Sunday from noon to 3pm to devour an incredible meal comprising seafood and poultry dishes, imported cheeses and magnificent desserts. The food will be accompanied by a live jazz band covering the greats — making this event one that you will not want to miss. The meal costs RM280 per person with non-alcoholic beverages, and RM450 per person with alcoholic beverages. The Brasserie is located at Level 2 of The St Regis Kuala Lumpur, KL Sentral. Email [email protected] or call (03) 2727 6666 to make a reservation.
1 comedy special
Crackhouse Presents Pete Grella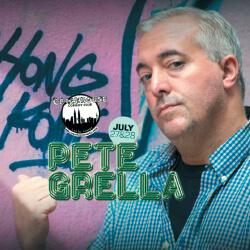 The perfect way to wind down on a Friday, Saturday or even Sunday night may just be a good laugh. Pete Grella is a stand-up comedian based in Hong Kong, who has performed all over the world. He is the founder of Hong Kong Improv, and has also opened for numerous international comedians. At his comedy special, you can expect to hear Grella talking about life as an expat as well as interact with audience members sitting further up front. Catch the show at Crackhouse Comedy Club KL, Lorong Rahim Kajai 12, Kuala Lumpur, which commences at 9pm. Log onto petegrelladoescrack.peatix.com for more information, and to book tickets.
2 live music performances
Spectacularly French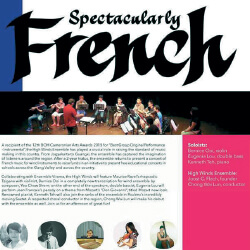 This weekend, the award-winning High Winds Ensemble collaborates with Ensemble Virana to present Spectacularly French, a phenomenal performance of French music using wind instruments such as the oboe, flute, clarinet and horn. The group is performing to raise funds for an initiative to present free educational concerts in schools across the Klang Valley and throughout Malaysia. The show will take place this Sunday from 3pm to 5pm at Deciso, 3-G Jalan Margosa SD10/4A, Bandar Sri Damansara, Kuala Lumpur, at RM50 per person. Log onto virama.yapsody.com to purchase tickets.
Carnival Of The Animals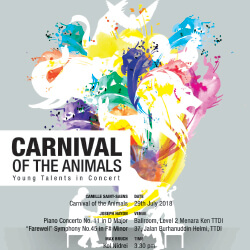 Though its name suggests something quite on the contrary, the Carnival of the Animals is a four-part orchestral performance brought to you by the Petaling Jaya Philharmonic Orchestra. The performers of this show are what the PJPO refers to as their "young talents"; some of whom are as young as 12. The orchestra will cover works of artists such as Max Bruch and Saint-Saens to create a show that can be nothing short of exceptional. The concert will take place this Sunday from 3:30pm to 5:30pm, at Level 2, Menata KEN TTDI, Jalan Burhanuddin Helmi, Kuala Lumpur. Log onto carnivaloftheanimals.peatix.com for more information and to purchase tickets.