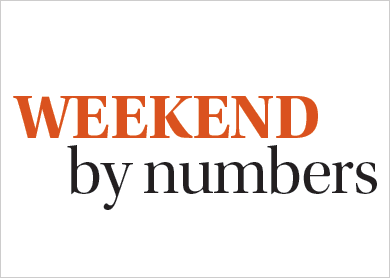 3 adrenaline kicks
Why not take the captain up into the sky with this one-of-a-kind experience? Experiential gift company RedRibbon Days offers the opportunity to be a pilot for a day at Terminal 3, Subang Airport. Start with the pre-flight briefing and aircraft inspection with your skilled co-pilot for the day, where if you're lucky, you can also get an up close glimpse of other private planes and helicopters. Once you take off, you can help manoeuvre the plane in the 'safe zone', and even take over the controls. The best part? The view, of course! Make sure to bring your aviator sunnies along. The entire experience is priced at RM520. For more details and to sign-up, visit www.redribbondays.com.my/pilot-for-a-day.html or call (03) 2093 5973. 
If you prefer a different kind of quality time, take off from Jugra Hill, Banting, and capture the stunning views of its lush green surroundings with a Tandem Paragliding Adventure for two. At over 500 feet off the ground near the Jugra lighthouse, experienced hang-glider pilots will take you two on a free-flying glide towards the Strait of Malacca, with the spectacular views of Langat River below. The hang-glider can also soar up to 4,000 feet in the air, giving you a panoramic view unlike any other. Pack a picnic basket along for lunch and make it a family day out. The adventure experience is priced at RM480 and can accommodate up to five in a group. For more details, visit www.redribbondays.com.my/tandem-paragliding-adventure-for-two.html or call (03) 2093 5973.
It's never too late to start a mid-year health regime. Start today or tomorrow by heading outdoors, with your father or partner, and get to DailyMuscle's Body Transformation Camp. The hour-long fitness boot camp suits all levels, combining cardio and strength workouts with fun elements such as games and music. Led by Noel Chelliah and his team, there will be a session at SMK Bukit Bandaraya, Bangsar, tonight at 7pm and Taman Rimba Kiara, TTDI, tomorrow at 9am. DailyMuscle is offering a 14-day online trial package of RM49 for unlimited workouts within the period. To sign up, visit www.dailymuscle.com and book your workout session. 
2 reasons to listen in
Evie + JU/NY
Despite being just 22 years old, Evie Fernandez describes herself as an old soul, often performing classics from greats such as Ray Charles, Shirley Bassey and Etta James. Performing tonight and tomorrow at 10pm, Evie will be collaborating with JU/NY, two young New Yorkers who have been performing on the local scene. Playing piano and drums, their range goes from jazz, funk, hip hop and electronic. There will be a cover charge of RM50. No Black Tie is at 17 Jalan Mesui, KL. Call (03) 2142 3737 for more. 
Tick, Tick... Boom! 
Theatre company Monday Show Entertainment presents Jonathan Larson's rock musical Tick, Tick... Boom! in the intimate setting of Theatre Lounge Café. The Pulitzer and Tony award-winning composer's 1990 autobiographical work tells the story of Jonathan, living in New York City, who is about to turn 30 years old. His life, however, is hanging by a thread as his girlfriend wants to get married and move to a smaller city, while his best friend is getting far ahead in life. Amid this, Jonathan struggles with his career in theatre, trying to make it big on Broadway by writing a new musical. Directed by Dominic Lucien Luk, the musical will run from tonight till June 28. Cover charge is RM65 at the door and reservations are recommended. Theatre Lounge Café is in Plaza Damas 3, Jalan Sri Hartamas, KL. Call (03) 6211 3000 for details.
6 gifts for dad
#1 
Keep it simple with Wine Talk's customisable three-bottle gift case. Pick from a selection of nine exclusive wines. (RM199, winetalk.com.my)
#2
Get tech-savvy and cool with Burberry's London leather iPad Mini case. The folding case has a contrasting interior and magnetic strap closure. (RM1,895)
#3
Lightweight and water-resistant, CabinZero backpacks keeps travel simple and fuss free. No check-in needed. (RM249-RM429) 
#4
A classic fragrance with a contemporary twist, the Aramis Adventurer EDT refreshingly starts with a rare blend of crisp citron and exquisite bergamot, then a spiced tinge of black pepper leads to a fusion of geranium, lavender and absinthe with patchouli and cedar wood at its base. (RM233,110ml)
#5
All work and no play makes a dull dad. Whether to relive the carefree days or for some quality play time, Mattel's BOOMco Blasters series brings the fun to Father's Day. The dart sticks fires up to 50 feet. Tip: Get the Rapid Reload System for a real game changer. (RM39.90-RM109.90)
#6
Inspired by the original watch presented to US President Franklin D Roosevelt on his birthday in 1945, the Tiffany CT60 watch collection is the marriage of Swiss watchmaking excellence and New York style. Each piece comes with a chronograph in stainless steel, with self-winding mechanical movement, blue soleil finishing and silver poudre numerals. (From RM15,600)
1 conversation starter
Travel and culture writer Wendy Khadijah Moore has spent the last 15 years writing several books about Malaysia, our rich heritage of history and culture. One of her best works, Malaysia: A Pictorial History 1400 — 2004, is an enriching keepsake. The hardcover pictorial book features over 1,200 rarely seen images of our country's past starting from the Melaka Sultanate, and includes old maps, royal festivities official photographs and studio photos popular in the 1980s. Featuring records both professional and amateur, the book provides a visual history of Malaysia, such as press photographs of World War II Malaya, the Emergency and our historic Merdeka Day. What better way to start a conversation about the good old days? Who knows the personal stories we might also learn. Malaysia: Portrait of a Nation is available online at MPH bookstore (mphonline.com) for RM99. 
3 scrumptious ways to his heart
Brotzeit German Bier Bar & Restaurant
Sometimes a hearty feast is just what it takes, and Brotzeit German Bier Bar & Restaurant has that and more with its Father's Day 'gastronomic German feast' of signature Crispy Pork Knuckle, Wiener Schnitzel, Grilled Lumberjack Steaks, Numberger Sausages, Cordon Bleu and Pork Meatballs. Served on a massive platter with mashed potatoes and garden vegetables, this is great to share for the whole family. Dads get a free beer with every platter ordered tomorrow and Sunday. The special platter is priced at RM238 and is available till June 30. To order in advance or make reservations, call (03) 2287 5516 /7 (Mid Valley), (03) 5638 5516 /7 (Sunway Pyramid) or (03) 2282 9516 /7 (Bangsar Shopping Centre). 
Nathalie Gourmet Studio
If chef Nathalie Arbefeuille's 15-course special tapas menu isn't enticing enough, the French cuisine restaurant is also featuring Jazz and blues singer/songwriter Karen Nunis Blackstone and her East meets West repertoire. Expect to dine on Beetroot, Roselle and Preserved Lemon Royale, Goat Cheese Cream; Scallop and Leek Royale, Champagne Emulsion; Paella Aspic, Prawn and Chicken Tartar, Saffron Espuma; Upside down Yuzu Praline Choux and Summer Macarons. The special menu is available tomorrow, at RM140++ per person or RM170++ per person with a glass of Moet & Chandon Champagne. Located at A4-1-5, Solaris Dutamas, KL. Call (03) 6207 9572 or visit www.nathaliegourmetstudio.com for details.
Morganfields
It pays to be a dad! Fathers get to eat for free at ribs shack Morganfields as part of its Waikiki promotion. If you dine on Sunday, families with one child or more present per table will be given a free half slab of the restaurant's Waikiki BBQ Spare Ribs. Slow baked with its in-house BBQ sauce, the ribs are then infused with honey pineapple blends and Malibu Coconut Rum. Find Morganfields at level 4, Pavilion KL, Jalan Bukit Bintang. Call (03) 2141 3192 or visit www.morganfields.com for details.
This article first appeared in The Edge Financial Daily, on June 19, 2015.