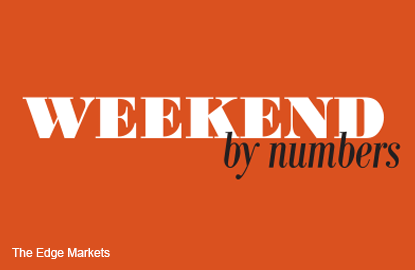 3 music shows to groove to 
Rise of the Awkward Heroes 
Rise of the Awkward Heroes is a musical theatre production that will make you both laugh and cry. The Awkward Six are back with a mixture of comedy, pop and music numbers that are bound to entertain audiences. The show will include anecdotes, daily challenges and observations with a huge amount of ridiculousness. Catch it at 9pm from tonight until Sunday at Theatre Lounge Café, B1-3A, Plaza Damas 3, 63 Jalan Sri Hartamas, Kuala Lumpur. Cover charge is RM65 and RM117, for more information visit www.theatreloungecafe.com.
Shall We Swing? 
The latest instalment of Shall We Swing? at Alexis Bistro features Shahrizan Borhan and Ida
 Mariana. Enjoy a night of good music and fun with the Malaysian King of Swing and the Queen of Kebaya Jazz with a round of the jazz and swing classics. Shahrizan has entertained local and international scenes with his trademark voice and his charm, while Ida is known for delivering sultry vocals to audiences. Shall We Swing? will be on today and tomorrow at Alexis Bistro Ampang, Great Eastern Mall, Jalan Ampang, Kuala Lumpur. Admission is free. To make a reservation call (03) 4260 2288.
Beethoven's 5th 
Head to the Petronas Filharmonik Hall (DFP) for a fine evening of classical music with Beethoven's 5th. Conducted by Roberto Abbado, the orchestra will be performing Beethoven's famous 5th Symphony and Haydn's Symphony No 93. Both pi
eces highlight the inventiveness, vitality and craftsmanship of both composers. Giorgio Battistelli's Mystery Play will complement these pieces and round of a night of fine compositions. Beethoven's 5th will be on tonight and tomorrow at 8.30pm at DFP, level 2, Tower 2. Petronas Twin Towers, KLCC. Tickets are priced at RM60, RM90, RM120 and RM150. For ticket reservations e-mail [email protected].
1 theatre performance to watch 
Life Is But A Dream 
This is an unusual chance to witness a grand Kunqu opera, which is brought to life by the Jiangsu Opera Theatre. Known as one of China's most precious cultural gems, experience this breathtaking performance that is being staged outside of China for the first time. A recipient of the Unesco World Heritage Intangible Cultural Award Life, Life Is But A Dream will be performed in Mandarin with English subtitles. The production is split in to two parts — catch it either tonight and tomorrow night at 8pm, or at 2.30pm and 7.30pm on Sunday. Life Is But A Dream is held at Pentas 1, KLPAC, Jalan Strachan, Kuala Lumpur. Tickets are priced at RM50, RM90, RM100, RM180 and RM200. To buy, visit www.ticketpro.com.my.
2 places for sunday brunch 
Mosaic 
Treat yourself to a fancy brunch at Mosaic, Mandarin Oriental. The brunch has a wide selection of both local and international flavours to satisfy your appetite. Diners can choose between a continental breakfast with baked beans, sautéed mushrooms and bagels or head straight to the mains. There is a meat station with prime ribs and lamb chops as well as a seafood counter with oysters, baby scallops and a wide range of sushi and sashimi. The buffet also includes Asian delights such as tandoori chicken, satay and stir-fry noodles. Make sure you have room for dessert with yummy offerings such as chocolate macaroons, poached chocolate pudding with vanilla and mango cheesecake. Brunch is priced between RM178 and RM538 per person depending on your choice of beverages. To find out more, visit www.mandarinoriental.com/kualalumpur/.  
Marble 8 
Tuck in to a lovely Sunday roast with your family at Marble 8, which includes a chef-to-table roasts, a buffet, free flow of alcohol for adults and free flow of gelato for the kids. An on-site bouncy castle will let the kids expend some energy and work off all that sugar too. The buffet is priced at RM128++ and RM168++ (free flow of beer, wine and Prosecco), while children aged 10 and below eat for free. Marble 8 is located 163 Jalan Binjai, Persiaran KLCC, Kuala Lumpur. To make a reservation, call (03) 2386 6030. 
2 must-catch dance performances
Pak Pandir Yo! 
This production is an edgy, urban take on Pak Pandir, a popular character from Malay folk stories. The performance features Alam, the dance champion of Malaysia's So You Think You Can Dance and infuses breakdancing, hip hop and bar patterns with Malaysian flavour. Alam is also the choreographer for this production. The dance production follows Pak and Pandir and his wife, Mak Andih, who leave kampung life to head to the city for an urban adventure. Find out if they return to their cosy kampung or decide to remain in the city seduced by the lights and entertainment. Pak Pandir Yo! will be staged at Panggung Sari, Istana Budaya, Jalan Tun Razak, Kuala Lumpur. T
here will be performances tomorrow and on Sunday at 3pm and 8.30pm. Tickets are priced at RM40 and RM60. To buy, visit www.diversecity.my.
NeoMargam 
NeoMargam is a contemporary take on the traditional South Indian dance form of bharatanatyam. The performance hopes to breathe freshness into the art form while simultaneously exploring its quintessential flavour. In this unusual show, artistic director Shankar Kandasamy — one of the most well-known Bharatanatyam dancers in Malaysia — explores how this great temple dance is able to retain its traditional features in a new form. Catch NeoMargam from today till Sunday at 8.30pm at Auditorium DBKL, Menara DBKL, 1 Jalan Raja Laut, Kuala Lumpur. Tickets are priced at RM40 and RM60, to buy visit www.diversecity.my.
This article first appeared in digitaledge Daily, on September 18, 2015.