This article first appeared in The Edge Financial Daily, on January 12, 2018.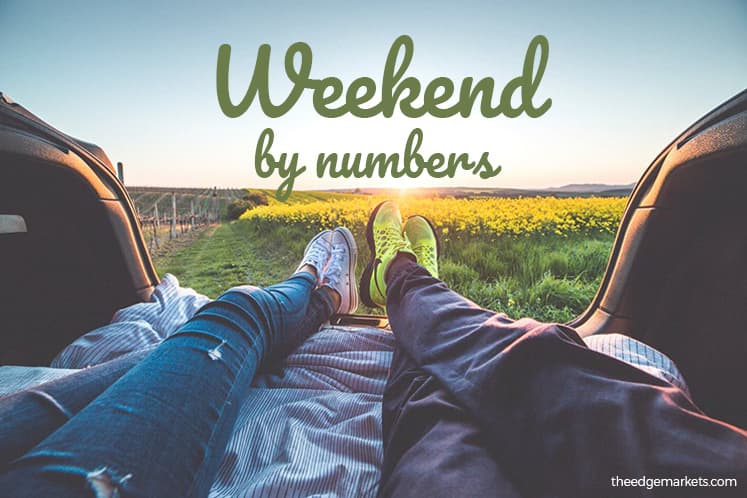 5 performances you'll love
Dancing in Place 2018
You've heard of installation art, now check out installation dance. Dancing in Place 2018 is a compilation of 10 short dances taken beyond the theatre, being performed in the lush, scenic outdoors of Rimbun Dahan. Be it dancing in a tree, or atop a sculpture, underwater, or even underground, the ensemble of artists from around Southeast Asia challenges the limits of dance in order to embrace and engage with Mother Nature through movements. Dancing in Place 2018 runs twice, once each on Saturday and on Sunday, from 3pm to 5.30pm. Rimbun Dahan is located along KM27 of Jalan Kuang, Kuang, Selangor. Admission is free, although donations are welcome, and visitors are welcome to set up their own picnic on site. For enquiries, call (017) 310 3769.
Jaggfuzzbeats
Formed in August 2014 in Shah Alam, Jaggfuzzbeats started off with two young friends wanting to write and perform their own songs as a hobby. Azrul Zainal and Omar Aiman soon found that music was an outlet through which they could express themselves, and they soon took their music to the stages in the city and to SoundCloud. Inspired by the tunes of Kings of Leon, The Strokes, The Black Keys, Tame Impala, Sonic Youth, Jaggfuzzbeats promises you a rocking good time at The Gaslight KL tonight at 9pm. The Gaslight KL is located in Plaza Damansara, Jalan Medan Setia 1, Bukit Damansara, Kuala Lumpur. Admission comes with one complimentary drink and is priced at RM20. For more information, call (017) 858 6399 or email [email protected]
Merdekarya 5th Anniversary

Merdekarya turns five this weekend, and it's set out for one notable birthday party. Join in to witness some of the best singers and bands in the local indie music scene, including Beverly Matujal, Sam Lopez, Skies Are Red, Kaya, and so many more. As if great music weren't enough, patrons are entitled to free customary tuak cocktails from 6pm onwards while stocks last. Be part of the celebrations tomorrow in Jalan 5/57, Taman Petaling, Section 5, Petaling Jaya, Selangor. For enquiries, call (016) 207 1553 or email [email protected]
Amit Tandon Live in Kuala Lumpur
Indian stand-up comic Amit Tandon sure knows how to throw a punch line. Also known as "The Married Guy", he first took to comedy after marriage and two children, taking a humorous twist on the good, the bad, and the ugly in raising a family. Having since performed over 700 shows around the world, there's no denying that Amit Tandon is among the best in the industry. Get ready to chuckle, laugh, and roar tomorrow at 8pm, in the auditorium at Dewan Sivik MBPJ, Jalan Yong Shook Lin, Petaling Jaya, Selangor. Tickets are still available at RM130 and RM160. For bookings or more information, call (03) 6205 3019 or (014) 951 3239.
Scarlet Heroes Album Launch
It's a busy time for Kuala Lumpur band Scarlet Heroes, having completed its Southeast Asian tour just prior to dropping its debut album. The heavy pop punk band formed in 2012, made up of vocalist Daryl, guitarist Jah, bassist PJay, and drummer Bizee. This weekend, the band launches and performs its new album, Somewhere Under the Atmosphere, for the very first time. The launch party will also include performances by several other local and regional acts, such as Night Skies & Visions, and Secret Signal from Brunei. The launch takes place tomorrow at 6.30pm, at The Bee, Publika Shopping Gallery, Jalan Dutamas 1, Solaris Dutamas, Kuala Lumpur. Tickets at the door are priced at RM25 each, which also includes a copy of the new album. For more information, call (03) 6201 8577, or visit www.scarletheroes.co.
2 experience for foodies
Beer and Pork Pairing
Taps Beer Bar welcomes you for a delightful meal, marrying two of your favourite things — beer and pork. The exclusive pairing menu features five couples, and each sounds as tempting as the other. There's no going wrong with the bacon and corn paired with Rogue Dead Guy Ale, the deep fried pork belly with Anderson Valley Gin and Tonic Gose, or the pulled pork slider with Brewdog Dead Pony Club. If you're looking for something a little out of the ordinary, go for the luncheon chips with Rogue Hazelnut Brown Ale, or experience something truly extraordinary in the pork rendang with Rogue Honey Kolsch. This menu is available at RM98 per person, for one day only tomorrow, from 3pm to 6pm, at Taps Beer Bar in Plaza Arcadia, Jalan Intisari Perdana, Desa Parkcity, Kuala Lumpur. For reservations, email [email protected]
Introduction to V60 Brewing Method
Moody mornings are easily turned around with a cup of coffee, but a truly pleasing cuppa can make your entire day. Instead of having to stop by Starbucks every morning, why not attend this workshop by Barista Guild Asia and master your daily fix yourself? For only RM60, get the tips and tricks on how to brew the perfect cup of coffee with V60 brewing equipment, and soon, mornings won't be such a challenge anymore. The workshop takes place tomorrow from 11am to noon, at Barista Guild Asia, Taipan 2, Jalan PJU 1A/3, Ara Damansara, Petaling Jaya, Selangor. To register or for more information, look for the event listing on www.bga.com.my.
3 events for the little ones
Parent and Me Sensorial Play Date
As the little ones start to take in the world around them, it is important that their parents support and guide them along the way. Take your child out on a sensory adventure this weekend at the collaboration play date between child development groups Playgroup on Wheels and What's For Fun. The play date will incorporate activities meant to stimulate your children's senses, and the young'uns would definitely have lots of fun with the storytelling session, arts and crafts workshop, and even a taste-safe playdough session. Children between the ages of 2 and 5 are welcome, and parents and siblings are encouraged to participate with their little ones. Admission is priced at RM60 per child, with discounts for siblings. The play date takes place at Pusat Kreatif Kanak-Kanak Tuanku Bainun, in Jalan Tun Mohd Fuad, TTDI, Kuala Lumpur. For registration or enquiries, WhatsApp (012) 981 8677.
Prana Kids Yoga
It's never too early to start a good habit, so give your little one a go at yoga. Prana Yoga's weekly classes specially designed for children are a fun way to exercise, and are more than just your average yoga sessions. Lessons are divided into five terms a year, with each term specially dedicated to a theme designed as an enrichment opportunity for your children. The current term is themed "ABC Yoga", a fun new way to learn or relearn the alphabet and get creative with the poses. The course is suitable for children aged four to eight, and fees are priced at RM210 per child per term. The classes take place at 9am to 10am every Saturday, at Pusat Kreatif Kanak-Kanak Tuanku Bainun, in Jalan Tun Mohd Fuad, TTDI, Kuala Lumpur. For registration or enquiries, SMS (012) 976 4866 or email [email protected] For information on classes for other age groups, visit www.pranayogakl.com.
Back-to-School Crafts
With the holidays over, the kids have started school, to the delight of some and to the anguish of others. Whichever side your child falls on, this school-themed arts and crafts workshop by Littlest Hands is a promising venture to boost their motivation. At this week's session, give your little one the chance to make their own cool school bag, or join next week to learn to make a wise owl pencil holder, or the week after that to make a pretend lunch box. Get creative every Sunday in January, with three one-hour time slots to choose from, beginning at noon, 1pm, and 2pm. The workshop takes place at the Pelikan store on the third floor of The Gardens Mall, Mid Valley City, and fees are priced at RM30 for Pelikan members and at RM40 for non-members. To register, WhatsApp (017) 404 5661 or email [email protected]