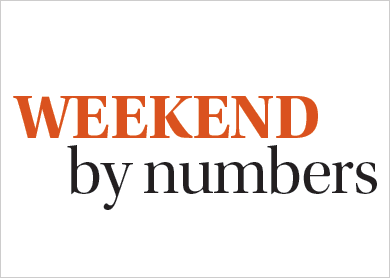 2 FUNNY FLICKS TO ENJOY WITH MUM
The Cobbler
Max Simkin (Adam Sandler) repairs shoes in the same New York shop that has been in his family for generations, although he has grown tired and weary of the repetitiveness of his daily life. One day, Max stumbles upon a magical heirloom that allows him to step into the lives of his customers and see the world in a new way. By getting the opportunity to walk in someone else's shoes for a day, Max gains a deeper insight and perspective into the lives of every individual, and learns more about himself in the process. The Cobbler also stars Dan Stevens and Steve Buscemi.
She's Funny That Way
A romantic comedy about a hooker-turned-Broadway star Isabella Beatty (Imogen Poots), She's Funny That Way features Owen Wilson as Broadway director, Arnold Albertson, who hires Isabella for her services despite already being married. Soon, various other characters fall in love with Isabella, making a very odd love triangle which includes stars Will Forte as Joshua Fleet and Jennifer Aniston as Jane Claremont.
2 EXCITING COOKING LESSONS
Weekend Leisure Cooking Class with Mum
May 9, 10am to 1pm (registration must be done by 8 May)
The French Culinary School in Asia, 8th Floor, Annexed Block Menara IMC, 8 Jalan Sultan Ismail, KL.
(03) 2026 9188
Enjoy an extra special bonding experience this Mother's Day by learning the art of roasting chicken together, taught by talented chefs trained in French cuisine. Four types of chicken roasts will be taught to during the session: roast chicken with hay, roast chicken leg with sumac, lemon and barley risotto, roast chicken stuffed with truffle under the skin, and milk roast chicken with lemon and cinnamon. After this crash course, you'll never cook chicken the same way again. The fee for this cooking class is RM200 + 6% GST per person.
AiCook Baking Demo Class
LS Bakery Shop, 56 Jalan Bunga Tanjung 8, Taman Muda, Ampang
(03) 4296 7399
This Sunday from 1pm to 3pm, join Chef Bee Sim in an exciting baking lesson as you learn the recipes for blueberry cheesecake, chocolate chiffon cake and mocha cup yoghurt. AiCook is a healthy culinary workshop that encourages people to cook easy, eat healthy and prepare their own food at home. Focusing on the use of green and organic ingredients, you and your mum are sure to enjoy learning how to get crafty in the kitchen. The entrance fee is RM30 per couple.
3 MOTHER'S DAY MEALS FOR THE WHOLE FAMILY
Fresca
Lot G242-A, Ground Floor, The Gardens Mall, Mid Valley City, KL
(03) 2201 2893
This weekend, enjoy the specials at Fresca — salmon in orange habanero salsa and fried zucchini flowers, cream of poblano pepper soup and sautéed tiger prawns are sure to satisfy your taste buds. If you dine in on Sunday with mum, receive a complimentary dessert! Fresca will also be running an Instagram contest where patrons who post a picture of themselves with their mums (follow @frescabar on Instagram and add the #FrescaLuvsMom hashtag) will stand a chance to win RM200 worth of dining vouchers.
Sunflowers Brasserie
Royale Bintang Hotel, Jalan Bukit Bintang, KL
(03) 2143 9898
Famed for its ever-popular weekend hi-tea buffet where family and friends can enjoy a lavish spread at a leisurely pace, Sunflowers Brasserie is helping you celebrate Mother's Day with a special hi-tea this Sunday. The restaurant is open for hi-tea from 12.30pm to 4.30pm, and the buffet is priced at RM78++ for adults and RM39++ for children and senior citizens.
Brotzeit German Beer Bar & Restaurant
Mid Valley Megamall, Bangsar Shopping Centre & Sunway Pyramid
[email protected]
Celebrate Mother's Day the German way at Brotzeit with its delicious Mother's Day Platter featuring the signature crispy pork knuckle, cordon bleu, Wiener schintzel, chicken Nuernberger sausages served with mashed potatoes and garden vegetables accompanied with four homemade soups of the day. The entire selection is perfect for sharing for a family of four to five, and is priced at RM218 (including 6% GST). Those with a sweet tooth can also opt for Brotzeit's dessert platter for four at a 20% discount.
2 GREAT GIFT IDEAS FOR MUM
Kaka Suasa
1-7 Block A, Jaya One, 72A Jalan Universiti, PJ
www.kakasuasa.com
(03) 7955 3605
Kaka Suasa has the perfect Mother's Day gifts that you can surprise your mum with — from a huge selection of speciality lip balms, natural soaps, creams, perfumes to crafts that you'll have fun making cards with. In addition, find one-of-a-kind stationery such as journals, note cards and notebooks that come in handy for note-taking and journal-keeping. All Kaka Suasa products come in unique packaging embellished with ribbons and floral designs that a mum is sure to love.
Only Love
www.onlylove.com.my
(03) 9202 8277
All mums love flowers — customise and personalise bouquets and gifts for Mother's Day and enjoy delivery on the same day. Only Love offers a staggering variety of flower arrangements specially curated for the occasion, and you don't even have to leave home to get it. Fresh lilies, carnations and tulips accompany cuddly teddy bears in vases and baskets, all available at reasonable prices. Only Love delivers nationwide, and orders placed before 2pm from Monday to Saturday can be delivered on the same day. Outstation deliveries are also possible but an additional fee will apply.
This article first appeared in The Edge Financial Daily, on May 8, 2015.